The Best & The Worst – Inter's 2016 In Review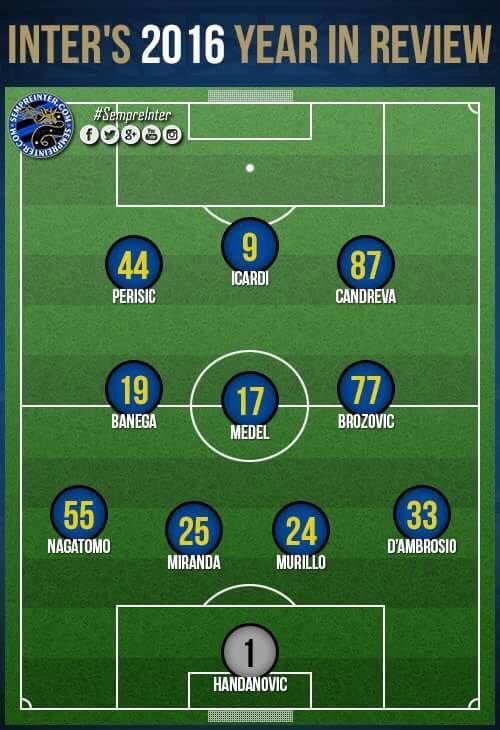 Now that 2016 has come to an end, SempreInter.com takes a look back at the past 12 months with a review for the black & blue. Who was the best player? Which match was Inter's best? What was the most disappointing moment for Inter? Scroll down below. 
Best Player 
Samir Handanovic has consistently been Inter's best player for quite some time now. He has solidified his rank as one of the best keepers in the world. Handanovic has proven to save almost anything that's come his way and has saved countless penalties in the past season. He bails out his back-line time and time again. His saves are crucial in each and every Inter match.
Best Manager
Roberto Mancini was able to bring Inter back into European competition by finishing 4th in Serie A last season. The high point of his managerial stint was keeping Inter at the top of the table for the first half of the 2015-16 season, but was unable to maintain the string of 1-0 wins that kept them afloat. He was unable to continue managing Inter due to a contract dispute with the club which led to a termination of his contract two weeks prior to this season where Frank De Boer was named his successor.
Best Moment
The best moment of the season comes down to Perisic's goal to beat rivals, Juventus 2-1 in Derby D'Italia at San Siro. This goal helped Inter secure back to back wins vs. Juventus. Once again it shows us that despite Inter's poor run of results, they can match up to the top teams in Serie A. If only they played every game as if it was a Derby match!
Best Game
Coppa Italia Semi-Final 2nd leg vs Juventus. Down on aggregate by three goals, Inter had put out one of the best performances in recent years. Beating Juventus 3-0 at home in front of the San Siro crowd, despite losing 5-3 in penalties. Inter finally showed what they are capable of when they put their heart and soul into a performance.
Biggest Disappointment
Sacking Mancini and appointing De Boer has to be the biggest disappointment of the year. Not only were things starting to go Inter's way but the timing of it was awful. Two weeks prior to the season, President Erick Thohir sacks Roberto Mancini to bring in Frank De Boer. Not only did all the success of Mancini go out the window, it set up De Boer to fail.By giving him no time to pick his transfers for the summer and a short window to work with the squad Inter suffered immensely.
Best Villain
There are many choices for the title of "Villain" of Inter, but it has to be given to President Erick Thohir. Choosing to sack Mancini two weeks before the season has proven to be the biggest mistake he has made and Inter has suffered. It set the organization back to ground zero by hiring Frank De Boer who had been set up to fail. He did not have prior Serie A experience, he did not speak Italian and complained that the team he was given was not fit enough to go into the season. Had the decision to appoint De Boer come at the end of last season, he would have had enough time to work the transfer market and get his team to be in what he believes is top shape.