SempreInter.com Player Ratings: Cagliari 1 – 5 Inter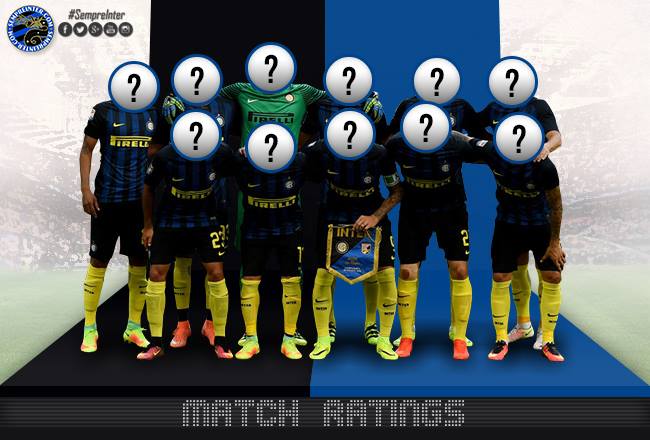 Inter wiped the floor with Cagliari today inflicting the Rossblu their biggest defeat in Serie A history when faced with the Nerazzurri following a 5-1 win at the Stadio Sant'Elia.
Handanovic 7 – Great performance from Samir today. Did his best to keep out Cagliari and faultless for the goal. He even saved Miranda's blushes once today.
D'Ambrosio 6.5 – Tried to score today for his new born baby. Danilo is also a re-born player under Pioli, kept the right side quiet and combined well with Gagliardini and Candreva
Medel 7.5 – Gary is slowly taking over the mantle of leader in defence from Miranda. That overhead clearance to keep us level was almost man of the match worthy
Miranda 6.5 – Looked rusty in the first half and made a couple of un-Miranda like errors, but as the game wore on we saw more of his usual self. Great CB pairing with Medel
Ansaldi 6.5 – Cristian's best performance in an Inter jersey. Had a poor spell towards the end of the first half. See what happens when we have even semi decent full backs?
Gagliardini 7.5 – Finally got the goal.Didnt find it easy playing because of the Heavy pressing on him 1st half. Second half, he was the king in the middle, Cagliari were his subjects.
Kondogbia 7 – Kondo on song is one of the finest midfielders in his role. First half was a bit of a struggle but when both our DMs got going, we were unstoppable. Complete
Candreva 6.5 – Much better performance from Candreva. Gave it his all today and proved that he should never be played in a wingback role. Confidence boosting game
Banega 7.5 – Banega got into the game at about 20 mins or so. Then he did what he wanted to do. The only way to get the ball from Ever is if he wants to give it to you
Perisic 7.5 – Just like Candreva, it's a waste to play him in a wingback position. Averages a goal or assist in every other game in Italy which is brilliant for a wide player
Icardi 7.5 – He ate Alves for lunch. One goal, one assist and won a penalty. Add to that some brilliant touches in and around the box. He is now on a goal-scoring run!
Eder 6 – He is Pioli's first sub and has rarely ever dissapointed the coach. Tracked back, didn't lose the ball once and ran non stop. Always plays well when we are on top
Joao Mario 6 – Like Eder, didn't lose a single ball. In fairness it was difficult to match Banega today in his role. Will get some bench time and come back as class is permanent
Yuto Nagatomo SV – He was brought on for 2 mins and got 1 touch of the ball and that's about it. Wouldn't have played if Ansaldi didn't start cramping up. Says it all really.
Pioli 7.5 – A good coach is one who sees his team's strengths and plays to them. Realised the 3 man backline isnt ideal and got everyone playing in their right roles today
Marco Di Bello 5.5 – Let the game flow today. Didn't fall for Borriello's dives. Bruno Alves' last man push on Icardi was missed. Didn't have other difficult decisions to make
Inter 7.5 – A great response considering the events of last week. Fantastic performance and with some style. Played as a unit and lets hope we win the next two.