SempreInter.com Player of the Month: March 2016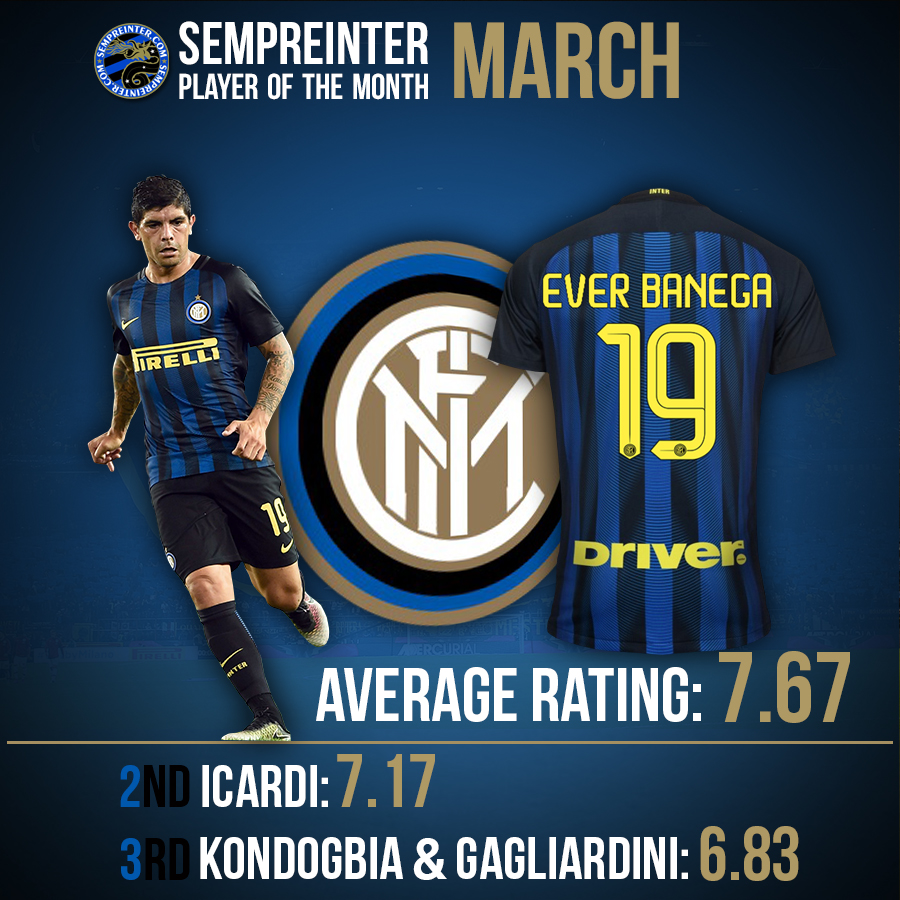 In a month where Inter played 3 games in the Serie A and managed to score 14 goals and concede 4, there was one guy who really showed us that he is World Class, Ever Banega.
Argentine Magician
Its not easy to bench Joao Mario at this Inter in this period of time. Ever Banega just did that this month. He started off slowly against Cagliari, easing himself for the first 20 mins or so. That was just the calm before the storm that was about to begin. A wonderful chipped pass with his left to Perisic started Cagliari's downfall. 5 mins later he scored from just outside the box with an inch perfect free kick. It was a knockout punch. Even when Boriello scored just before HT, Banega had oozed so much calm, we knew there would be more goals for us. He ran riot that afternoon in a game that ended 1-5. He got a 7.5 rating and Man of the match from us!
But Ever wasnt satisfied. High flying Atalanta were absolutely outclassed and made to look like school boys at the San Siro. Ever received a 10 and obviously another POTM from our editor Nima. Its the only time anyone has been rated 10 from the SempreInter offices. He bagged a hat trick for himself, but only after he had helped his fellow country man Icardi with 2 assists. Absolutely played Gasperini's midfield and defense off the park. The trip to Turin in our last game of the month wasn't as good but he was the safest passer of he starters and got the most accurate crosses in to no avail.
Il Capitano
Coming in 2nd this month is none other than Il Capitano, Mauro Icardi. He just showed that with the right service he can be more than deadly, he can be a destroyer. He finally scored a goal away from home which was a long time coming but he already had made sure of the 3 points vs Cagliari with that fantastic pass to Perisic to make it 1-3 to us. Won the penalty and scored to seal Cagliari's fate.
In the next week against Atalanta, Inter's number 9 got a 9 for a 9 minute hat trick that made Gasperini cry on the inside. Brilliant composure on the first goal, won the penalty for the 2nd and made a brilliant run towards an Ever Banega(who else?) cross to leave Atalanta 5 goals down before they could even understand what was happening. It was the first time Inter had scored 5 goals in the first half. Make no mistake, Mauro is rewriting Inter's history and record books.
Dynamic Duo
Coming in joint third is SempreInter.com's player of the month for February Roberto Gagliardini and arguably Pioli's biggest achievement Geoffrey Kondogbia. They are literally inseparable every where now as both averaged 6.83 this month.
If Banega was doing the important work upfront with no worry in the world it was because of Roberto and his partner in crime Kondogbia who has grown leap and bounds under the stewardship of Stefano Pioli. Its amazing what a little bit of backing and confidence can do. Yes they both cost a lot of money but Inter have a pair that can dominate teams like they did against Cagliari and Atalanta even when they are out-numbered. Both of them repeated their ratings (RG got a 7.5 and GK with 7) from Cagliari to Atalanta showing us they can be consistently good which is a good sign considering their age. The lack of control of the game in Turin also stemmed from them as we were unable to dominate the ball in the middle as we are now accustomed to.
Hit us up on our social media @SempreIntercom if you think any of these players deserved more or less. We have 5 great games to look forward to in April once this damned international break is over!