SempreInter.com Player Ratings: Inter 1-2 Sassuolo, Longest winless in 35 years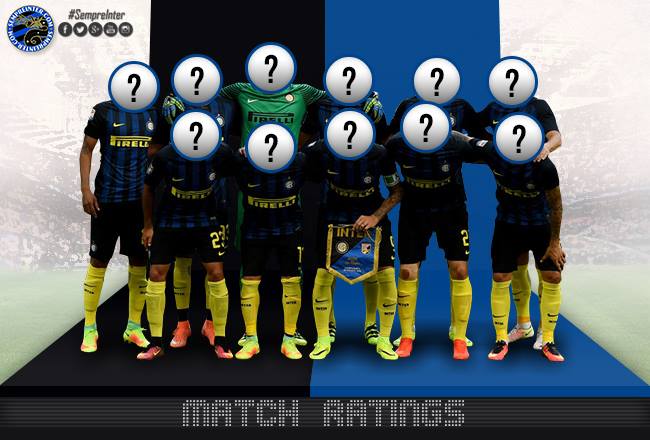 Yup, its hit rock bottom. Inter are on their longest winless run since 1982. We have matched this 5 times but all of it before the 80's. The season cant end soon enough for some fans and players alike. Let's find out who might have played his last Inter game…
Handanovic – 6 Faultless on both the goals. His defenders left him out to dry on both occasions. Secure when called upon otherwise, Sassuolo didn't really do much.
D'Ambrosio – 5 He's only starting because there is no other option. I remember seeing only one overlapping run and a couple of decent tackles. Out of position always.
Murillo – 4 Jeison had a shocker in the first half. He will have some nightmares about his mistakes today. His mistake blew the slight candle of hope we had.
Andreolli – 5.5  Easily our best defender today, looked like he has been playing for quite some time, didn't make any mistakes and positioning was always right.
Nagatomo – 3  Absolutely useless going forward, committed most fouls despite playing 45 mins, I'll keep it short. Hopefully, his last game in an Inter shirt.
Brozovic – 5.5 For once he didn't just whinge his way through 90 mins. Cant doubt that he put in all he had today but it clearly seemed like he's not played for some time.
Gagliardini – 5.5 Like Brozo, he gave it his all today, moved the ball well, covered spaces when he could. Too bad that the team wasn't as clinical as our opponents.
Joao Mario – 5  Not one of his finest moments. Doesn't seem to have the confidence that he had in November-December. His passes seemed short but taken off too soon.
Candreva – 4 I lost count of how many times he crossed straight to Consigli. He keeps trying the same thing, there is no other dimension, should be on the bench.
Icardi – 5.5 Ran himself into the ground and into the post. His wingers could never find him with a decent cross. We couldn't even create a half-chance for him.
Perisic – 4 He has the Candreva syndrome, the final ball has been lacking since that Torino trip. His head seems like its somewhere else, needs to be benched.
Eder – 6  Not many people liked him coming on, but he gave the impetus we needed, could easily have scored 2 goals today and saved us 2 points by himself.
Ansaldi – 4.5  Cristian is as poor as Nagatomo while defending or maybe even worse, if that's possible. He tried and got more out of going forward but that's about it.
G.Barbosa – 6 Brought on too late and you can see he is better mentally than most of his team mates. His enthusiasm and how he lifts the Meazza alone still surprises me.
Vecchi – 4.5 Talk about bringing change but plays the same 11. Then you see Candreva/Perisic play like that and still keep them on for 90 mins. Not enough.
Davide Massa – 5 Got some minor decisions wrong but never lost control of the game. Not many major decisions to make in all honesty. All yellows were correct
Inter – 3 This was going to be a 0. They fans managed to tell the owners that the problem is not the coach but it's the mentality and quality of players.
Let us know if you agree or think someone is unfairly rated in the comments.