SempreInter.com Player Ratings: Lazio-Inter, the rut is over!!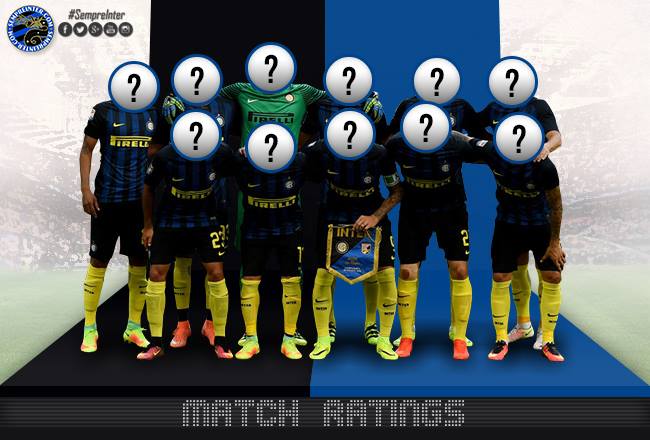 Too little too late from Inter but they avoid a 9th consecutive round without a victory. 9 man Lazio are beaten and this is how it feels to get 3 full points. Inter's first victory in 70 days was down to some good performances, check out the ratings below:
Handanovic 6.5- Didn't have to save any shots, was good and quick off his line and led his defenders well when we were under pressure. So nice to have that!
D'Ambrosio 6- Had a wretched start and didn't have a clue, once he moved to CB he was very good, minimum risks and only once did Immobile get beyond to hit the bar.
Murillo 4- If he was injured he shouldn't have started. It cost us a penalty and a goal. Poor 23 minutes and once he went off we were so much secure at the back.
Andreolli 7- Marco was an insurmountable mountain for Lazio tonight. The goal was very important and he led the defence fantastically well using up his Serie A experience.
Nagatomo 5.5- Started well and then began to struggle against Felipe Anderson. Once we scored though his team mates covered him up very well. Conceded stupid fouls.
Gagliardini 6.5- When he gets team mates who are willing to run and work with him he looks great. Great work on our 2nd goal and controlled the game once we were ahead.
Medel 6- Looked rusty and slow in the centre. But closing down spaces comes naturally to him and he did that well, even won the ball high up a couple of times.
Candreva 6.5- His best performance in a long long time. Still got no accurate crosses in but did so much on the right flank defensively and offensively. Looked confident!
Brozovic 6.5- Brozo was everywhere today, closing down players, hard tackles on Biglia and even finding spaces on the wings. Only had eyes for Perisic. Good game.
Perisic 5.5- Was he playing? Did he do anything of note? Was 2nd to almost everything, looked tired and jaded. His mind is not here. Our left wing was non existent.
Eder 6.5- Usual Eder performance, ran himself into the ground and did a lot of tracking back. Got the goal from close range but missed making the simple passes.
Santon 6.5- If he has a dodgy knee he didn't show any signs of it. Once he was on, Anderson was in his pocket, won a lot of tackles and balls deep in our half
Pinamonti 5.5- In his 10 minutes or so he showed that the future is bright. Made the right movements and has a knack for knowing where the ball will go. Needs more minutes.
Banega N/A- Just a substitution to give him a run out. He could even have scored if he had half a second extra when Pinamonti won the ball off a defender in the box.
Vecchi 5.5- Wrong starting 11 again and I cant believe Perisic and Nagatomo deserved to play 90 mins. But planned the 2nd half well which his team backed and executed.
Marco Di Bello 4.5- The Keita sending off will be controversial as will the Hoedt push on Andreolli. Too many fouls made him lose his grip on the game. Was right on the penalty.
Inter 6- A win to stop the rut. A lot of high pressure pressing and for once full control of the midfield. Too bad that we had to concede first to wake up.
Let us know if you agree or disagree with the ratings in the comments section.