SempreInter.com Player Ratings – Inter 5-2 Udinese: Goals galore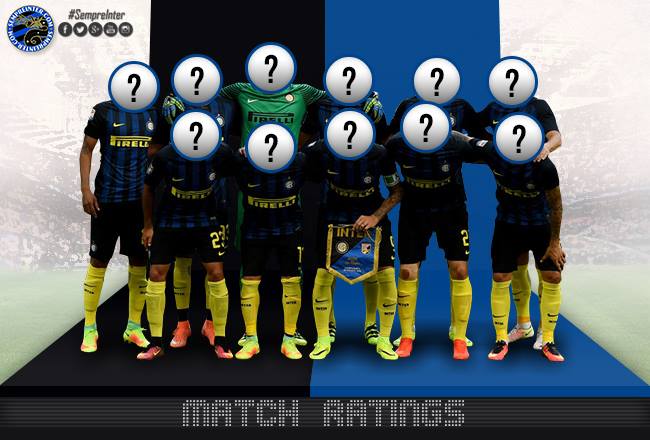 The crowd at Stadio Giuseppe Meazza were treated to 7 goals last night in what was the final game for Rodrigo Palacio and Juan Pablo Carrizo in an Inter shirt. Palacio came on in the seconf half but failed to score as he hit the post when the Nerazzurri ran riot in the final Serie A match of the 2016/2017 seaon. Eder scored a brace as well as assisting Ivan Perisic who in turn made two assists aside from his goal from what is most likely also the Croatian's last match in an Inter shirt.
Juan Pablo Carizzo – 5.5: Started in what will be his last game for Inter, gave the ball away a lot of times even when he wasn't under pressure. No fault on the goals though
Danilo D'Ambrosio – 5.5: This was another typical Danilo performance. No risks taken, strong defending, avoiding any sort of risk. When you don't notice a defender, it's a good thing.
Gary Medel – 5.5: One of the easier games to be a central defender. Looked comfortable and looks like he was taken off only due to injury. Zapata was quiet when the Pitbull was around.
Marco Andreolli – 6: Continues his good form. No mistakes, playing the simple game and strong in tackle. Was beaten only once by an onrushing attacker in 90 minutes.
Davide Santon – 6.5: Had a fantastic start: the run and assist for the first goal was pure quality. After that he didn't really try much. Moved into central defence in the 2nd half before being substituted as he was drained.
Roberto Gagliardini – 6: When he plays with Kondogbia it just clicks. He was dominating the midfield and contributed to both phases. Some great long range passing tonight.
Geoffrey Kondogbia – 6: Plays well along side Gagliardini as always. Was strong tonight, covered spaces and slowly grew into the game. Fought and closed down very well.
Antonio Candreva – 5.5: His middle name should be backpass. Don't remember him ever taking a risk after the initial surges Inter had. Kept possession, didn't cross or dribble even close enough.
Marcelo Brozovic – 7: Yes the fans booed him, but this was a great all round performance from Marcelo. Pressed well, combined with Ivan and was always dangerous.
Ivan Perisic – 7.5: Don't think he's looked this relaxed all season. Looked comfortable and on another level than the other 21 players on the pitch. Was that a goodbye performance?
Eder – 7.5: Hate to admit it but he was simply amazing tonight. Eder was everywhere, scoring, assisting, tackling and even defending. Is he finally settling in at Inter?
Yuto Nagatomo – 5.5: Looked vulnerable all 2nd half, didn't get anything going in attack or make a stand out defensive move.
Rodrigo Palacio – 6: Unlucky when he hit the post tonight. Played really well and ran for the 30 minutes or so he was on the pitch. Can never doubt his effort. Thanks for everything El Trenza.
Trent Sainsbury – 5.5: Made his debut and took a booking for the team when Nagatomo was beaten on the left. First Australian to play for Inter but will return to Jiangsu Suning now.
Stefano Vecchi – 6.5: Still no defensive solidity but got the tactics and positioning right. He can now go back to coaching the Primavera in their upcoming Scudetto play-offs. Managed to motivate the team tonight.
Alessandro Di Paolo – 5.5: A couple of fouls were incorrectly adjudicated but overall both the referee and his linesmen were on the mark and fair tonight. No complaints here.
Inter – 6: The only thing that the team showed last night was that Inter can play like a top team and dominate opponents when the pressure is off their shoulders.
Do you agree? Disagree? Let us know below in the comments or hit us up on Twitter or Facebook.