SempreInter.com Player of the Month May 2017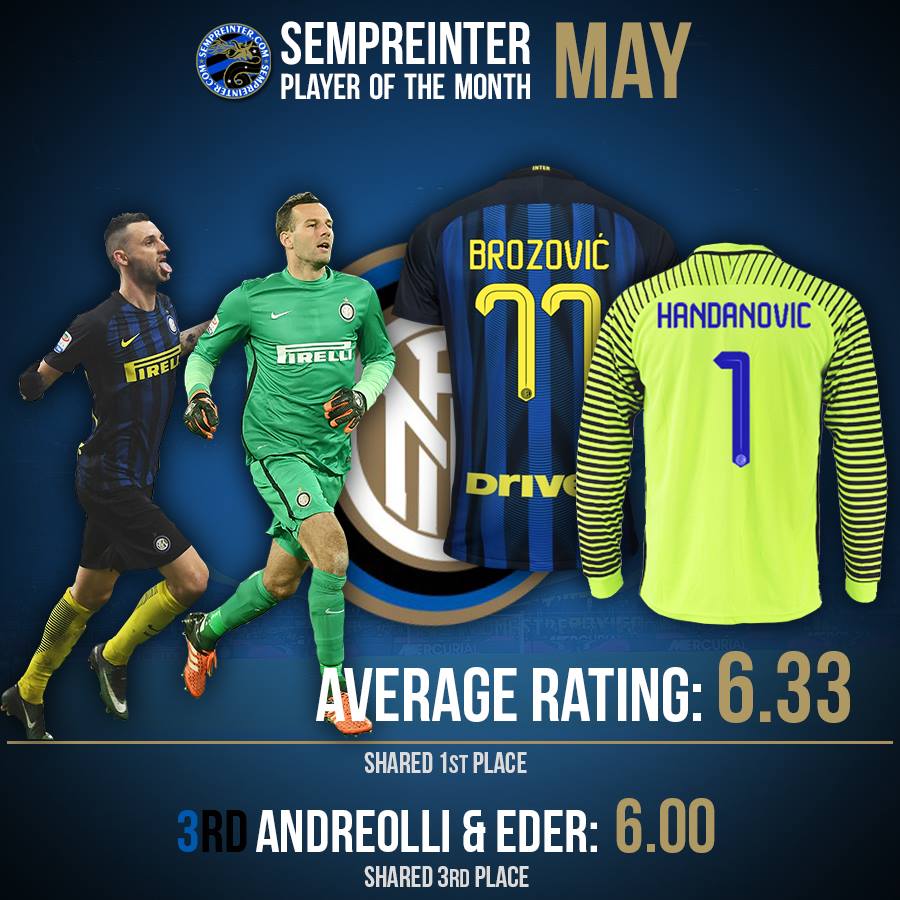 The final player of the month for 2016-17 is here, and for the first time we have 2 players who jointly share the honor, Marcelo Brozovic and Samir Handanovic. There was nothing to separate Brozo and Batmanovic's ratings this May where Inter finally stopped their worst run in 35 years and ended with 2 positive results.
Both Marcelo and Samir played 3 out of 4 matches this past month. Handanovic's first appearance in May was against Genoa, who won by the solitary Pandev goal. Samir was rated 6.5 and was Inter's best player on the pitch. He gave it his all but was helpless as the ball rebounded to Goran who was not going to miss. He followed that up with another decent performances despite the result and conceding 2 goals against Sassuolo which earned him a rating of 6. His final game of the season was the win against Lazio (rated 6.5) at the Olimpico, it was also his best game in a long time. Inter were under tremendous pressure during the game but Handanovic led his defensive line superbly and limited Lazio to a very few openings.
Brozovic started this month on the bench against Genoa. Vecchi decided to start him against Sassuolo to change Inter's fortunes but it wasnt meant to be. Brozo got a rating of 5.5 vs Di Francesco's well drilled team but looked rusty and only had some flashes of brilliance. Vecchi persisted with Brozo and against Lazio he let him play slightly ahead of the central midfielders. His rating of 6.5 came from him combining very well with compatriot Perisic and shutting down Biglia very well to strangle Lazio and finally break the rut. He also managed to get in some good positions and combinations with his fellow attackers.
The best of Brozo was yet to come at home vs Udinese (rated 7) in the final game of the season. He continued in his advanced midfield role, moved the ball in possession and chased the ball when Inter didnt have it. It was his best game of May and he managed to get on the score sheet as well.
There is a tie for the the 3rd place as well with nothing to seperate Eder and Andreolli. Eder started the month in Genoa with his worst performance of May (rated 4). He was put out on the wing and it was obvious that wasnt his natural position. He turned his month around coming off the bench against Sassuolo (Man of the match with 6.5), he scored one and even got close to getting the equalizer and bringing the impact that Vecchi needed. Eder arguably played even better vs Lazio (rated 6.5) where he continued his goal scoring and played the false 9 role almost to perfection. He made sure Lazio's midfield was chased down and ran till the final whistle. His best game of the month came against Udinese (rated 7.5) where he was man of the match as well. Continuing in his false 9 role he doubled his goal scoring tally for the month and added an assist as well to Perisic to kill any hopes of Udinese comeback. Eder looked like he was playing for the Azzurri.
But Eder isnt alone in 3rd place as long forgotten Marco Andreolli made the most of his chances this month. With Miranda's injury we needed someone to lead the backline and Marco delivered using all his experience and knowhow. He started with a 5.5 rating against Genoa where he couldnt make a useful long pass but did his basic simple defending things right. Marco showed the same consistency and resolve against Sassuolo (again, 5.5) but couldnt prevent a loss.
Against Lazio, however, Andreolli was firing on all cylinders. After Inter went behind, captain for the last 2 rounds, Marco headed a corner in to start the revival. Nothing got past him inspite of all the efforts of the quick Lazio forwards as he earned his first Man of the match this season(rated 7). Marco did well against Udinese too apart from the 90th minute mistake that Udinese scored off to round the final score to 5-2. Until then Marco was rock solid and kept their attackers at bay.
Do you agree? Disagree? Let us know below in the comments or hit us up on Twitter or Facebook.