SempreInter.com's – Player Of The Month For October 2017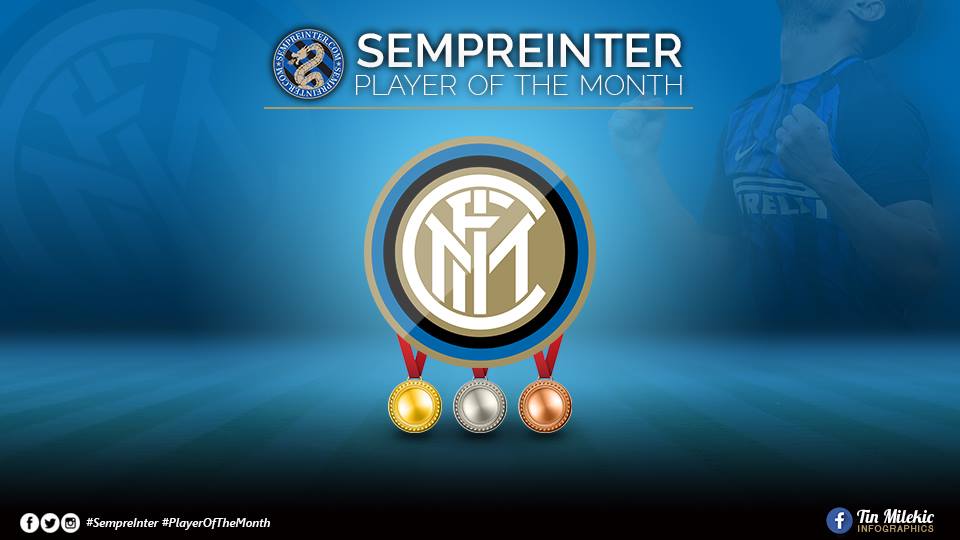 In a month where Inter played 5 games, including a derby against the Summer Scudetto winners and a Napoli who arguably play the best football in Europe right now, Inter managed to maintain their unbeaten record. Inter scored a total of 10 goals, keeping up with the 2-goal-a-game average and dropped just 2 points, during the away trip to San Paolo. The Nerazzurri also conceded 6 goals but managed to keep the most potent attack in Italy at bay mainly thanks to one man, namely the SempreInter.com Player Of The Month for October, Milan Skriniar.
The month of October started with what seemed like an easy trip to Benevento and Inter were ahead by 2 goals in 22 minutes thanks to a brace by Brozovic, but Skriniar, as always, looked the most comfortable in defence even against players that are faster than him. What followed that win was an epic Derby della Madonnina and when Walter Samuel praised the Slovakian and said he saw shades of himself in the former Sampdoria player, it is safe to say that Skriniar must be doing something right. He was rated 7.5 for that game by SempreInter and took that form to Naples and managed to keep the trio of Insigne, Mertens and Callejon quiet along with his team-mates which is no small feat nowadays.
The best was yet to come though as he faced his former employers, Sampdoria, receiveing another 7.5 rating. Not only did he manage to be his usual dependable self in defence, but he also popped up with a goal to open the scoring. Yes, fatigue was starting to show but he still played like an experienced professional. His consistency is the key to him winning this award as he managed to bag yet another rating of 7 against Hellas in Verona. The fact that his worst rating this month is 6.5 against Napoli away says everything regarding Skiriniar's current form. Long may it continue.
Coming in second this month and confirming his purple patch is none other than Italian International, Antonio Candreva. This month Antonio actually played more like the one we're used to seeing turn up for the Azzurri. His month started with an assist at Benevento to help Brozovic open the scoring but the rating of 6 was his lowest of the month. Against Milan, Mr. Derby, started leveling up. He was rated 7.5 for an assist and some fantastic play on the wing both offensively and defensively. His defensive performance against Napoli also deserve a special mention as without that shift of work he put in, D'Ambrosio wouldn't have looked as good as he did.
The second of his three 7.5 ratings in October, came against Sampdoria where he was instrumental in that brilliant first half performance where Inter blew Giampaolo's team away. He ended his month with yet another tremendous cross, this time serving Borja Valero to open the scoring against Hellas and yet again his overall performance warranted a rating of 7.5. All that is missing now is a goal and hopefully those will come in November.
In third place this October is September's Player Of The Month, namely Inter captaim Mauro Icardi. It didnt look like he would make it to the top 3 given his performance against Benevento where Inter struggled to create any decent opportunities for Mauro which resulted in arating of 5. But then came the fantastic performance in the Derby where his amazing finishing resulted in a hattrick, memorable victory as well as the perfect rating, the coveted 10. The only other time a player has received the highest mark from SempreInter was Ever Banega last season when he scored 3 goals and made 2 assists in the 7-1 thrashing of Atalanta.
Icardi kept both Koulibaly and Albiol occupied whilst sacrificing himself a lot for the team at the Stadio San Paolo in Naples, but at home against former side Sampdoria he bagged another brace taking his monthly tally of goals to 5 and receiving a rating of 8. His October ended as it started as Icardi struggled for most of the match against Hellas Verona so he matched his Benevento rating.
Do you agree that Skriniar was Inter's best player in October? Or do you think another player deserved it more? Is Skriniar's first name the only thing wrong with him? 
Let us know in the comments below or hit us up on Twitter and Facebook.