SempreInter.com's Player Of the Month – December 2017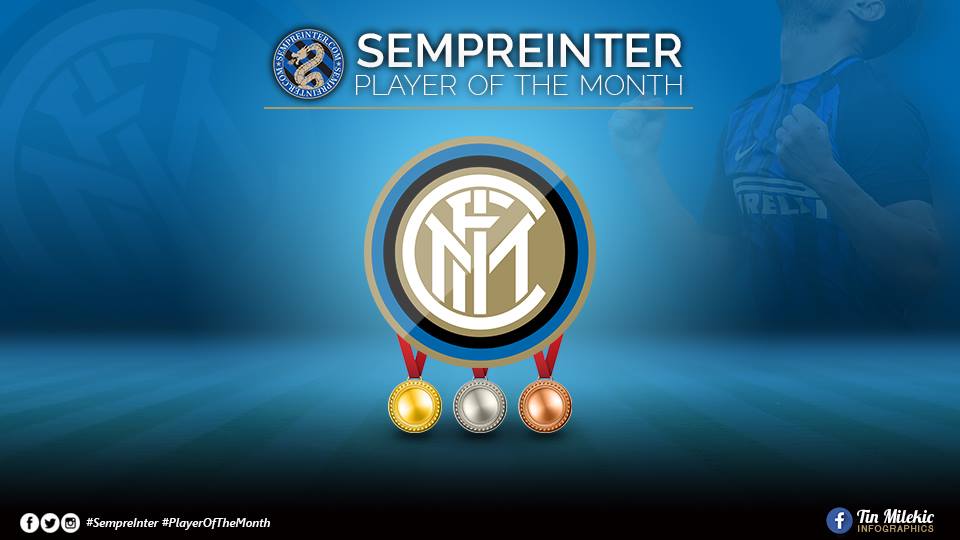 In what was a horrid month of December for Inter where the team only won 1 out of 7 games played, mainly due to the fact that everyone playing in attack had a sudden downturn in form after scoring 5 past Chievo at home. After that victory Inter have scored only once. No surprises then that all the top players for December play in the back line.
For the first time this season, SempreInter.com's player of the month is, Samir Handanovic. Batmanovic's best rated game was the trip to Turin (8.5 vs Juve) where he single handedly ensured that Mandzukic, Higuain and Co. didn't score. Samir was rated a 7 in 2 games (Chievo and Lazio) where he also managed to keep a clean sheet, inspite of rocket speed shots by Milinkovic-Savic and Felipe Anderson. His worst games were against Udinese (5.5) and Sassuolo (5) and most of the goals he let in were the fault of the defenders ahead of him.
Following Samir in 2nd place are 2 players. Joao Cancelo and Andrea Rannochia who had 4 games a piece with an average rating of 6.25. Both players have been rediscovered by Spalletti as a result of injuries to D'Ambrosio and Joao Miranda.
Cancelo didn't make his bow in December untill the Pordenone game where he was one of the most impressive players even though we didn't have an easy game. His best game was against Lazio (7) where he did simple things that created a lot of space and made the most of the possession he had in the attacking phase. This was a continuation of the Derby (6.5) form he showed and was not just effective in attack but also in defense which was something a lot of Interisti were surprised to see. All that came on the back of the defensive mistake that cost Inter the game away to Sassuolo (5) where he didn't react earlier to Falcinelli's position.
Andrea Ranocchia, in the opinion of some, had the most consistent month in an Inter jersey. He started with a rating of 6.5 against Chievo and ended his year with the same rating against Lazio. The other 2 games that he played were in the Coppa where he was rated a flat 6. The mental coaching seems to help him use his powers better and the tactic of keeping it simple and not trying anything fancy seems to fit in within Spalletti's framework for a central defender. The mental fortitude on display vs Lazio after an injury is commendable and he has proved to be more than a reliable backup in December 2017 as Miranda battles with injuries and suspensions.
To round up the top 3 is none other than the human wrecking ball, Milan Skriniar. The only player in the top 3 to play ALL 7 games this month and not only just that, he played every single minute that we did this month. Yes that Udinese (rating of 5) was a bad game and he was partially at fault for a couple of goals but every game apart from that, he was rated higher than a 5.5 His best game this month was against Chievo(8) easily where he got on the scoresheet after winning the ball, running directly to their box and placing a diving header into the far corner of the net.
Do you think any other players deserves an honorable mention? Do the midfielders deserve a shout out in these ratings? Should we see more of Rannochia in 2018? Should D'Ambrosio now be a backup?
Let us know in the comments below or hit us up on Twitter and Facebook.