Terzo Tempo: Not Enough Generation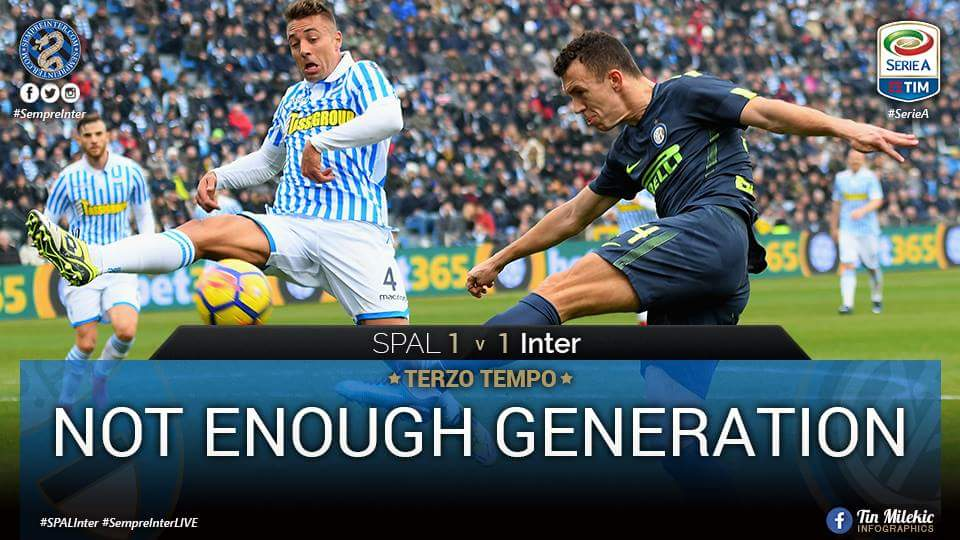 Spalletti's Inter took to SPAL today to finally pick up three points that would have felt so good and reassuring to a negative out of form Inter. Spalletti's side lacked so much urgency and they just looked as if they weren't ready to play, as if the three points that they so desperately needed would just be handed to them because they're so entitled to it. If this group of players doesn't wake up and take responsibility for their poor performances they will miss out on Champions League qualification which will surely drive Icardi away from the club, the player Inter have been building a club around. It will be a huge waste and the prevention of it all begins by picking up full points against teams like a 16th place SPAL.
First of all, in a game where Inter fail to generate any sort of scoring opportunity you need to put your best men up to the plate and give them their chance and no matter how much he has built himself up in the establishment Eder cannot and will not be a difference maker. At this point Spalletti should have thrown everything out there and give Rafinha his half on the wing in place of Candreva or even substitute Brozovic and leave Rafinha his natural attacking midfielder position and just see what happens.
The ball was moving nicely and that wasn't the issue, the main concern was that nobody took it upon themselves to try and dribble past the opposition besides Cancelo and Perisic. Adding Rafinha to the mix would have easily provided so much more vertical movement up and down the field which, in turn, would have opened up space for our wingers to be able to produce crosses or higher quality shots.
Another problem that was very evident was that Icardi, once again had absolutely no distribution line from anywhere, he was completely secluded and that's exactly what SPAL wanted to do with him. When you have one of the best poachers around on your team you need to let him feast and giving him one chance in the middle of the first half is just not enough to win you games. In order for Mauro Icardi to become involved in the game was to drop so deep into his own half that he was almost in line with Vecino and Borja Valero. He received zero through balls in a central position which is why SPAL's tight and compact, almost, five back formation was able to push the balls out wide and which comes full circle to leaving Mauro Icardi alone with almost always three players in the box at all times. All in all there just wasn't any generation up front to be able to win the game in a convincing manner.