SempreInter.com's Player Of The Month – January 2018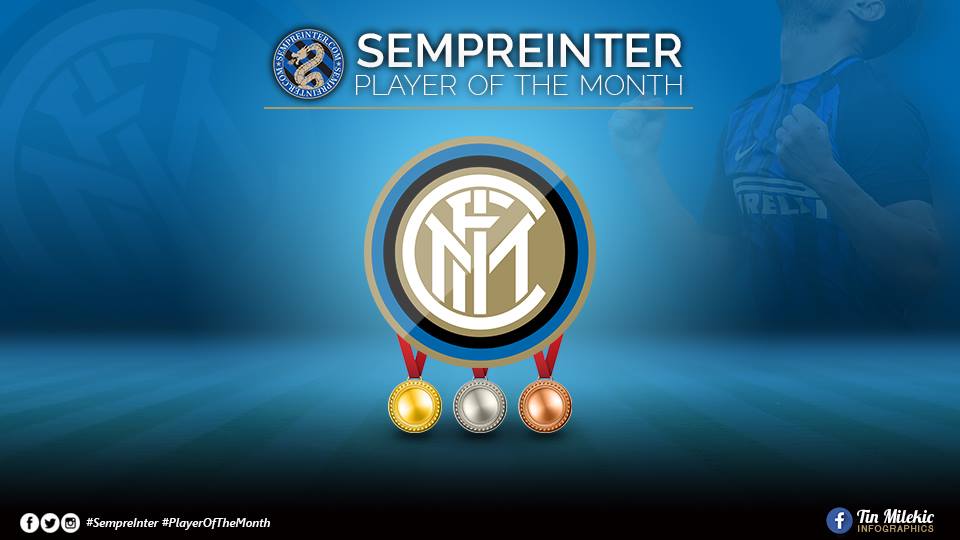 January saw Inter play only 3 games. We scored 3, conceded 3. 2 of the goals we conceded were in injury time away from home. Points were dropped, Inter continued their win-less run and the attack continued to be impotent. All 3 games ended with the same result 1-1. Just like December then its no surprise that our top 3 all play in defence.
Milan Skriniar is the January SempreInter.com Player of the month. Not happy with coming in 3rd in the horrid December, Milan made sure that he would take the crown this time around with 3 brilliant performances. His best rated performance came against Fiorentina as he made atleast 5 world class last ditch tackles to prevent 1 v 1's.He was rightly rated Player of the match. Too bad we conceded in the last minute. Against Roma(6.5) too, he was fantastic in stopping Dzeko and Co and continued his magnificent season. He repeated his rating of 6.5 away in Ferrara against Spal as well but was powerless to prevent their last ditch equaliser.
Joao Cancelo comes in 2nd in January 2018 as well. In December he had Andrea Rannochia for company but this time he holds his own. He played a part in all 3 games in January but his form dipped as the month wore our minds down. Like Skriniar he started with a (7) away in Florence where his set piece ability got him an assist and gave us hope. He continued his form against Roma(6.5) at home where he looked our most potent creative force. With D'Ambrosio's return no the right full back position, Cancelo was moved to the left against Spal and suddenly looked out of sorts and was rated 5 to end his January on a sour note.
Another Joao, this time the Brazil captain, rounds up the top 3. Miranda only played 2 out of the 3 games but his team-mates lack of will and confidence gave him a chance to stand up and be counted after an injury. He didnt dissapoint. After missing the game in Florence, he started vs Roma(6.5) and fought like a warrior to stop Dzeko, Nainggolan etc. The trip to Spal was unpleasant for him, just like everyone where he still got a respectable rating of 6.
Agree with our choices? Who do you think deserves to be in the top 3? Do you think any other players deserves an honorable mention?
Let us know in the comments below or hit us up on Twitter and Facebook.