Carlo B. Duberti – What We Learned About Inter This Week: So Close Yet So Far Away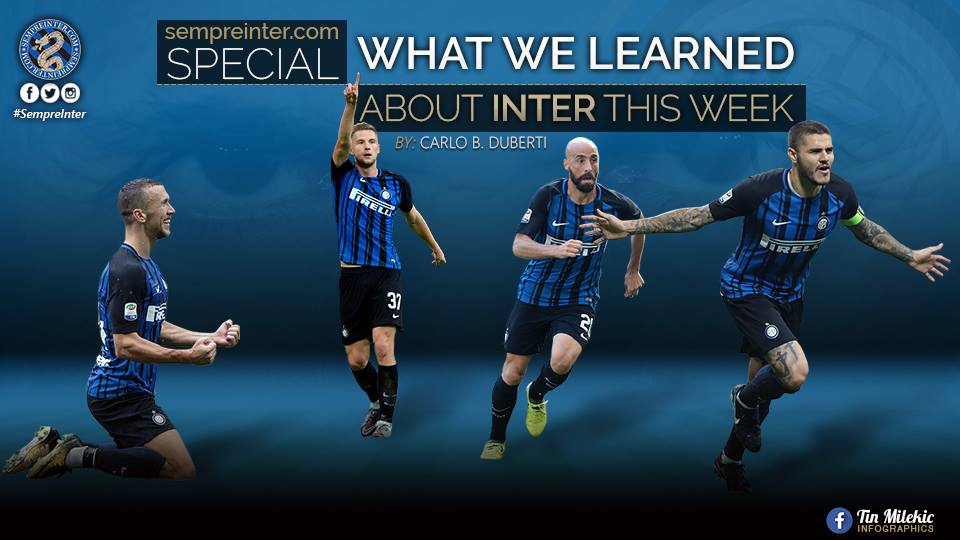 The centodieci. Before kickoff against Napoli, the Curva Nord showed off its beautiful colors, the light rain and classic Milanese fog giving the curva an almost mystical veneer. The visitors came into this game knowing a victory would allow them to continue challenging Juventus for the Scudetto, keeping themselves within agonizing distance of a title that has eluded them since the golden era of Diego Maradona. The birthday boys came into this game knowing that victory would lift them above Lazio and keep them within agonizing distance of Champions League Football, something that has eluded Inter since 2011/2012 season. Ultimately both sides canceled each other out in a hard fought draw; both teams now have an even harder road ahead of them.
Napoli dominated possession in the first half but weren't aren't exactly running rings around Inter. Miranda's reunion with Skriniar at the back made sure that Napoli were continually frustrated around and inside the 18 yard box. And in the opening seconds of second half Inter laid siege on Napoli and for the next 15-20 minutes they played with real verve and fluidity. It was as if the last three months hadn't happened and they came closest to scoring with a Skriniar header, from a fine cross from Cancelo, coming off the post.
Despite the cheer (and relief) that this performance generated with Interisti – and there were real positives beyond Inter's defending: Gagliardini and Brozovic were terrific — Inter were in some respects lucky that Napoli's finishing was so lamentable. Insigne got himself into good position several times only to see his shots sky over the crossbar. For all the fine combination play – passing in triangles and one twos – it looks like Napoli's proximity to Juventus is giving Napoli's front line altitude sickness.
Consider this though. When Inter and Napoli met earlier this season Inter was in the ascendancy. Now, just a few months later, Inter are now 18 points behind them. Inter at least can console themselves that there's was a steady performance this week; but from the high hopes of a few months ago, Inter are now experiencing a period of diminished expectations. At the end of the game Spalletti lamented that Inter lacked quality, that he "couldn't improve Inter." He cannot be faulted for honesty, but this isn't the sort of thing you say in front of journalists, especially when Inter are just beginning to recover a residue of confidence. Inter's 110th birthday cheer hasn't really rubbed off him and Spalletti is beginning to cut a lonely figure.
Here are a few things to take away from the Napoli match
1) Icardi is back
It was great having Icardi back but this was one of those games when you wished he could have been as active in the 18-yard box as he is on social media. Icardi is one of the deadliest strikers in the world game, his positional sense is superb but he's not particularly versatile. He needs service. But without any real service from the wings (or from anywhere else for that matter) he seemed stranded in his own footballing micro-climate, to the extent that Icardi seemed to lose his temper when Cancelo misfired a long pass from just outside the Inter's box in the 67th minute. Still, even a fairly inanimate Icardi is enough to strike fear in most defenders. It is a shame that neither Candreva, Perisic or even Rafinha could take advantage of this. Eder was potentially a better link player with Icardi when he came on as a sub, but Eder was let down often by his poor control, passing and shooting.
2) A Second half of Two Halves?
For the first ten to fifteen minutes of the second half Inter seemed to rise like lions. Was it the sugar high they got from an extra helping of birthday cake at half time? Who knows? But Candreva looked like the winger of old, his performance the equal of his fine haircut. Brozovic's distribution was magnificent, Cancelo looked dangerous as he switched flanks with D'Ambrosio, his crossing superb. Skriniar came close to scoring. And then things seemed to fizzle out. A sugar high became a sugar low. Rafinha – who had a quiet game – was substituted for the tragicomic Eder. Switching Cancelo to the left suddenly looked less inspired. His passing became erratic, a cause of great frustration for Icardi; he no longer seemed so confident.
3) The Magnificent Four
Inter's superb defensive organization was a constant throughout the game. Skriniar 's rise these last two years has been remarkable and he has a fine partner in Miranda. Bar one squeaky moment when Miranda almost reenacted Steven Gerard's famous slip up against Crystal Palace, this was a faultless performance, aided by the midfield shield of Brozovic and Gagliardini. This was one of Brozovic's most complete performances in an Inter shirt. Here was an opportunity to see him play without a storm cloud hovering over his head or a scowl on his face: the result? His distribution was dazzling, as was his work rate. And Gagliardini? The Bergamo native bossed it. When his move to Inter becomes permanent, Suning must insert a giant buyout clause into his contract.
4) Solidarity
For Inter's 110th birthday, the club unveiled a striking new emblem, that incorporated the red cross of St. Ambrose, one that suggested both continuity and innovation. Inter's CEO Alessandro Antonello said, at a celebratory gala, "Our history must inspire us. The club's founding fathers were revolutionaries, giving us important values and making us proud to wear the Nerazzurri shirt. This must provide inspiration for everyone."
Of course there was an element of branding exercise to this. As outsiders Suning have an interest in establishing their bona fides to a somewhat skeptical Inter fan base. But it was a message that the Inter dressing room and its management team should heed. Over the last few years Inter's cultural and footballing philosophy has been in flux, thanks in some part to ownership issues. The dressing room has reportedly been highly fractionalized, lacking the veteran leadership that Zanetti and Cordoba once offered. So it is always worth retelling Inter's foundation story.
It is reminder that the club was formed as an act of rebellion, as an act of solidarity, by a band of "brothers of the world" who rejected the national chauvinism of Milan Football and Cricket Club. It is also a reminder that for Inter to succeed, the players need to imbibe this heritage and show more solidarity in the dressing room and on the field. Throughout this season, that is something that has been faraway, yet, at times, so close.