Carlo B Duperti – What We Learned From Inter This Week: After The International Break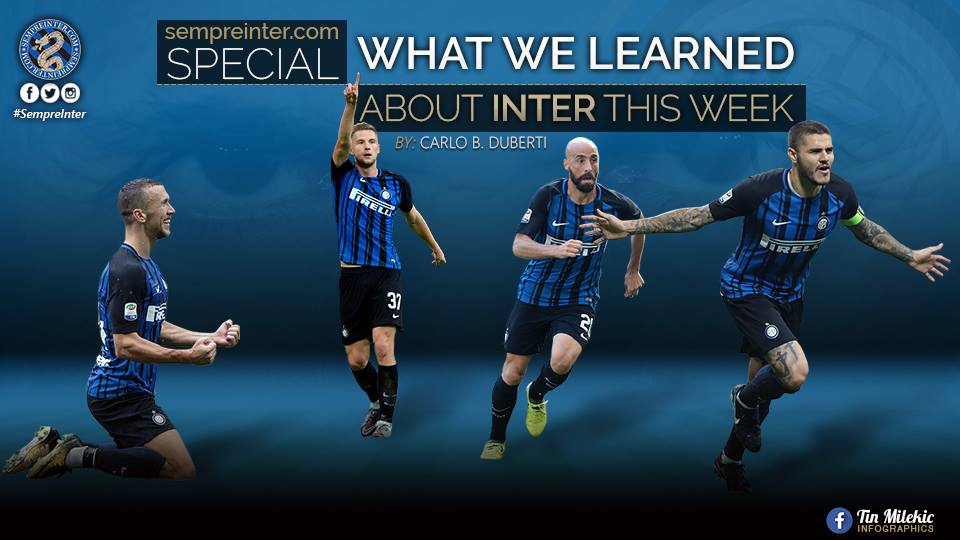 Winston Churchill described his darkest moments of depression as "the black dog". Other have described their affliction as the "noonday demon." And for the football fan, we might as well give it this name: "the international break." We spend a week in a sad daze, our brains fogged in boredom and fear, knowing that as well as pointless international friendlies, bad things often happen during the international break.
The international break is that time when players pick up pointless injuries that can impact the fortunes of their club team. It is also that time when, unguarded by the club's press office, they speak with rare candour. Perhaps they will hint to a journalist that they feel they are not getting enough playing time, or a being played out of position, to the extent that they'd possibly be interested in opportunities elsewhere.
So how well did Inter do during international break?
Well, for a start, Walter Sabatini, Suning's technical director for both Inter and Jiangsu Suning, quit. The transfer market whiz was apparently frustrated with Suning's lack of ambition in the transfer market. Hot on the heels of this story were stories, quickly denied, that Suning would soon be entertaining offers for Inter. (Suning was having a bad day; Fabio Capello quit Jiangsu too, as well as Sabatini's number two Ricky Massara.)
In light of this, we must thank our lucky stars that Argentina's coach Jorge Sampaoli didn't call up Mauro Icardi for the Albiceleste. While Spain thumped six goals into Argentina's net, the would-be Fellinis in Inter's Media House made a short film to celebrate film his 100 goals in an Inter shirt. (The film was titled "The Penalty Area is My Home" and featured a genial Icardi sitting on a couch in a penalty area, talking about his goals. It was an improvement on Inter Bells. INSERT LINK TO FILM HERE?) We will be seeing more of this from now until the next transfer window, as it's going to be all about keeping Icardi happy and occupied. The good news is that his spouse and agent, Wanda Nara, has said that she is approaching the latest round of contract re-negotiations with "serenity" (in the days and weeks ahead we shall learn what "serenity" exactly means.)
Whatever is troubling Inter's front office, the fact that Spalletti fielded the same line-up against Hellas Verona as he did against Napoli and Sampdoria meant that at least the team emerged relatively unscathed from the international break. In fact, they put on a performance that, what with the level of possession and freedom they showed, resembled more of a game of FIFA than the expected rough and tumble of a tie against a side doomed to relegation as Verona is.
Some takeaways from the Hellas Verona clash:
1) Yes our minds are all about Milan on Wednesday but…
Two months ago Inter would have struggled for a point against the likes of Hellas and Sampdoria. With eight goals in two games, Inter are making things look easy, though admittedly their opponents have helped them. Icardi's goal in the 36th second of the game – set up by an Olympian thrown in from Perisic who must have spotted that Verona's central defence still had sleep in their eyes and had not heeded the message of Icardi's short video– was an example of this. But easy or not, these were three very valuable points and even though this seemed more of a warm-up for the Milan Derby, it was pleasing to see how sharp Icardi was, great to see Perisic back on form, how solid Miranda and Skriniar are together and how Brozović
and Gagliardini are probably the most exciting pair of holding midfielders since Cambiasso and Thiago Motta. Inter are beginning to look comfortable with this line-up.
2) Yes this was a warm up game for the Milan Derby but…
Gattuso's Milan will certainly not allow Inter such luxury on Wednesday night. Verona had a few chances in the second half, chances that a better team would have converted into goals. Verona also gave Inter space to do more or less whatever they wanted. Players switched position, or played higher than usual. There was a grace to Inter's passing: Rafinha played some elegant through balls, Brozović  linked up well with Perisic, including the assist for the latter's goal which Perisic controlled beautifully and scored with a perfectly timed volley.
3) Keep Mauro happy and healthy!
Inter seemed to go into cruise control after Icardi's substitution. Yet, at about this time, six hundred km south of Milan, Lazio – just one point behind Inter, but with a better goal difference – started to pummel Benevento with goals, winning 6-2. Inter need to be similarly clinical and ruthless. Inter were not without chances after Icardi's benching. They moved the ball around well but Icardi's replacement, Eder, is, obviously, not at home in the penalty area. And Candreva – bless his heart – is destined not to get on the score sheet this season, despite coming close to scoring on a couple of occasions. Thus, when a camera zoomed in on Icardi on the bench, ice pack on his thigh, Interisti were reminded, yet again, that we are one injury away from missing Champion's League football.
4) Spalletti – The Return of the Zen Master?
In my previous column I observed that Spalletti was beginning to cut a lonely figure at Inter, especially after his public trashing of the squad after the Napoli clash. At times his brooding walks on the touchline have resembled Humphrey Bogart at the end of Casablanca, his distressed face rather like one of those gargoyles perched on the side of Milan cathedral. Spalletti's lamentations after Napoli seemed ill advised but I now realize he was practicing the art of reverse psychology because it seems to have motivated Inter back to their goal scoring ways. And I was reminded of former SempreInter.com editorialist Max De Luca's lucid description of Spalletti as a Zen master, because Spalletti has showed these qualities in abundance these last few weeks.
A Zen teacher does not just focus on their pupil's breath work or throw them kaons to puzzle over or have green tea served to enliven them. Sometimes when a pupil's posture is wanting or they fall asleep while sitting in meditation, the Zen master will pace by and give them a light, but judicious whack to wake them up. This has Spalletti's accomplishment these few weeks; and for tomorrow night's Derby della Madonnina Spalletti's Inter need to continue in this way, showing calm, focus and ruthlessness.
Follow Carlo B on Twitter