Tactical Analysis – Inter 4 – 0 Cagliari: Men Vs Boys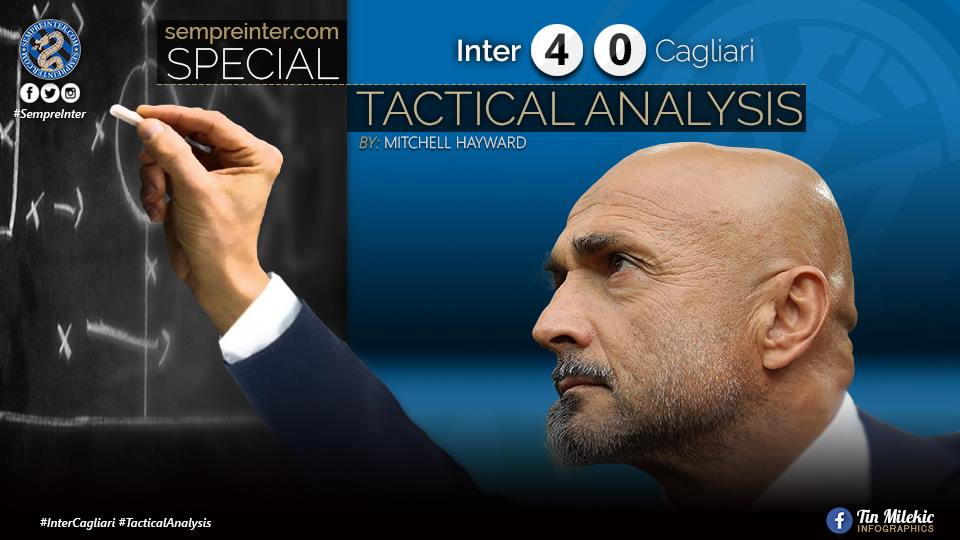 Inter came into this one without a win in three and knew anything less than a win would put a huge dent in their quest for a top four finish. It wasn't all negative for the home side though as they had managed to pick up an impressive seven clean sheets from their previous eight matchdays and with a defensive record like that, wins would most certainly return. Their opponents who are not yet safe from relegation won their last fixture against fellow strugglers, Udinese. They also have a very tough last four matches however a crucial match against Bologna at home this weekend awaits and a victory in that game would really help them to stay up. 
Formations: 
Spalletti was almost forced to try something different in Bergamo last time out, switching to an unusual 3-4-2-1. It matched Atalanta on paper but in terms of how the match played out, the Nerazzurri really struggled to get much going and that was in large part due to Brozović being suspended who in recent weeks has completely transformed as a player and his importance how gone from zero to one hundred. With him back, the boss resorted back to his tactically sound 4-2-3-1 with Karamoh getting the nod to start. This line-up was officially the youngest in terms of average age that Inter have put out this season. 
Cagliari boss, Luis Diego López said that they are not treating this match as a bonus however based on the number of changes he made, it would suggest otherwise. A total of six changes were made with the likes of Ceppitelli, Cigarini and Pavoletti (two of which scored in the win against Udinese) being replaced for Romagna, Ioniță and Ceter respectively. Based on the line-up alone, the Sardinia located outfit were in for an awfully tough night at the San Siro. 
First Half: 
Inter got off to the perfect start with a goal in the first two minutes. This set the tone for the match really as any plan Cagliari had of sitting deep trying to possibly get a point or even steal a win was instantly gone. The away side attempted to press high, not allowing passes into the midfield from the backline however as soon as that first line of press was broken, a huge gap was left in behind which caused issues. To add, their backline wasn't the quickest so Icardi and Karamoh looked to exploit that, which they did with success.
As you can see, there is a massive gap from the defence to the players pressing and with minimal movement, Inter managed to create a clear-cut chance from this position with just two passes. Mauro Icardi fools his marker by making a small run towards the ball thus dragging him out and creating more space in behind for the long ball. As soon as that ball is played, Karamoh knows to make his move as he has the pace advantage on his marker also. 
The Nerazzurri's front three pressed the three defenders of Cagliari cutting off passing lanes out wide, forcing the ball through the middle where Inter had three players ready to pounce.
Yann can be seen here cutting off the passing option to the LWB forcing the ball carrier to turn back towards the danger area so he therefore panics, playing a poor ball into the middle which like I said, the likes of Rafinha and Gagliardini were positioned perfectly to either apply pressure or win the ball back. 
Luis Diego López seemed to opt for a positional press but with the number of changes he made to the side, the players were clearly lacking cohesion and awareness about when to do what. This led to Inter's midfield having a lot of time and freedom to find the passes between the lines to create attacks.
Six Cagliari players can be seen surrounding the key man when it comes to a build-up, Brozović. Yet, not a single one of them make an attempt to really close him down whilst at the exact same time, none of them have any idea that two Inter players (Rafinha and Perišić, both circled) are behind them, free in the space between the lines. This is very poor tactically from both the manager and the players. 
Second Half: 
The Rossoblu's wingbacks seemed to be quite lost in regards to their instructions which greatly affected the team and their stability. Ex-Inter man, Senna Miangue was awfully defensive in the LWB position which meant he provided no width when they actually had the ball. As for the RWB position, both Giannetti and Faragò when he came on were both completely lost both defensively and offensively.
Ivan looked to really exploit this by staying as wide as possible which forced the RCB, Romagna to cover for his RWB and apply some pressure. However, doing this left his position vacant for runners to take advantage of and it also gave Icardi the option of runs which meant his marker had to be a lot more aware and on his toes. 
In the second half, one key tactical change was made with Karamoh having more of a free role which was very smart by Spalletti since Miangue was very defensive like I previously mentioned so now instead, with the role he had, he could help Perišić to double up on Romagna since Cagliari had switched to a 4-4-2 at this point and Faragò wasn't helping defensively throughout the match.
From the above image, Romagna is completely useless in this situation since Ivan can have a shot at goal or find Karamoh with a pass creating a great chance however if the defender received some help from those in front of him or the midfielder to his left, it would be a lot harder for Inter to find gaps to expose. This was a common theme from the very start of the match and it was a major downfall for Cagliari who simply put in one of the worst performances I have seen from a team in Serie A this season. 
Inter continued to dominate the game in every aspect for the rest of the match whilst the visitors had accepted their fate and the result before the first whistle, seemingly. 
Conclusion: 
A match which Inter were always going to win as long as they showed up based on the line-up Cagliari put out. It was so clear to see that they didn't care one bit about this match and that was evident by the result and statistics (25% possession and zero shots). Disappointing not to see Karamoh score after he hit the crossbar and missed one or two relatively easy chances but I'm sure he'll get better at that with more experience and game time. Congratulations to Cancelo on the other hand who managed to score his first goal for Inter, hopefully many more to come! 
As for us as a team, we done absolutely everything correctly and I can't think of a single fault. Handanović could've sat in the stands which is nice to say after the job he had to put in against Atalanta just to keep us in the game. This result makes it eight clean sheets from nine matches but more importantly, it takes us up to third place meaning Roma and Lazio have added pressure to win their fixtures so hopefully they both slip up! Onto the weekend for another must win game against Chievo, see you then.
You may be wondering why there was no tactical analysis for the Atalanta game and the simple answer is because I was terribly ill during and after the match and as this fixture was only a few days after, by the time I could get it done, it would be full focus onto Cagliari. So, apologies for that but here we are!