Tactical Analysis – Inter 2 – 3 Juventus: Heartbreak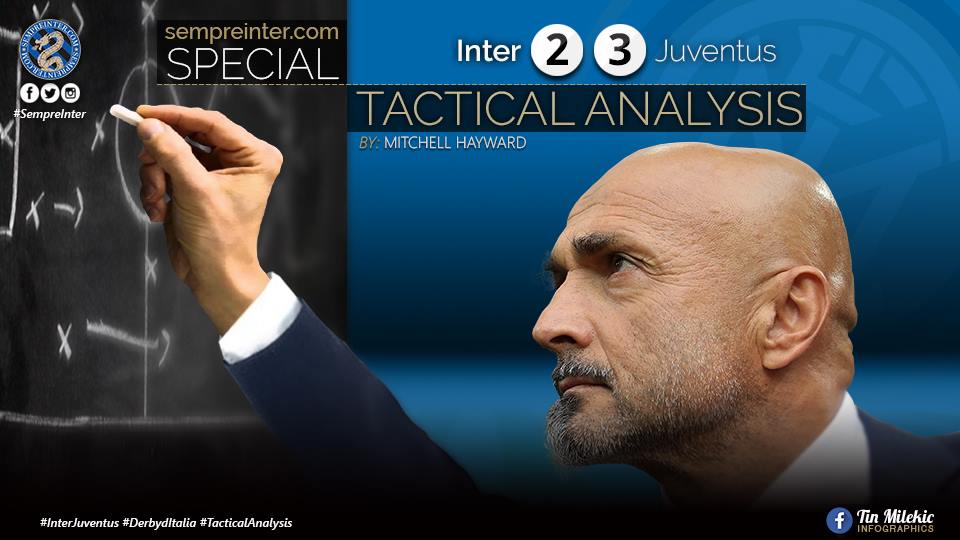 All eyes were on this Derby d'Italia as Inter looked to continue on their race for a UEFA Champions League spot whilst Juventus were now only a point ahead of their title challengers, Napoli with the men from Naples stealing all three points in Turin last weekend. With that being said, this match was always going to be a fascinating spectacle with the winner putting a real dent in their opponents' seasons and year-long targets. 
Formations: 
Luciano made two changes to the starting XI that won away to Chievo last weekend with Matías Vecino replacing Borja Valero in the midfield pivot whilst Candreva was back in the team, taking the place of youngster Yann Karamoh; a move which made complete sense given the circumstances. The formation yet again remained the same.
As for Massimiliano Allegri, the well renowned tactician made a large number of changes from their potential title-defining defeat at the hands of Napoli in their last match. The changes included a completely new backline and Dybala being dropped to the bench yet again with Mario Mandžukić coming in to play on the left-hand side. Something Allegri also did in the reverse fixture which worked to great effect. 
First Half: 
Just from Juve's line-up alone, you could spot one clear tactic that they would try to express onto the game. That was Douglas Costa at RW with Cuadrado playing as a RB behind him. The idea with this was to have Costa cut inside on that left foot with the pacey and energetic Colombian making continuous overlaps with Perišić being forced to track back. This tactic would be nullified almost instantly since Cuadrado was booked within four minutes meaning he could take less risks. 
With a game as important as this one, the last thing either team wanted to do was give up an early goal, especially the away side and that was clear to see from Juve. They decided to sit deep and stay compact for the opening 10 minutes, allowing Inter to come onto them unless Vecino or Brozović were being given too much space, then either Matuidi or Khedira would apply some pressure.
Every player is behind the ball, including Gonzalo Higuaín who was instructed to cut off passing lanes or cover shadow a space rather than apply pressure to the centre backs like in the image above. 
After 15 minutes of play, Juve had managed to take the lead through nothing but sloppy defending and to add to the Nerazzurri's dreadful start, Vecino was starting his first match since February got himself sent off for a poor challenge on Mandžukić. This ultimately meant Inter were in for an incredibly tough final 75 minutes and Spalletti would have to adjust his tactics to perfection. The first thing he did was drop Rafinha into a pivot with Brozović and then he instructed the wingers to tuck inside, closing the gaps through the middle, therefore forcing the ball out wide which led to the winger pressing depending on which side the ball was on.
One very important tactical decision Spalletti made was to ensure his team continue to press Juve whenever possible since this would let them know that they can't just have the ball and control it how they would like. If Inter just sat deep, the signals would be set off for Juve to just simply control proceedings and wait for gaps to open up as players tire through constantly chasing the ball.
However, as you can imagine with the numerical disadvantage, it would mean that Inter would have to get it spot on because if they left a short option available for Barzagli (the ball carrier) he could simply find that pass since he has the ability and Juve could be in a real dangerous attacking position. Fortunately for Spalletti, his team performed the press to perfection here as Barzagli is forced long leading to the ball being won back in a 50/50 situation. 
As the half went on, Inter really grew into the game with Juve taking quite a negative approach to the match. Instead of putting their foot down by pushing players forward, they allowed for the home side to keep the ball whilst trying to attack. Something some fans have become frustrated with Allegri about in recent times and it's understandable. Inter were there for the taking in the first 20 minutes but Juve simply didn't take advantage, instead allowing them back in. This is largely down to their pressing game being slow, lethargic and out of sync. 
Second Half: 
Contrary to the first half, Inter got their presses wrong in the second half at times, allowing the Vecchia Signora to work the ball out from the back to start off attacks.
One example being here where 6 Inter players can be seen in the image and Juve have the ball in their own half, close to the corner flag. No way should the ball carrier have a really simple, open option in the middle like he does with Khedira. Rafinha should be a lot closer so that Khedira will no longer be a viable option and even if he is, he will be put under immense pressure right away. Instead, he was able to receive the ball and move it on with ease allowing Juve to start an attack.
Seconds later, Inter have the chance to put their errors right but instead, they get it wrong. Buffon had the ball with Icardi closing down the angle and forcing him to one side. This meant that Inter's #44 needed to get a lot closer to Rugani and Cuadrado to apply pressure more quickly but that wasn't to be. Rugani received a pass from his GK and was able to play the ball out. For a side that is down a man, these kinds of errors can be absolutely criminal. 
Dybala entered the field for Khedira with the away side looking to go more offensive and take advantage of their man advantage however it didn't change anything for them to begin with. In fact, if anything it made things worse. The ridiculously offensive right-hand side of Juve was exposed with Perišić beating Cuadrado with absolute ease and firing a ball across the box resulting in an own goal. Tactically, this decision by Allegri always looked to be a very dubious one and it proved to be a mistake as Inter, even with 10 men had a real control on the game and exploited Juve's weaknesses. 
With Inter taking the lead, Allegri knew that he had to do something rather drastic otherwise their Scudetto lead could be lost. The change he made was removing Mandžukić for an actual winger in Bernardeschi, this switch meant Juventus could use the width to force players out and therefore creating gaps. This seems to be an obvious thing to do when you have a numerical advantage (to make the pitch bigger) but Allegri didn't do this until they went behind which I found strange.
An example of Juve's floods of attacks can be seen above. Cuadrado who was still playing as a RB technically was positioned and attacking like a RW with Dybala playing in the half space with Bernardeschi going alongside his #9 to cause more hassle in the box and to provide an option for a cross or inside pass. 
Inter of course couldn't do much at this point simply due to having one man less and most of the players playing on dead legs from having to cover extra space, especially the midfield. Their tactic was to now counter whenever possible with Juve only leaving the centre backs furthest back as everyone else pushed forward. 
Juve's pressure would eventually prove too much for Spalletti's side to handle and some say the switch to bring on Santon for Icardi showed negativity and weakness causing us to lose the game whilst others simply blame it on tired legs and tired minds.  
Conclusion: 
It was absolutely heart-breaking to lose this match in the way we did and it's really hard to blame Spalletti since I feel he got everything else spot on apart from one substitution. However, that one sub cost us the match as Santon played a major role in both goals and this result could be the game that cost us a UEFA Champions League spot. The referee was beyond poor but at the end of the day, you can't lose a game you are leading with 5 minutes left to play, it's that simple and it's results like these which we will look back on if we miss out on a top 4 spot as the reason why and we can't complain. This type of thing has happened one too many times and it needs to be addressed for this team to progress further. All we can do now as fans is back the team and hope that when we go to Rome on the final day of the season, we have a top 4 spot in our hands.