SempreInter.com Reviews The 2017/18 Season: Who Was Inter's Worst Player?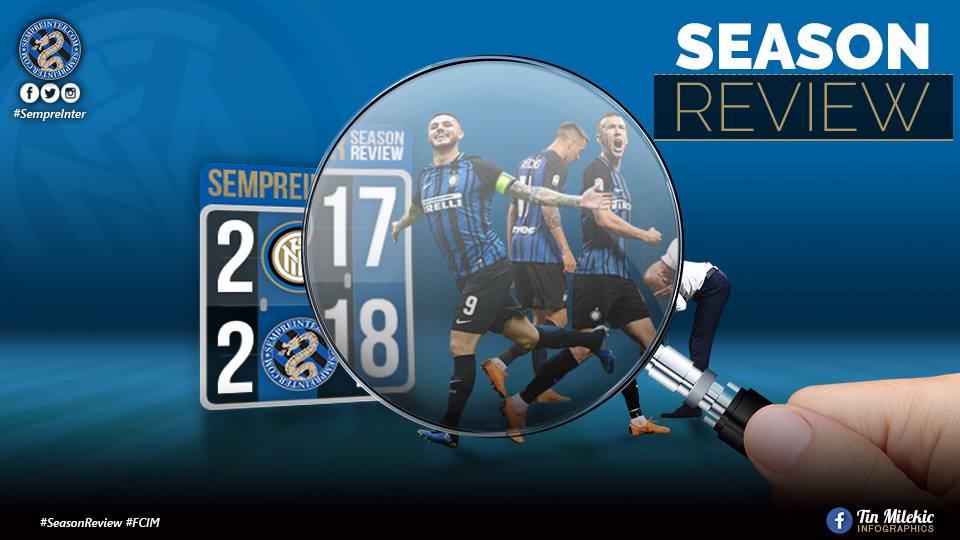 As Inter's fantastic season comes to an end, the SempreInter.com staff takes a look at the year which has just concluded. So far we have looked at who the staff think has been the best player of the season as now we turn to who the staff think has been the worst player of the season.
Cammy Anderson
"Dalbert. He arrived to much fanfare but failed to lock down a regular spot in Spalletti's starting 11 and didn't exactly cover himself in glory when he did get the chance to perform."
Luca Corchia
"Candreva. To not score all season, or make an assist in 2018, is shockingly bad. We could of had CL wrapped up before the Lazio game if he had been more clinical. I'm willing to let him off for a few bad games but at this point it's unacceptable."
Claudio Cauteruccio
"Santon. Did not contribute a thing all season. Done more bad than good."
Suneet Bajaj
"Candreva. Name a winger that has started so many games for a coach like Spalletti and have so little to show at the end of the season."
Michael Molella
"Candreva. Having such a high expectation for him is probably what ruined everything for me. 0 goals and 8 assists this season, I really expected much more from our right winger. I miss the Candreva from the Lazio days."
Luca Prisciandaro
"Davide Santon. Unfortunately, he's just not good enough for this team anymore. I like the guy and it's great to have a member of the treble team around, but he is so often a defensive liability and offers nothing going forward. His mistakes directly cost Inter at least six points this season. Antonio Candreva gets an honourable mention, although at least he gave some assists."
Andrew Di Franco
"Santon. Collapsed under pressure way to often in critical situations."
Olof Svensson
"I have to say Eder although he did a pretty good job filling in for Icardi during his injury period. But as a sub he does not add anything to the team."
Tin Milekic
"Hard question. There are plenty to choose from, so to make it easier I'll choose from the first 11, and that guy would be Antonio Candreva – frustrating to watch, one-dimensional, for a player of his technique and work-rate his on-field intelligence, decision-making is Guarin-esque terrible. Zero goals all season from the right wing, come on. Completely lost his head in search of a goal in 2018, not playing like a team-player any more… He's simply not up to the standard."
Will Beckman
"Davide Santon. It's never nice to point the finger at someone who's given the club as much as he has (and formed part of the squad that won the Triplete), but the inescapable reality is that he has made a series of decisive mistakes this season which could have cost us our Champions League place (Fiorentina, Roma, Juventus…) Thanks for everything Davide, but it's time to move on."
Rahul Sharma
"Santon. Almost cost us our Champions League place with 3 big mistakes, Can't handle the pressure of playing for Inter anymore"
Daniele Etefia
"Davide Santon. Such a naive and erratic player. He has refuse to improve over the years. Highly disappointing for a player many thought had a potential on par with Zanetti."
Mario Gagliano
"Dalbert. Couldn't find a starting spot in a position we were desperate to fill. Couldn't even get picked over Santon who was awful at times."
Mitchell Hayward
"Davide Santon. There were a number of candidates in all honesty with the likes of Borja Valero and Antonio Candreva but I just feel like Santon was so poor this season for the most part. He made key errors against Roma (1-1 at Home) and Juve (2-3 at Home) which cost us vital points but fortunately it didn't cost us at the end of the season. I'm sure a lot of his poor play comes from the fact he is lacking any kind of confidence but nonetheless, I feel he had the worst season out of every player."
"As much as it pains to give this "accolade" to the only remaining member from the legendary treble winning team in the squad today, it must be Davide Santon. His shortcomings have cost Inter ruthlessly, especially in the second part of the season."
In total 8 votes for Davide Santon, 4 votes for Antonio Candreva, 2 votes for Dalbert and 1 vote on Eder.
Do you agree? Disagree? Let us know below in the comments or hit us up on Twitter or Facebook.