#InterLegends – Dejan Stankovic: The Dragon Guarding Inter's Midfield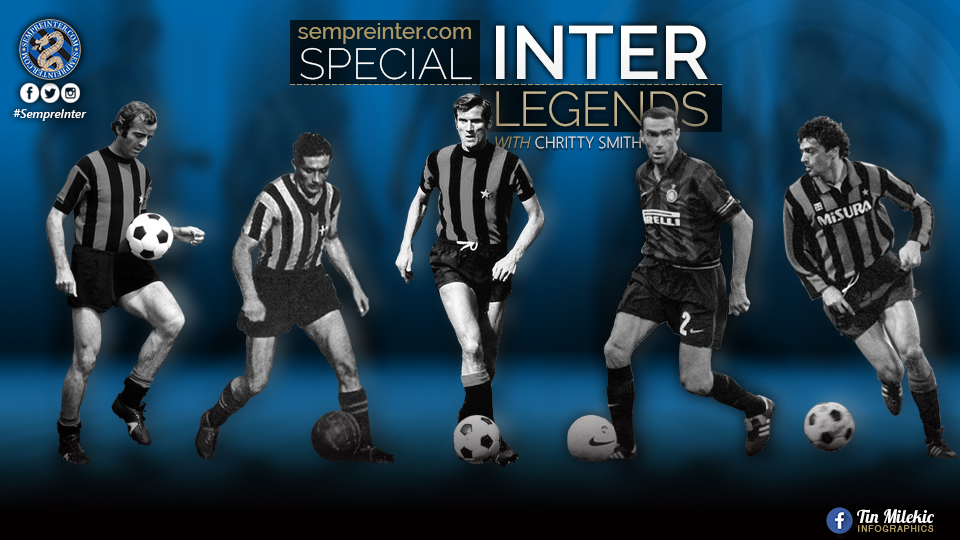 The relationship between Inter Milan and Dejan Stankovic is a story of passion, in every sense of the word. The arrival of the player at the San Siro during the 2004 winter mercato was a stroke of luck as it appeared the Serbian international was Juventus-bound. As fortune would have it that deal fell through and instead Stankovic chose to play his football at Inter. This decision was the start of what would become one of the most successful and decorated careers in the history of this iconic club. 
The journey of Dejan Stankovic to Inter began with his forced departure from Lazio, a club which at that time was in the midst of massive financial difficulties. Lazio had to sell many of their key players to keep their heads above water, this included the sale of Stankovic to Juventus.
Just as it appeared the player had inked his name on a contract to play for the Bianconeri, he changed course and instead signed with Inter. One of the deciding factors for the change of heart was the anticipated arrival of his former Lazio teammate and manager Roberto Mancini at the club.
Indeed, Mancini was one of the last to jump off of the sinking ship in Rome. He was hired by Inter in the summer of 2004 to take over the managerial duties. Despite having to wait a half season to be reunited with Mancini, Stankovic's first few months with the Nerazzurri were quite impressive, scoring four goals in 14 league appearances.
Stankovic was quite comfortable with the pressure that came from playing at the San Siro as well as lining up next to other talented players. After six years at the Stadio Olimpico surrounded by the likes of Diego Simeone, Pavel Nedved and Juan Sebastian Veron, he was quite familiar with achieving success. As a result, he quickly became a favorite among the Interisti.
Deki, as he is nicknamed, certainly endeared himself to the Inter faithful when he took a reduction in wages to join the club in 2004. But it was his unrivaled love for the crest, commitment to re-establishing Inter as a Serie A power, and ascension to world-class player while wearing the colors of the Nerazzurri, that truly launched him on his path to Inter stardom.
During his first full season with the club (2004-05) and with Mancini on the touchline, Inter improved their point total by 13 over the prior season (59 to 72), improved from fourth to third in the league table, and reached the quarter finals of the UEFA Champions League after failing to advance past the group stage in their previous attempt.
At the conclusion of the 2005-06 season (and post-Calciopoly scandal verdict) the Nerazzurri would lift their first Scudetto since 1989, ending a 17-year league title drought. Stankovic of course, played a major part in the club's return to the top of Serie A. He had now lifted this prestigious trophy twice with as many clubs (Lazio, 2000).
Few could have predicted that this group of players were merely on the cusp of what was to become one of the greatest dynasties in Italian football history. It was clear though, that Internazionale, under the management of Roberto Mancini, were improving at a rapid pace.
What made Stankovic such a vital part of Mancini's Inter was his incredible versatility. He was most-skilled as an attacking midfielder, but could easily transition to either wing. It was also not uncommon to see him switch into a defensive role in midfield.
Stankovic was well-known for his incredible work rate. There was no one at Inter, or anywhere else for that matter, who was going to out-hustle him. Hard work and determination alone do not guarantee success however. To excel on the pitch one must also possess the necessary skills. Stankovic had the perfect blend of grit and grace.
For much of his career Stankovic was widely considered as one of the most efficient and creative passers in the game. He also had the innate ability to score from virtually unthinkable distances as a long shot specialist. Who will ever forget his 30-yard strike during Inter's 4-0 victory in the Derby della Madonnina during the 2009-10 campaign?
It was countless moments like this over the span of his career that helped him secure a place in the hearts of Inter supporters as one of their all-time favorites. There would however, be one more obstacle on Stankovic's path to Nerazzurri immortality. Roberto Mancini left the club in the summer of 2008 and was replaced by the controversial, but undeniably successful, Jose Mourinho.
Rumors swirled that Mourinho wanted to rid the club of "Mancini players" and overhaul the squad. This, despite Inter having just celebrated their third consecutive league title. It was Mourinho's desire to switch to a 4-3-3 formation. This experiment was short-lived though, and Mourinho quickly reverted back to the 4-3-1-2 of his predecessor.
During this time, Stankovic had to prove to Mourinho that not only was he still worthy of first-team selection, but that it would be in the manager's best interest to retain him at the club. Stankovic was coming off of an injury which he had suffered during the previous season and it was Mourinho's belief that he was no longer capable of playing at a consistently high level.
Stankovic would again be linked with a transfer to Juventus. Not unexpectedly, there was public outrage from supporters of the Bianconeri, as they were quick to recall Stankovic turning them down in 2004 in favor of Inter, as well as his public celebrations following the aftermath of the Calciopoly scandal.
For the second time in his career, Dejan Stankovic narrowly avoided a move to Turin. The end result could not have turned out better for player, manager, or club. By the fall of 2008 Stankovic had not only proven that he could still play at an elite level, he had also earned the admiration and trust of Jose Mourinho. As a result, he became an irreplaceable player within Inter's midfield.
In Mourinho's system Stankovic acted as the playmaker behind the two center-forwards. This worked beautifully as Inter would dominate the league again en route to their fourth Scudetto in a row. The only accomplishment missing for this brilliant generation of Inter players was continental success. Funny how things seem to come together at precisely the right time.
Though Jose Mourinho's tenure at Inter was short (2008-2010), there is no denying that it was flooded with success. The 2009-10 season was not only a shining example of this, but in fact, will be remembered as one of the greatest seasons by any club in the history of the sport.
Inter became the first, and to date, only Italian club to achieve the continental treble by winning their domestic league, domestic cup, and most impressively, the Champions League. Only five other European clubs have reached the heights of Mourinho's Inter. One of the anchors of that magical season was Inter's midfield maestro, Dejan Stankovic.
Stankovic would play at Inter through the 2012-13 season. As father time and injuries began to catch up with him, the good fortunes of Inter's five consecutive Scudetto-winning seasons were in full reversal. The club was plagued by poor management, aging players, and financial instability.
Dejan Stankovic retired as one of the most decorated players in not only Inter history, but Serie A as well. During the decade he spent as a player for the Nerazzurri he won five Scudetti, four Coppa Italias, four Italian Super Cups, the Champions League, and the FIFA Club World Cup. Few players have as impressive a resume.
As Stankovic stepped off of the pitch in an Inter shirt for the final time on March 10th, 2013, he left having secured his legacy as a true icon. A gifted player in every aspect, what separated Stankovic from other gifted players was his ability to elevate his game to the highest level when it counted the most, in the biggest matches and on the grandest of stages.
Other legends in these series:
Walter Zenga: The Nerazzurri Spiderman
Giacinto Facchetti – A Giant Among Men
Lothar Matthäus – The Definition Of  A Complete Player