Introducing – The Bookies Corner: This Weekend's Serie A Pick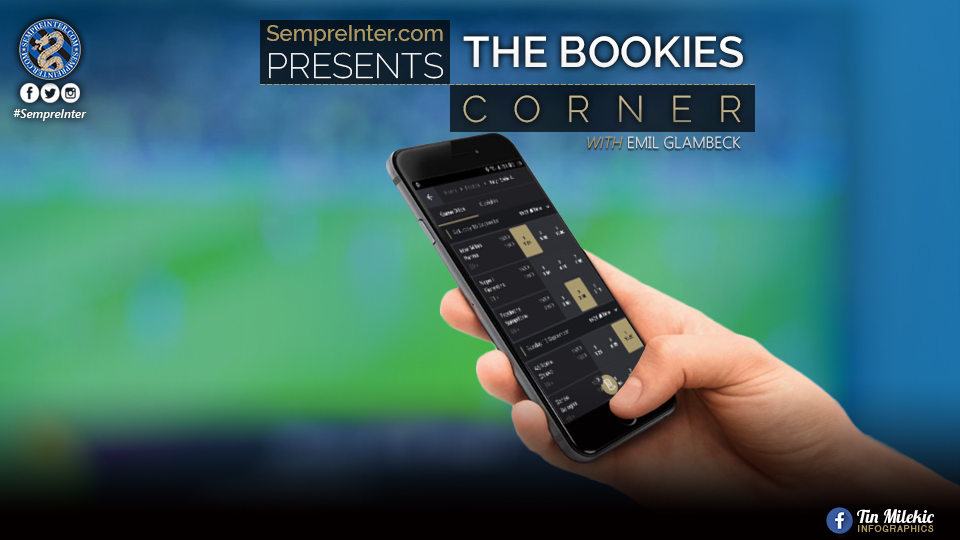 Welcome to the first installment of the Bookies Corner here on SempreInter.com with me Emil Glambeck. Starting this week and then twice every week I will be posting my best bets here as well as keeping track of my previous bets so you can follow how well we've been progressing.
First of all I would like to introduce myself. My name is Emil and I'm 24 years old and from Sweden. I have been an Interista since I was 11 years old. My favorite player of all time is Materazzi and in our current team Skriniar is becoming more and more a favorite.
I worked before as a production leader in Oslo but after winning some money I decided to quit my job and try to take my sportsbetting as a full-time income. This was around 1.5 years ago today and I have visited a lot of countries since then and most of the time I lived in Thailand, Cambodia and Australia.
So I have basically lived my life for 1.5 years now and all thanks to betting. My favorite league to place bets on is like you all can understand, Serie A. So from now on I will start posting Serie A tips here on Sempreinter and probably some other leagues sometimes.
How do I earn money from betting?
Patience. It all comes down to patience. First of all I would not recommend to place bets with 5+ games on and chasing high odds. How many people choose 5 games and make a combination bet and then lose on one of the games? If all those games where put as singles instead that would win money.
So first of all, I play single matches 90% of the time.
Something else that I do is place the same amount on almost all my bets. Its important not to get carried away after 2-3 wins and put all the money you just won and lose it on the 4th because you raised the stake.
So secondly, don't get carried away.
No guarantees
Before sharing my first tip here on Sempreinter, everyone has to understand that nobody can guarantee a 100% win streak in betting. The goal will be to win around 70% of the matches and this will also mean winning money.
A quote used a lot in the betting community is "Don't risk more money than you can afford to lose."
So lets get going with this weeks game which is Frosinone vs Sampdoria.
Frosinone:
Frosinone just qualified back this year to Serie A and is currently in 19th spot of the table. In the opening 3 matches they have played against Atalanta, Lazio and Bologna. In these 3 first matches they have only taken one point in a draw against Bologna. Frosinone has not scored a single goal so far this season and has not been looking very sharp. This weekend they will be up against a team that surprised us all in the last round, Sampdoria.
Sampdoria:
Sampdoria has only played 2 games this far due to the tragedy in Genoa before the first round. The first game they played was against Udinese where they lost 1-0. They did not look very impressing but after smashing Napoli with a 3 goal difference last round we should not see them for granted. They played wonderful football against Napoli and they really chocked every person who follows Italian football.
My prediction:
Looking at the start of this seasons results, as well as the last season where these teams did not even play in the same league, I would say that a Sampdoria victory is very likely and gives us 2.15 times the money on RoyRichie. Right now SempreInter.com's readers get their first deposit of up to €200 doubled and get another €20 to bet with for free using the code RRS220. So click here to create your account.
Game Tip: Sampdoria victory.
Odds: 2.15
Game start: Saturday 15th September, 20.30 CET.