#InterLegends – Sandro Mazzola: The Man Who Embodies The Word "Nerazzurri"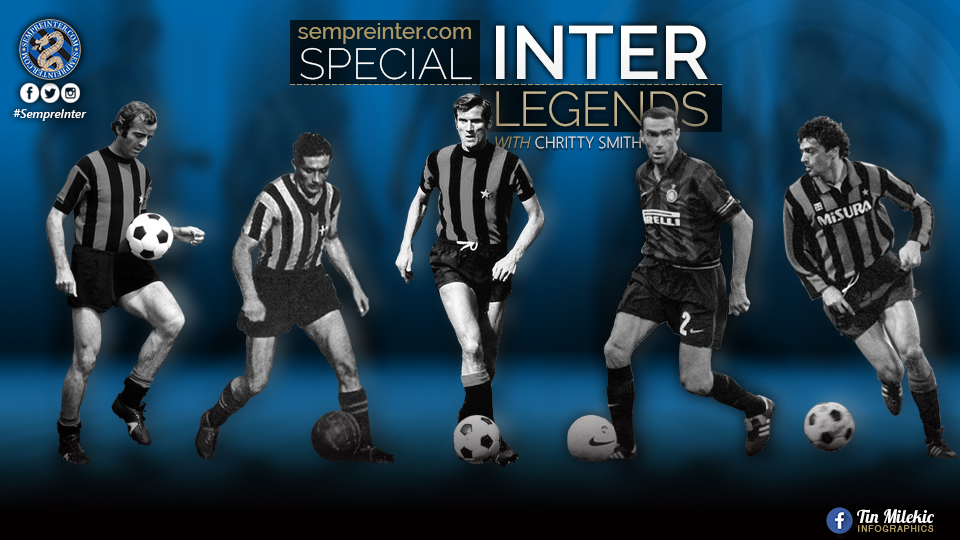 In today's game of football, it is a rarity. The phrase "one-club man" has become nearly as extinct as the dinosaurs in 2018. Even in decades past, however, it was almost unheard of to spend 17 successful years wearing the same crest. Though, that is precisely the story of one Sandro Mazzola. He is, was, and always will be the textbook definition of the phrase "for club and country." For Mazzola, there was only ever, Inter.
A few short years before manager Helenio Herrera transformed the Nerazzurri from under-achievers into "Grande Inter," a young man by the name of Sandro Mazzola made his professional football debut. It was hardly a memorable match, as Inter were destroyed by Juventus in the derby d'Italia 9-1. The lone goal scored by Inter on this day came by way of a penalty. Who scored that penalty you ask? Why, none other than the young Mazzola himself.
And so, a legend was born, right? No, not quite. The match against Juventus would be Mazzola's only appearance during the 1960-61 season. It wasn't until the 1962-63 season that Mazzola made his presence felt at Inter. He joined a more complete cast of teammates than he had greeted two years prior. This was truly Herrera's team by this point, as he had thoughtfully crafted the them with his vision in mind.
That vision, was to create a continental calcio powerhouse. 1962 would be the year of Inter's resurrection. It would also be the year Mazzola would finally get his chance to shine. At only 20 years of age, Mazzola would feature 23 times for Inter during the 62-63 Serie A campaign, scoring ten goals. He was a major contributor in the club winning it's first Scudetto in nearly a decade at the conclusion of that season.
Sandro Mazzola, and Inter for that matter, were just getting started. Herrera had perfected and unleashed his "catenaccio" tactics on the football world. Famous for it's suffocating defense when executed properly, it was equally lethal when performing a well-timed counterattack. Playing from the forward position in Herrera's system, Mazzola's energy, athleticism, and tactical intelligence made him one of the best players in the world in a very short period of time.
As champions of Italy, Inter would step onto the grandest stage in club football in 1963, the European Cup. It was in this competition where Sandro Mazzola cemented himself as an elite player. The Nerazzurri would play nine matches during the 1963-64 European Cup. Mazzola scored seven times in those nine matches including a brace in Inter's 3-1 victory over Real Madrid in the final. Inter were champions of Europe for the first time in their history, thanks in large part to the efforts of their star forward.
The 1964-65 season would see Mazzola continue his ascension in the sport. Inter would again conquer Serie A, as well as defend their European crown, joining an elite group of eight clubs to win the competition in back-to-back seasons. Mazzola played in 33 out of 34 matches domestically and scored a league-high 17 goals (tied with Fiorentina's Alberto Orlando). He became the first Inter player to win the Capocannoniere since Antonio Valentin Angelillo in 1959.
Wait, you thought we were done? No no, this only gets better! Inter would repeat as Serie A champions the following season, lifting their third Scudetto in four years. Herrera's Nerazzurri would also advance to their third consecutive European Cup semi-final, falling just shy of a continental three-peat due to their 2-1 aggregate loss to eventual winners Real Madrid. Mazzola scored a career-high 19 goals in the league and added another four in the European Cup.
"Grande Inter" were on display again during the 1966-67 season. Though Inter would finish as runners-up in both Serie A and the European Cup, one cannot dismiss the overall achievement here. The Nerazzurri concluded six straight seasons in Serie A finishing no worse than second (3 titles, 3-time runners-up), as well as playing their way to four consecutive European Cup semi-finals, advancing to the final three times, and winning the competition twice. Helenio Herrera's vision was complete. He had built Inter Milan into a world power of football.
Sandro Mazzola extended his streak of at least 17 Serie A goals to a third season. He missed out on a second Capocannoniere by a mere goal to Cagliari's Gigi Riva. Though Mazzola would never reach these scoring heights again, he had become much more than a typical forward. Sometimes overlooked, he also possessed an immensely high defensive work rate, allowing him to play essentially any position on the pitch.  By 1968 Mazzola had developed into one of the most intelligent players in the game, his versatility only matched by a select few.
Helenio Herrera would depart Inter after the 1967-68 season, officially bringing to an end one of the greatest runs by any club in the history of this great sport. His successor Alfredo Foni would last only one season. But, this would not be the end of Inter dominance, despite an unsatisfying fourth place Serie A campaign in 1968-69.
Heriberto Herrera was appointed as Inter manager prior to the 1969-70 season. Though Inter would secure a runners-up finish under his watch, they were never in title contention. He would remain at the helm of the team until match day five of the next season, as Inter found themselves second from bottom in the league table. He was sacked and youth coach Giovanni Invernizzi was named as his replacement. This could not have come at a better time as Inter would skyrocket to the top of Italian football once more.
As the players who made up "Grande Inter" were beginning to age, Inter had to rely heavily on some of their newly-acquired players. It is often said, however, that every great fighter has one great fight left in them. This could not have been more true for the Nerazzurri as it pertains to the 1970-71 season. Sandro Mazzola was finally named the Inter captain and despite an inauspicious start, the team would lose only three Serie A matches out of 30 under his leadership. The end result would be Inter's fourth Scudetto-winning campaign in nine years.
Sandro Mazzola would be internationally recognized for his brilliant play during the 1970-71 season with a runners-up result in the 1971 Ballon d'Or voting. Only the late, great Johan Cruyff received more votes that year. This would be the last great season for Mazzola and this generation of Inter players, though, they would advance to a fifth European Cup final the following season, falling to Cruyff's Ajax, 2-0.
From 1970 until his retirement in 1977, Mazzola would serve as Inter's captain. When he finally hung up his boots after 17 professional seasons, all of which were played in the colors of the Nerazzurri, he had amassed four Serie A championships, two European Cups, two Intercontinental Cups, one Coppa Italia, and a European Championship with the Italian national team in 1968. To claim Inter were saying goodbye to an icon is the very definition of an understatement.
Perhaps the most appropriate way to sum up Sandro Mazzola's long, illustrious career, is best said by Real Madrid legend Ferenc Puskas following his side's European Cup final defeat to Inter in 1964:
"I played against your father. You did him proud. I want to give you my shirt."

 
Other legends in this series:
Armando Picchi : The Great Captain Of Grande Inter
Jürgen Klinsmann: The Leader Of Inter's German Strikeforce
Dejan Stankovic: The Dragon Guarding Inter's Midfield
Walter Zenga: The Nerazzurri Spiderman
Giacinto Facchetti – A Giant Among Men
Lothar Matthäus – The Definition Of  A Complete Player