WATCH – Highlights – Inter 2 – 1 Tottenham: A Magical Night At The San Siro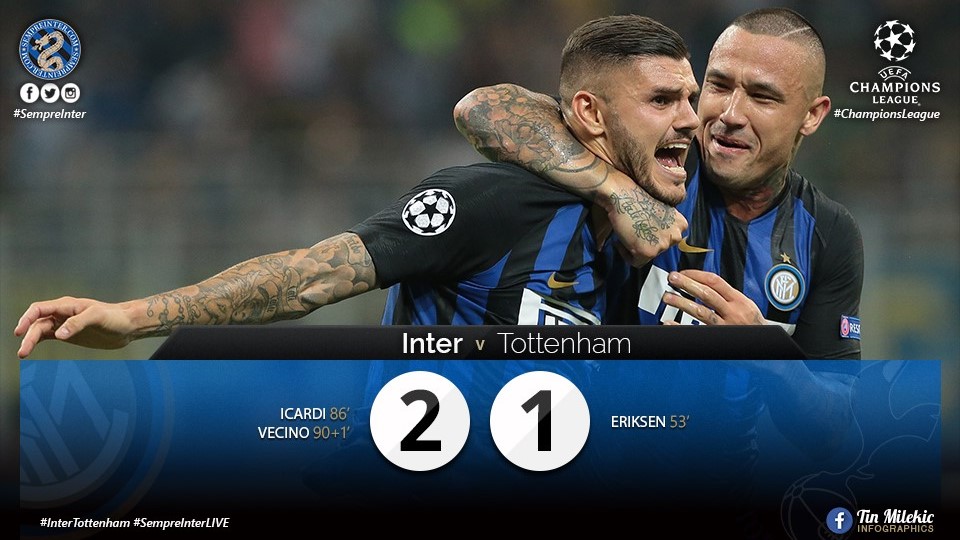 Inter came back from a goal down to defeat Tottenham Hotspur thanks to a late winner by Matias Vecino in the opening group stage fixture of the Champions League at the Stadio Giuseppe Meazza.
A frustrating and heartbreaking night turned into a dramatic, breathtakingly sweet victory in only seven minutes thanks to a glorious goal by Mauro Icardi and a last minute match winning header by the man whose match winning last minute header last season against Lazio is the reason Champions League football was played yesterday at the San Siro.
What looked to end in frustration ended up being a match that will end up in black and blue folklore as yet another Pazza Inter performance at the Stadio Giuseppe Meazza.
Highlights Inter 2 – 1 Tottenham:
NB: The video is provided and hosted by and from a 3rd party server. SempreInter.com's intent is helping our readers discover publicly available videos and content. SempreInter.com does not host or upload this material and is therefore not responsible for any copyright infringement or violation.