#InterStats Preview – Inter Vs AC Milan: The City's Bragging Rights Are On The Line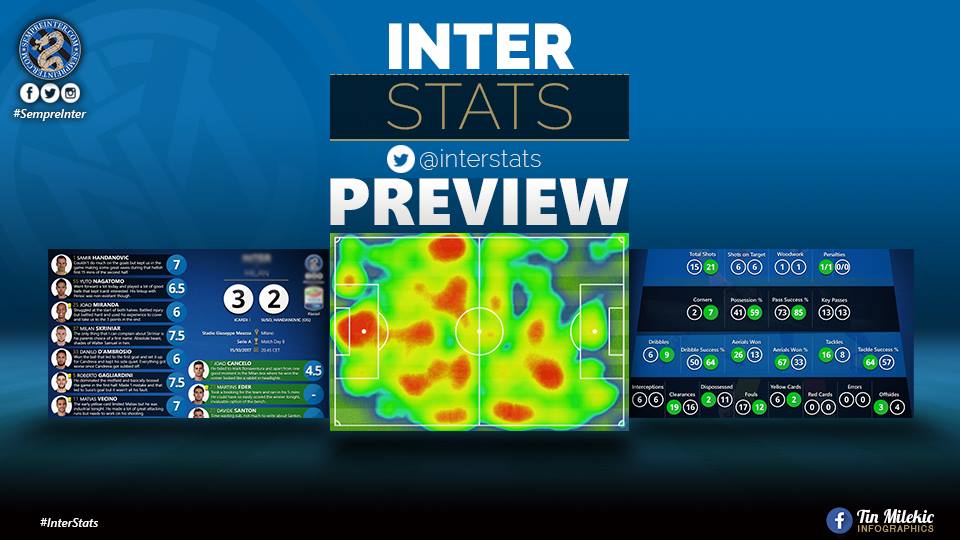 "The fans push you on. A player leaves their heart on the pitch during the Milan Derby" Javier Zanetti once quoted the significance of one of biggest rivalries in world football – The Derby della Madonnina. The Milanese derby, historically regarded as the fashionable face of Italian football, have suffered a major decline in recent years in terms of quality on the pitch, but for the football enthusiasts the charm is ubiquitous. However this weekend's Milan derby is expected to be a lift off for the footballing nation, as both teams had reinforced their squads and are currently enjoying a fine run of form.
Attack:
The Nerazzurri have hit 12 goals from 15.8 shots per game. Mauro Icardi has scored 3 goals in his last 2 games, with 2 assists in total tied with Perisic and Politano. Ivan Perisic has fired 2.8 shots per game 2 goals so far and is also tied with Politano for the highest number of key passes per game – 1.6. Keita Baldè has completed 1.4 dribbles per game from a total of 6.5 dribbles per game accumulated by the team.
Milan boast of an attacking trident of Suso (most assists in the league – 6), Higuain (4 goals) and Calhanoglu (most key passes per game – 3.8). The Rossoneri have scored 15 goals despite being a game light.
Defence:
Inter are blessed with one of the strongest defences in the league with just 6 goals conceded. The Nerazzurri have completed 15.8 tackles per game and 9.3 interceptions per game with Brozovic commanding 3.3 tackles per game and Miranda intercepting 1.8 balls per game. Miranda has also averaged 4 clearances per game while Milan Skriniar has 1.7 blocks per game.
Milan haven't kept a single clean sheet this season and conceded 10 goals from the 11.3 shots per game they have faced. The Rossoneri have 18.4 tackles per game and 8.7 interceptions per game with Lucas Biglia leading the order with 4.7 tackles and 1.7 interceptions per game respectively.
Moving the ball:
Inter are the team with the second most ball possession in the league – 55.5%, despite a lackluster outing in their last game against SPAL. Marcelo Brozovic, arguably the most vital player in the squad, have average 83.6 passes per game, highest in Serie A. Inter have 85.2% pass accuracy, Milan Skriniar have completed 93.2% of his passes.
Milan have an average of 53.6% ball possession and 87.8% pass accuracy. Lucas Biglia is the chief distributor with 66.6 average passes per game and 91.6% pass accuracy.
WhoScored rating leaders:
Marcelo Brozovic (7.20), Ivan Perisic (7.13) and Danilo D'Ambrosio (7.07) are statistically the best players for the Nerazzurri. On the other hand, Suso (8.08), Bonaventura (7.26) and Gonzalo Higuain (7.22) are Milan's top three performers.
Do you have a stat you want us to highlight? Discuss in the comments below.
Hit us up on InterStats & SempreInter on Twitter using the #InterStats and #SempreInterLIVE before, during and after the game for unrivaled quality coverage of the fixture.