Three Myths About AC Milan That Inter Killed In The Derby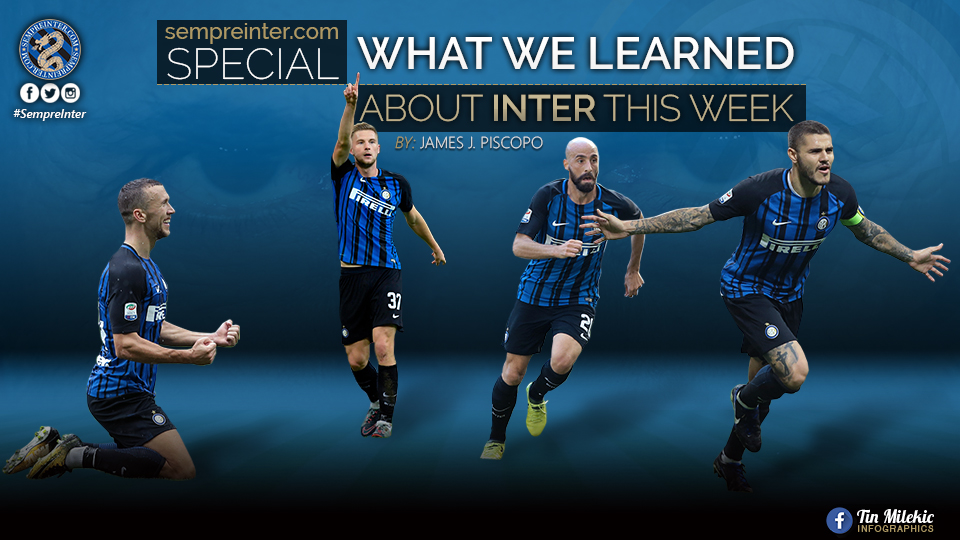 'From my experience, our fans are more likely to remember the last derby score than their spouses' birthday, so we must make sure not to let them down,' rightly said Spalletti before Sunday's game. And the result came out our way with just seconds to spare, thanks to a marvellous manoeuvre of Icardi who outwitted Donnarumma, Musacchio and Abate in one move.
But in the build-up to the derby, there were other arguments which the Italian media focused on and which Inter gladly proved wrong. These were 3 Milan myths which Inter put to bed on Sunday evening:
1. Icardi vs Higuain
First of all, we had to endure a newspaper after the other pushing forward this theme and asking who is the better. While there were mixed reactions, the majority always opted for Milan's number 9 saying he is more complete and experienced. Well, there you have it. Icardi not only scored the decisive ball, but also did so in the 92nd minute when all hopes faded.
But on this comparison between the two Argentine forwards, there was also another myth which the media tried to push forward but which Icardi also put to bed. The myth that Higuain helps more the team than Icardi. I was attentive to this detail throughout the game, and I think that it was evident how Higuain was completely isolated from the rest of the team. On the other hand, Icardi did all his duties very well, giving a hand to Inter's defence when needed as well.
I believe this was the game where Icardi showed once and for all that he has nothing less than any other top forward in the league. I hope the media take notice.
2. 'Il bel gioco' (The beautiful play)
We went to Sunday's derby with another myth that resonated throughout the Italian media for the past week, which said Gattuso's Milan played more beautiful football than Inter. Yes, you read that well. I never thought Gattuso could deliver beautiful football since it's not in his DNA. His playing days were always centred on the sole notion of destroying the opponent's game and nothing else.
The way Inter handled the derby debunked this myth as well. Especially in the second half, where Milan seemed satisfied with a draw and held possession to let time pass. If you call this as 'beautiful football', you're definitely in the wrong sport.
3. Gianluigi Donnarumma
I never judge a player on a single performance, but yesterday Donnarumma made a horrible mistake which paved the way for Icardi's goal. It was so horrible that commenting the error, Milan Channel's own commentator Mauro Suma had no words except 'Kill me. Kill me now and without mercy'.
Just till the past season, Donnarumma's image was built as a 'fuoriclasse' or a top player and indeed is being paid around €6 million annually. With that error, I believe Icardi killed this myth and while the Milan goalkeeper still has plenty of time to prove himself, he is definitely not the exceptional goalkeeper which we were told about for months now.
James J Piscopo is a journalist based in Malta. 27 years old, he has been following Inter for more than two decades. He writes a weekly editorial exclusively for SempreInter.com