Weekly Inter Health Report – Going Into Double Fixtures Against Genoa & Barcelona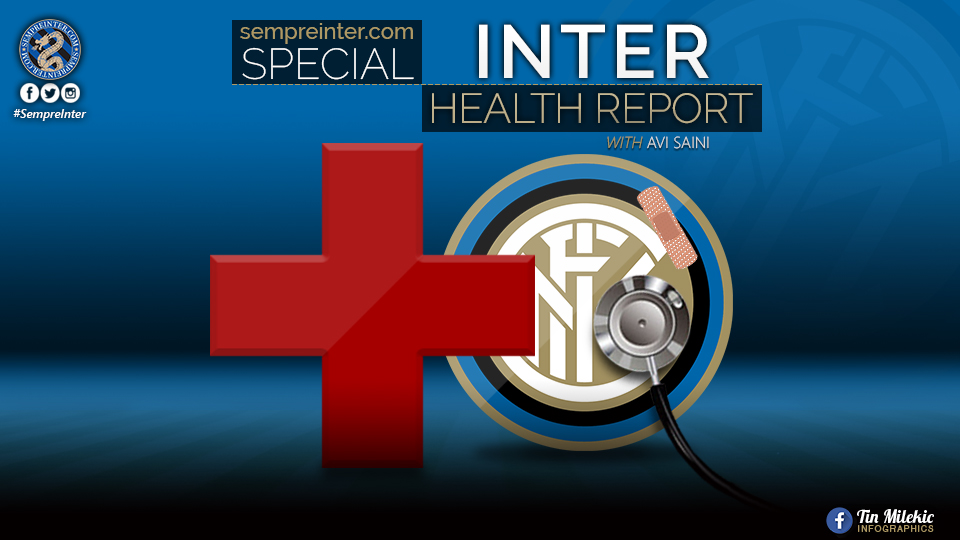 The first quarter of the season for Inter Milan hasn't been the easiest to navigate for manager Luciano Spalletti. He's had to deal with injuries to many key members of the starting XI which not only weakened the team, but also prolonged the already arduous process of integrating a slew of new faces into the squad. With no new knocks picked up in the 3-0 thrashing of Lazio, the list of injured players going into the next two matches has considerably shortened.
Upcoming Matches: Inter vs Genoa CFC, Saturday November 3rd; versus FC Barcelona Tuesday November 6th.
First Team Fitness:
Radja Nainggolan: In last week's Health Report, we briefly discussed the possibility of midfielder Radja Nainggolan suffering a medial ankle sprain with involvement of the deltoid ligaments during the Milano Derby. There is, however, one other very common injury he may have suffered with external rotation of his foot, a syndesmotic ankle sprain. (Warning: the following video shows an up-close view of the injury).
— Team Milan AC (@TeamMilanAC) October 21, 2018
Syndesmotic ankle sprains, commonly referred to as high ankle sprains, are fairly common injuries to the ligament(s) just above the ankle that tie the tibia and fibular together. This injury is common to footballers and American football players alike and is due to a combination of external rotation of the ankle with rotation of the leg. While difficult to determine if Nainggolan's leg simultaneously rotated during the tackle from Lucas Biglia, high ankle sprains compromise anywhere from 15 to 20% of ankle sprains and thus can't be ruled out as a possibility.
High ankle sprains are highly variable and the number of ligaments involved and the extent of damage to each are key determinants for severity. The injury could range from needing surgery to begin the healing process to being able to being able to bear weight within hours or anywhere in between. That Nainggolan wasn't spotted in a boot and has already returned to some extent of practice bodes well for his prognosis regardless of if his injury is a high ankle sprain, medial ankle sprain, or neither.
However, it remains incredibly unlikely he'll be able to dress for either of the upcoming two matches regardless of what his pain tolerance may be.
FC Barcelona Injuries of Note:
Barcelona are in line to miss two key figures to their starting XI: Lionel Messi and Samuel Umtiti. Messi famously sustained a proximal radial fracture days before Inter and Barcelona faced off in Champions League, which reportedly sidelined him approximately 3 to 4 weeks.
The reverse fixture would fall in this timetable, however it is unlikely Barcelona will risk an early return for their star man after showcasing they can manage without him. Meanwihle Umtiti remains sidelined due to an undisclosed knee injury that has kept him out for the last month. Spanish outlet Marca is reporting he and the club are targeting a mid-November return, effectively ruling him out for Tuesday's match.
Avi Saini is a 26 year old medical student from California. He's been an Inter fan since 98 after seeing the wonders of Ronaldo, who he maintains is the true greatest of all time. Avi writes a weekly medical column exclusively for SempreInter.com.