#NerazzurriClassics – When Bobo Vieri's Double Gave Inter All Three Points Vs Atalanta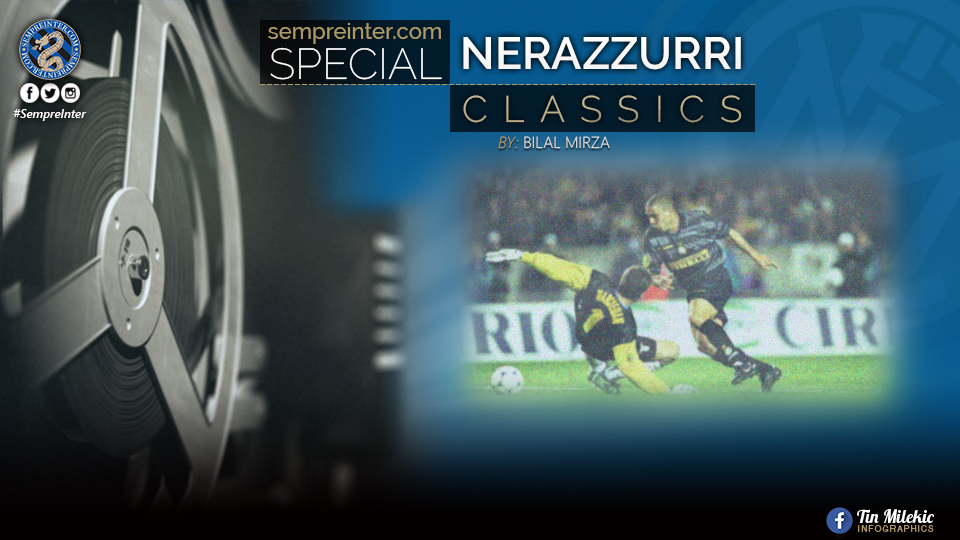 It was all doom and gloom for the Nerazzurri in the beginning of what became the most successful decade in the club's history. After a difficult 2000-01 season where Inter fired Marcello Lippi, saw 'Il Fenomeno' Ronaldo miss an entire season due to recurring knee problems and finish fifth in the league. As the 2001-02 season came around, Massimo Moratti had appointed Hector Cuper as the manager and reinforced the squad with additions like Francesco Toldo, Marco Materazzi, Mohamed Kallon and Nicola Ventola.
On match day thirteen, Inter traveled to Bergamo to take on an inform Atalanta side who despite a rough start to the season, had gotten back on track by winning three out of last four games including tying a match at home against Scudetto contenders Roma. Riding the terrific form of Cristiano Doni who had scored four out six team goals during Atalanta's resurgence, Bergamo side were looking to continue their strong run at home against league leaders Inter.
Nerazzurri had gotten off to a terrific start to their 2001-02 campaign. Going into Bergamo, they had won seven games and the only loss thus far came in the Derby Della Madonnina. New additions Marco Materazzi and Mohamed Kallon had immediate contributions to team's success. Matrix, helping the team keep a clean sheet in last four games and Kallon leading the team with seven goals. Leading the league by three points against archrivals AC Milan despite not getting expected performances from star strikers Ronaldo and Vieri thus far, the pressure was all on the newcomers to carry the team forward.
Starting in a 4-4-2 formation for Atalanta were Massimo Taibi in goal, Luigi Sala, Massimo Paganin, Massimo Carrera and Damiano Zenoni in defense. Midfield four of Luciano Zauri, Ousmane Dabo, Danielle Berretta, Cristiano Doni and attacking duo of Corrado Colombo and Gianni Comandini. In response, Hector Cuper had Inter starting in a 3-5-2 formation with Francesco Toldo in goal, Javier Zanetti, Ivan Cordoba and Vratislav Gresko in defense. Midfield five of Luigi Di Biagio, Sergio Conceicao, Cristiano Zanetti, Guly, Francisco Farinos and attacking duo of Mohamed Kallon and Christian Vieri.
Right from the start, both teams showed attacking intent by coming out of their half in numbers to take the early lead. Cuper's strategy to overload the midfield caused Atalanta early problems as Inter tested Taibi on number of occasions. Early onslaught paid off for Nerazzurri following a free-kick from the left wing as Di Biagio chested the long arching delivery into the box, uncontested and smashed home the goal for an early 1-0 lead inside first ten minutes. That gave Atalanta an early wake-up call and as the play resumed, the Bergamo side immediately went on the offensive, applying pressure on the visitors.
To counter the overloaded midfield, Atalanta started pushing the fullbacks further up in attack. As Atalanta brought spread out wide to find the equalizer, Inter's defense was forced to also spread out wide and as a result left some space through the middle. It didn't take Atalanta long to find the equalizer. Around sixteen minute mark, Cristiano Doni got in behind Cordoba, received a perfectly placed backheel pass inside the box and beat Toldo uncontested to bring the score level at 1-1.
After drawing even against the visitors, Atalanta continued their onslaught as Inter so far had failed to cope with the early tactical adjustments. What started out as an early 1-0 advantage on the road, quickly turned into a 2-1 deficit for the Nerazzurri as Cristiano Doni converted a penalty for Atalanta at twenty-one minute mark. Being down by a goal against a resurgent Atalanta side, slowly started regaining control of the match and leading up to the half-time and created number of chances by supplying Vieri and Kallon with quality crosses from left wing.
As second half resumed, Inter continued building up attack from the left wing and came close to drawing level around fifty-five minute mark as a long range strike beat the keeper but ricochet off the bar. However, their persistence paid off soon after. Following a corner kick, Cordoba's glancing header deflected off the hand of a defender, gifting Inter an opportunity to draw level. Vieri stepped up and took the penalty with confidence, scoring the equalizer for 2-2 with thirty minutes left in the match.
As play resumed, the match remained in balance as both teams took a more cautious approach. With an inform AC Milan side looking to draw even with Inter for the scudetto race, Cuper needed the win to maintain a healthy three point gap as Christmas break approached. To change things up, he brought on Alvaro Recoba to replace Conceicao. Known for his brilliant left foot and set-pieces, El Chino seemed to be a perfect addition on the left wing and it immediately started paying off as Inter had exploited left wing to mount their attack all game long.
After winning a free-kick on the right wing, Recoba played a brilliant ball inside the box for Christian Vieri who timed his run to perfection and headed in a powerful shot past Taibi to give Inter a 3-2 advantage with fifteen minutes left in the match. As Vieri took off in celebration the tension lifted from the team immediately. Recoba wasn't done quiet yet!
Inter started looking for him to mount counter-attack while Vieri and Kallon made marauding run forward waiting for supply from left wing. At seventy-nine minute mark Kallon received a low driven cross from Recoba on a counter-attack that caught Atalanta out of position and took an open long range shot from outside the box to score Inter's fourth goal of the game, his eighth of the season, to secure the crucial three points for the visitors.