#NerazzurriClassics – When Inter Welcomed Frosinone To The Serie A With A 4-0 Thrashing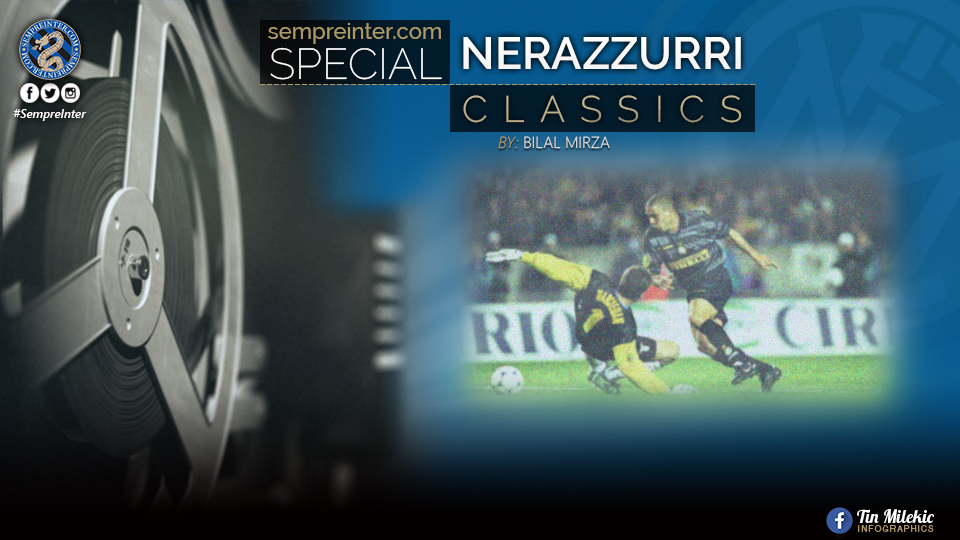 In their 90-year history, Frosinone Calcio never earned consecutive promotions to qualify to play in the Serie A until the 2015-16 season. After the first twelve rounds in Italy's top flight, Frosinone found themselves in the relegation zone, struggling to put points on the table with only three wins thus far. Their round thirteen trip was to San Siro where they were to face a resurgent Inter side, who was tied for first spot in the league along with Fiorentina, only separated by goal differential.
Inter were in their first full season under the second term of Roberto Mancini as manager. With a full pre-season to prepare the team, Mancini led the team to a fantastic start to the season by winning eight of their first twelve matches with only loss coming against Fiorentina. With seven new starters in the team, players were still trying to understand each other and hadn't yet established a preferred formation or style of play.
However, Mancini had managed to build Inter from the back by solidifying the defense, conceding only seven goals thus far, four of which came against the loss to Fiorentina and seven of the eight wins had a 1-0 score line.
As the Serie A newbies came to town, the Nerazzurri were more confident of the two teams and were looking to shed the narrative of playing 'ugly football' by establishing rhythm offensively against a Frosinone side, struggling to acclimatize to Serie A.
In preparation for the game, Roberto Stellone admitted post-match that his side had prepared to face Inter as playing 4-3-3. Roberto Mancini had the Nerazzurri lined up in a 4-2-3-1 formation with Handanovic in goal, D'Ambrosio, Miranda, Murillo and Nagatomo in defense. A double pivot of Felipe Melo and Geoffrey Kondogbia and attacking trio of Adem Ljajic, Stevan Jovetic, Jonathan Biabiany and Mauro Icardi as lone striker.
So far, Mancini had not settled on a set starting eleven which kept teams with an element of surprise as they prepared to take on the Nerazzurri. At kick-off, Stellone had adjusted to a 4-4-1-1 formation with Juventus loanee Nicola Leali as the goal-keeper, Leonardo Blanchard, Mobido Diakite, Roberto Crivello and Aleandro Rosi in defense. Paolo Sammarco, Mirko Gori, Danilo Soddimo, Luca Paganini as the midfield quartet. Daniel Ciofani as loan striker and Nicolas Castillo right behind him as the trequartista.
Inter took control of the game right from the start, retaining majority of the possession with Jovetic dictating the tempo of the play as trequartista and distributing the ball out wide for Biabiany and Ljajic in support for Icardi. Frosinone had eleven behind the ball majority of the first half and looked to play on the counter and exploit the weak Nagatomo and D'Ambrosio's defensive fragility.
The tactic almost paid off for the visitors as Soddimo received a long range cross from Mirko Gori on the right wing and took an open shot on goal with Nagatomo out of position. Handanovic managed to keep the score on level terms with an unbelievable acrobatic save. After the early chance for the visitors, Inter immediately went on the offensive and kept Leali very active between the posts. Jovetic's constant movement towards left wing to combine on quick one-two passing sequences with Ljajic and cutting back inside, kept drawing Frosinone defense out of position to create more space for Icardi. While on the right wing, Biabiany provided width to Inter's attack by relying on his blistering pace to spread the defense wide. Mancini's tactics paid off after a prolonged period of dominance when Leali parried away a long range shot from Ljajic straight to a wide open Biabiany to put Inter ahead 1-0 at twenty-eight minute mark.
Going into half-time with a 1-0 lead, Inter were looking to add-on to their advantage to secure another win at home. Neither side made any changes at half-time however Stellone made a minor adjustment by pulling Nicolas Castillo further back into the midfield to try and get better control of the game by retaining more of the possession, as the away side was looking for the tying goal. As second half resume, Frosinone were still unable to cope with Jovetic's movement and Ljajic's constant cutting in and out of left-wing.
As Inter continued their dominance on the match, Icardi soon added a second goal for Inter following a quick passing sequence from the left wing between Jovetic and Ljajic, resulting in a cross towards the middle for a wide open Icardi tapping it in for a comprehensive 2-0 lead. Frosinone tried to slow-down the flow of the game by retaining more possession and moved the ball out wide to cross it in for Ciofani.
With nothing working out offensively thus far, Stellone brought on former Inter youth academy graduate Samuele Longo to replace Ciofani and added another offensive threat in winger Massimiliano Carlini. Neither move paid dividends as Jeison Murillo and late substitute Marcelo Brozovic added two more goals on counter-attack after Frosinone committed more players in attack in their attempt to tie the game.
The game ended 4-0 giving Inter a resounding win, as the team finally showed their true offensive potential after a series of 1-0 wins leading up to the game.