Weekly Inter Health Report – Overall Squad Status Ahead Of Udinese Clash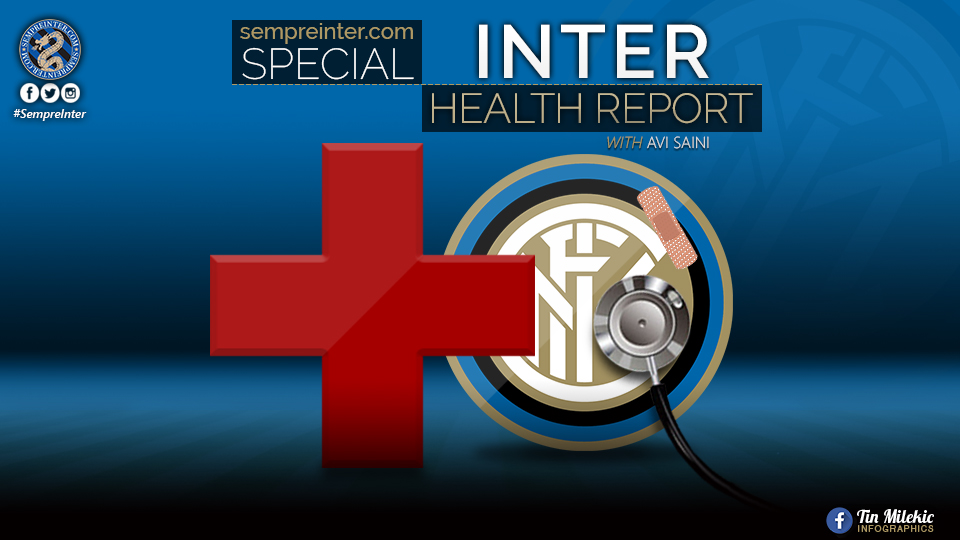 A team's season is incredibly delicate. One run of matches or even a singular moment can determine whether an entire year was a success or failure. Last year, that moment came in the form of Matias Vecino's last gasp header that saw Inter Milan leap frog into a Champions League spot. This year, a run of bad matches starting from the 4-1 humiliation against Atalanta has knocked a team billed as the anti-Juventus out of the Serie A title race and Champions League.
While a Serie A title was always unlikely, this Inter Milan squad controlled their own fate to advance to the Champions League knockout stages and simply choked it away. Plenty of blame deserves to be spread around, but it's important to remember just how unfortunate Inter's injury luck has been. From matchday 1 the team has struggled to field a full strength squad as key players continue to rotate onto the training squad's tables. Both the team and fans are hoping the cycle breaks soon, but until it does manager Luciano Spalletti will just have to figure out a way to get the team back on track.
Upcoming Matches:
Inter vs Udinese, Saturday December 15th, Stadio Giuseppe Meazza, kickoff 17:00 CET
First Team Fitness:
Radja Nainggolan: The summer's marquee signing has unfortunately become a regular fixture on our health report listings. At the end of October, the attacking midfielder sustained an ankle injury from a crunching tackle that saw him miss a few weeks. After making a remarkably stunning early return for the draw against FC Barcelona Nainggolan has been in and out of the squad having managed to play a few low intensity matches before exiting with what the team called "muscle fatigue" before halftime in the loss to Tottenham Hotspur.
After missing a run of matches, Nainggolan managed to make it back for the draw versus PSV Eindhoven but was unsurpringly left on the bench likely due to a lack of fitness. Given he's made an appearance on the squad sheet, it seems Nainggolan is in contention to play against Udinese this weekend but the extent remains to be seen.
Dalbert Henrique: During training on November 22nd, Dalbert sustained what Inter announced as a "pulled muscle to the gastrocnemius muscle in his left leg," or, simply put, a calf muscle strain. The initial timeline for his return was set at 15 to 20 days. As of writing this, Dalbert is at day 19 and there have been no updates provided on his potential return. While he wouldn't have been eligible to play against PSV, having been left of the Champions League squad list at the beginning of the season due to Financial Fair Play, his presence is missed.
Dalbert had performed well when called upon to spell Kwadwo Asamoah, who at present, is struggling for form at the end of a congested schedule against difficult competition. No saying how either would have faired had Dalbert had the opportunity to step in and spell Asamoah for either the Frosinone or Roma matches.
Matias Vecino: After sitting on the bench against Juventus, the central midfielder was ruled out for the match against PSV due to an undisclosed injury. Because Financial Fair Play forced Inter to leave Roberto Gagliardini off the Champions League squad, Vecino was the team's only central midfielder who acts primarily as a ball winner who was eligible for European matches. His absence was notable as PSV were able to control possession for chunks at a time when not intentionally sitting back to defend. As of now Inter have provided no information on his availability for upcoming matches, but with Gagliardini healthy and no European matches slated until 2019, the team should be able to cope.
Keita Balde: Shortly after subbing into the PSV match, Keita Balde suffered a knock to his knee while attempting to head the ball. He received treatment on the pitch and seemed to continue on without issue so there doesn't seem to be much concern. However, seeing as he's finally looked the player everyone expected him to be over the past month, his health is one to keep an eye on moving forward.
Overall Squad Depth: Inter Milan's squad depth has been fairly consistent throughout the season with some minor improvements in the midfield. The fullback position has continued to be a problem due to inconsistent health from Sime Vrsaljko and random knocks to Asamoah, Dalbert, and Danilo D'Ambrosio throughout the season. The reintegration of Joao Mario has provided a major boost in the midfield, especially with Nainggolan's spotty health.
However, the team's depth for European competition has been incredibly weak due to Financial Fair Play restrictions limiting the number of squad players they're allowed, the cycle of injuries, and now important players (Joao Mario) not having been named to the initial team in August. Inter will be allowed to make alterations to the team in January but will still be forced to a smaller squad. Given the ups and downs of the season, it'll be interesting to see what changes, if any, are made to compete in Europa League.
Avi Saini is a 27 year old medical student from California. He's been an Inter fan since 98 after seeing the wonders of Ronaldo, who he maintains is the true greatest of all time. Avi writes a weekly medical column exclusively for SempreInter.com.