What Part Does Inter Play In Vrsaljko's & Nainggolan's Injury Woes?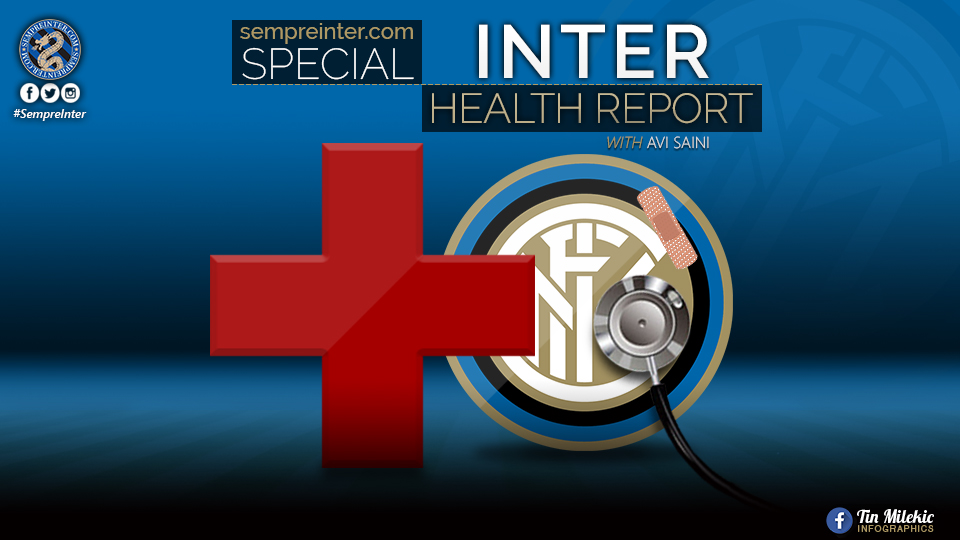 Though fans tend to think of injuries as something to exclusively blame on a player's lifestyle or plain old luck, the truth is they're multifactorial. Lifestyle and luck play major roles but just as important in determining susceptibility are conditioning and individual variations in anatomy and physiology. But often overlooked is what could be considered one of the biggest influences in a player's health—the team's role in rehabilitation and health maintenance.
Those of you who are basketball fans as well are aware of the Markelle Fultz fiasco. For the uninitiated, the summarized version is a young player previously considered to be a guaranteed star is currently a shadow of his former self because his team misdiagnosed and mishandled his rehabilitation from injury for 1.5 years. In light of such a massive story and given how many injuries Inter Milan have had to deal with this season, I believe it's important to assess how the organization has performed when it comes to recovery and keeping players healthy.
As you've probably guessed, Inter's performance is complicated. The team has done a solid job at handling the usual crop of minor knocks that players pickup throughout the season. These would be the minor muscles strains or joint soreness that have caused men like Kwadwo Asamoah, Lautaro Martinez, and Marcelo Brozovic to miss a match or two here and there. But as the injuries get more severe and/or the ailing player become more important to the squad, there's been serious cause for concern with Inter's approach.
Two important names who have been hurt that should come to mind are Sime Vrsaljko and Rajda Nainggolan. Their significance to the starting XI is unquestioned—Vrsaljko is the starter in what is arguably the weakest part of the squad and Nainggolan plays the ever-important central attacking midfielder role that's supposed to draw attention away from Mauro Icardi given Spalletti's tactics. Unfortunately, neither player has been able to stay on the pitch longer than a couple of matches at a time.
Injuries are multifactorial. Focusing entirely on the major injuries exclusively (Vrsaljko's MCL tear and Nainggolan's ankle injury) the instigating factor was entirely bad luck. But the onslaught of muscular issues and general soreness that have since forced both to miss matches seems to be due to Inter Milan rushing them back into the squad.
As noted in a health report, for a player to return there's three "OKs" that need to be given: one from the athlete (who will almost always say they're fit), one from the coach, and one from the medical staff. Only when all three checkpoints are cleared will the player be allowed to return to match day squads. This process seems to work most of the time as seen with how players have come back from minor bumps and bruises through the season. But with Vrsaljko and Nainggolan it seems to be failing.
When anyone attempts to come back from an injury too soon or try to go full steam ahead too quickly, the outcome is predictable. Either the person 1) re-aggravates the injury or 2) they suffer a seemingly unrelated injury to another area of the body due to subconscious overcompensation for the injured part (ex- back pain due to compensation for a lower leg injury). The outcome isn't necessarily immediate (though it can be). It can be gradual.
Inter are guilty of both rushing a player back and pushing them too hard too soon.
Vrsaljko seems to fall into the latter category. The expected timetable for a return from a grade 2 MCL tear is approximately 4 weeks. He returned approximately a month later, so there was nothing out of the ordinary considering the circumstances.
What should raise eyebrows is the immediate jump in action. Considering he had already been dealing with an ankle injury from the World Cup, missed all the preseason activities and training, and had just returned from an extended absence with clearance for full training just a few days earlier it stands to reason that his conditioning would not be at match ready levels. Yet despite not logging any minutes in a substitute appearance and having limited practices he was trotted out for a full 90 minutes.
After a couple of matches, he was noted to have suffered some muscular strains and soreness and, though named to the bench, never saw the pitch in key matches due to fitness concerns. After recovering, the cycle has repeated with a few matches played in full before being sidelined with with yet another leg injury.
Nainggolan, who's situation is more obviously egregious, seems to fall into other category in that he was brought back too quickly. In previous health reports after the Milan Derby I highlighted three possible ankle injuries he may have sustained. Regardless of which it was Nainggolan should have required at least a month to return to fitness and play again, roughly 6 weeks if it was a high ankle sprain. Buthe was cleared and back playing for Inter in less than 2 weeks, with many major outlets reporting a high pain tolerance as a factor in the decision.
He has not looked to be the same player since as he's been noticeably slower and less impactful. And like Vrsaljko, he's run through a cycle of muscular strains and soreness that have seen him play a few matches before being sidelined once again. Most recently, he came up limping with upper leg pain before halftime against Tottenham. He's missed all matches since including crucial ties against Roma, Juventus, and PSV Eindhoven.
This deleterious cycle has had more negative impact for Inter than there has been positive. The team is currently sitting at third in Serie A but could be much higher if players simple rested a bit more before coming back, if only because their health would give some semblance of continuity to the squad. The club, who were once in control of their own Champions League fate, have since been knocked out after not being able to field crucial men since they were, once again, lost to injury.
Consider this—of a possible 21 matches, Spalletti has been able to put out what could be considered a "full strength" squad for 2 matches. One of those matches, the Milan Derby, saw Nainggolan leave before halftime. The other, the reverse fixture against FC Barcelona, saw a severely rushed back Nainggolan looking like a shadow of himself.
Of course, the phrase causation does not equal correlation applies here. There is no definitive way to say that the repeated injuries both Vrsaljko and Nainggolan have been suffering are tied to them seemingly coming back too quickly or doing too much too fast. And none of this conjecture is meant to question the knowledge or capabilities of anyone involved in the process, especially considering they have access to medical information that we, the general public, do not.
But all of this is to say that at a certain point a more conservative approach to rehabilitating and reintegrating players seems to be necessary. Perhaps Nainggolan didn't come back too soon and perhaps Vrsaljko wasn't asked to play too much too quickly. But someone, whether it's the player, coach, or trainer needs to step up and say "No" when giving clearance to return if only to give a little more time for recovery.
No athlete across any sport has seen their career destroyed with a bit more rest and recovery. Careers and lives have been permanently altered on the other side of the spectrum. And for Inter, as a club looking to get the most out of the season, the current cycle of injuries for key players is untenable and, if not properly mediated, could see things blow up in their face in spectacular fashion at the end of the season when the entire squad's legs are worse for wear.
Avi Saini is a 27 year old medical student from California. He's been an Inter fan since 98 after seeing the wonders of Ronaldo, who he maintains is the true greatest of all time. Avi writes a weekly medical column exclusively for SempreInter.com.