#InterLegends – Helenio Herrera: The Architect Of La Grande Inter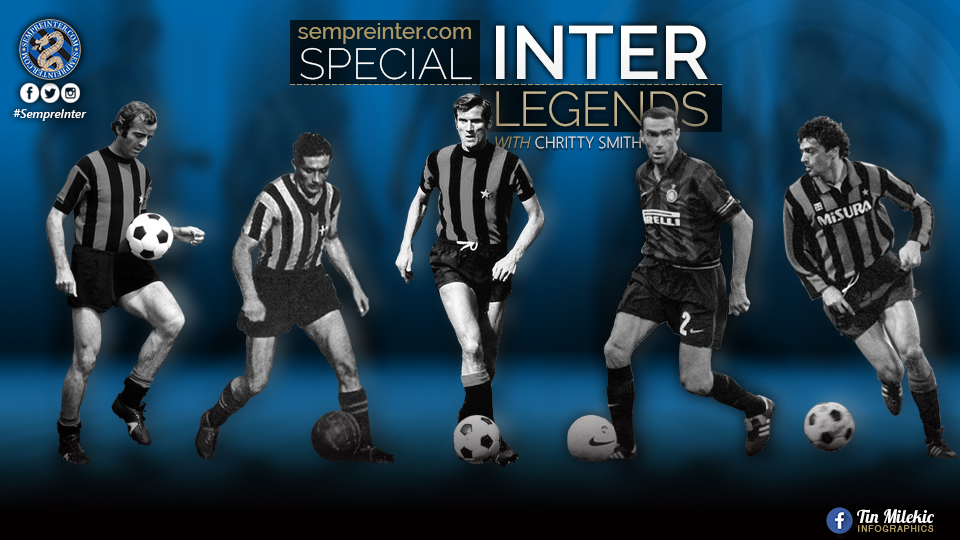 Today we will be taking another trip down memory lane, down the road to Inter's distant past. Specifically, we will be revisiting the Grande Inter era and focusing on it's grand creator. When it comes to the title of "greatest manager in Inter history", there are many huge names to choose from, but for most Inter historians there is but one name at the top of that list: the one and only Helenio Herrera. 
Helenio Herrera is credited with many things. He was one of the first managers to use psychological tools as motivators for his players. He was quoted as saying "with ten players our team plays better than with eleven." This was due to the discipline, preparation, and intelligence he insisted his teams must have in order to be ahead of their competition.
Herrera was the first manager to call upon "the 12th man" to aid in the team's success on the pitch. The 12th man referred to the vocal support of the home crowd at the stadium. He instructed his players to neither drink nor smoke, and placed extreme importance on a healthy, balanced diet. These were all practices that were ahead of the times.
He would often send club personnel to his players' homes to perform a bed-check, ensuring they were well-rested for the upcoming match. Additionally, he came up with the term "ritiro". A ritiro was a remote country hotel that saw the players arrive on a Thursday to begin preparation for the match on Sunday, far away from any possible distractions.
At Inter, however, he will undeniably be best remembered for bringing his own unique version of the famed tactical philosophy known as "catenaccio" to the club. His standard 5-3-2 formation made the opposition's lives a living hell on the pitch. Inter became a counter-attacking juggernaut under Herrera.
Herrera's version of the 5-3-2 utilized four man-marking defenders. These four defenders would split into groups of two, each flanking a central sweeper in the center of the back line. The sweeper role was typically occupied by club captain and Inter legend Armando Picchi. This was the exact opposite of Herrera's strategy at his previous club, Barcelona. His Catalan side was known for it's fluid, possession-based style of play. Herrera's Inter was often criticized for being too defensive and producing few goals, and for better lack of terms, being rather boring.
Ironically, it was in this perceived dull, overly-defensive system where a fullback by the name of Giacinto Facchetti became the first at his position to score as many goals as most forwards in Europe's top leagues. Herrera's version of catenaccio was totally unique and damned-near unstoppable. He had managers all over the continent scratching their heads while attempting to identify a weakness in his unique system.
Herrera's belief was that the ball travelled best and most efficiently with as few players and touches involved as possible. This was perhaps the most lethal aspect of his catenaccio. Inter scored the bulk of their goals through quick and efficient counter-attacks. Herrera's players mastered the use of the vertical ball and the his star fullbacks, Giacinto Facchetti and Tarcisio Burgnich would use their overlapping runs to overwhelm opposing defenders.
Luis Suarez, the original and far more mature version, occupied the regista role for Herrera's Inter. He was the deep-lying playmaker and workhorse in the midfield. He aided in regaining possession and was the key figure for the Nerazzurri when moving the ball forward. His technical skills, work-rate, ability to read the game, and precision passing made him an irreplaceable part of the Inter machine.
So, what does all of this mean in the long run? How did Herrera's tactics impact Inter? Did the club actually achieve positive results? The answer to that last question is an overwhelming "yes." Herrera's iconic tactical philosophy gave Inter an unmistakable identity. Supporters of the club were rewarded with a dominant side that won three Serie A titles, two European Cups, and two Intercontinental Cups from 1960-1968.
Inter's rivals, as well as many supporters from other clubs throughout Europe claimed that Herrera's tactics were destructive and in fact, bad for the game. Many pundits agreed and were eager for the end of Herrera's catenaccio. Just as Inter looked primed to win a third European Cup in 1967, their opponents, Celtic, were able to turn a 0-1 deficit into a 2-1 victory. Critics of Herrera's Inter proclaimed that his side had finally been exposed. The defeat in the European Cup final was celebrated not only as a victory for Celtic, but indeed, as a victory for the game of football.
The Grande Inter era ended with the departure of Helenio Herrera from the club in 1968. Inter has a long and illustrious history, there is no denying that. Whether the Inter from 50 years ago is the best collection of talent to ever wear the colors of the Nerazzurri is subjective. Many will turn to Inter's most recent success in the early 2000s under the leadership of Roberto Mancini and Jose Mourinho. Herrera's three domestic and four international trophies certainly make for a great debate.
Regardless of where you stand on the subject of Inter's most successful period, one undeniable fact is that Helenio Herrera was one of the greatest managers in the sport's history. He was an innovator and a pioneer. Inter were fortunate enough to have him on their touchline for nearly a decade, by far the longest tenure of his career. Herrera made the Nerazzurri a dominant force in football throughout the 1960's, and though it has been half a century since Grande Inter ruled Europe, it is still talked about to this day.
There is no manager in Inter history more deserving of eternal praise than Helenio Herrera. He will always be remembered for his incredible football mind. His tactical contributions to the sport are matched by only a select few, as is his success at Inter, having lifted the club to top of the football world for nearly a decade without interruption. In terms of Inter managers, there is undoubtedly no one more deserving of the title #InterLegend than Helenio Herrera. Icon. Innovator. Genius. Champion.
Other legends in these series:
Giovanni Trapattoni: The Man Who Restored Inter's Prestige
Jose Mourinho: The Magician Behind Inter's Magical Treble
Ronaldo: The Greatest 'What If' In Inter History
Zlatan Ibrahimovic: Inter's Own Mr. Scudetto
Walter Samuel: The Brick Wall In Inter's Defense
Diego Milito: The Symbol Of Inter's Treble Winning Side
Christian Vieri: Inter's Unsung Hero
Sandro Mazzola: The Man Who Embodies The Word "Nerazzurri"
Armando Picchi : The Great Captain Of Grande Inter
Jürgen Klinsmann: The Leader Of Inter's German Strikeforce
Dejan Stankovic: The Dragon Guarding Inter's Midfield
Walter Zenga: The Nerazzurri Spiderman
Giacinto Facchetti – A Giant Among Men
Lothar Matthäus – The Definition Of  A Complete Player