#NerazzurriClassics – When Oba Oba Martins Gifted Inter The Win Against Bologna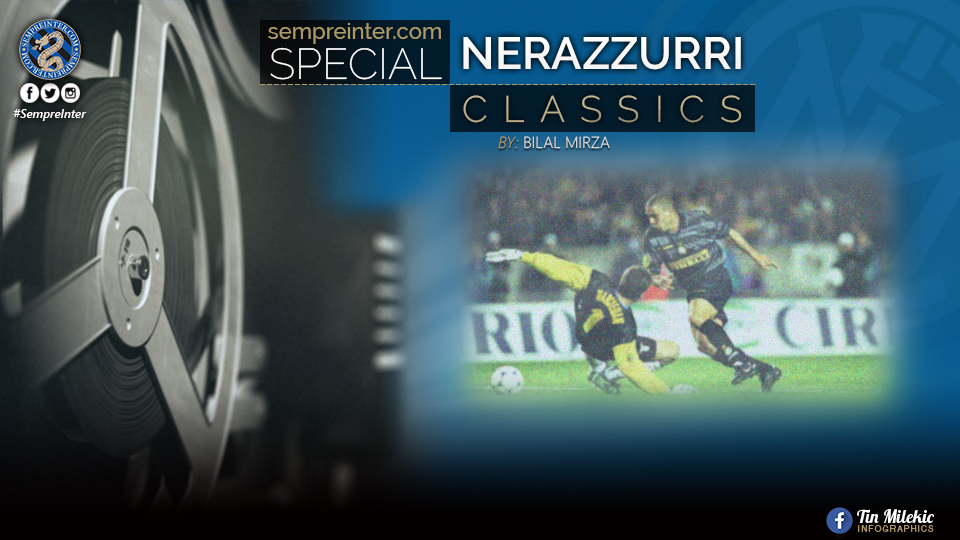 Inter prepared to face Bologna at San Siro, sitting sixth in the league table and a point behind Lazio and Parma for the final Champions League spot. After a miserable stretch of ten games where they managed only two wins, Inter had turned their season around and were on a four-game winning streak going into the round thirty match against Bologna.
While the relegation fighting Rossoblu side was coming to San Siro, Parma were up against Juventus at home and Lazio were preparing to play Derby della Capitale, giving Nerazzurri golden opportunity to gain some ground against the competition.
Nerazzurri finished 2002-03 season as runner-up and strengthening the squad in summer by adding Julio Cruz, Adriano to replace Chelsea bound Hernan Crespo and added midfield depth with additions of Dejan Stankovic and Andy van der Meyde.
Despite investing €45 million to reinforce the squad, Inter had a poor start to the season in the league which led to Hector Cuper's dismissal despite beating Arsenal 3-0 at Highbury in Champions League match, during their perfect Premier League season. Under Alberto Zaccheroni, Inter went on a six-game winning streak before going on a torrid 10-game stretch.
Despite fighting relegation for much of the season, Bologna were going into the match at San Siro in great form. In games leading up to the round thirty match, they had beaten Brescia, Lazio and Roma. With only a 5-point advantage outside the relegation zone and as many games left to play, Bologna were looking for points to secure safety in Serie A for following season.
Zaccheroni was without his leading goal scorer Christian Vieri due to an injury. With former Bologna man, Julio Cruz on the bench, Inter started the game with a 4-4-1-1 formation with Francesco Toldo in goal, Fabio Cannavaro and Ivan Cordoba as center-back pair, Daniele Adani as left-back and Javier Zanetti as right-back. In midfield, Thomas Helveg and Kily Gonzalez played as wingers and Stankovic and Francisco Farinos were the midfield duo.
Adriano led the attack as lone-striker and Alvaro Recoba behind him as a trequartista. Notable starters for Bologna were long time Inter goal-keeper Gianluca Pagliuca, Japanese midfielder Hidetoshi Nakata and current Lazio sporting director, Igli Tare as striker.
Right from kick-off, Zaccheroni's instructions were evident, keep the possession, push the ball through the middle with Recoba and allow his creativity to find Adriano. Bologna, fully aware of the danger posed by Adriano, double and often triple teamed him to deny scoring opportunities. As soon as Adriano received the ball, he had to get past multiple defenders to get a shot off.
With Rossoblu defense fully occupied by Adriano, he started drifting wide pulling defenders out of position and leaving space inside the box for wingers and midfielders to make runs. This adjustment midway through first half provided Inter the first break-through of the match, following a brilliant sequence of play by Adriano on the left wing.
Around thirty-three minute mark, he received the ball at midfield and took on 3 defenders and dribbled past them with pace and played in low driven cross towards the center where Recoba struck it on the volley for an easy tap-in, 1-0 to the home side. Inter continued to pile on pressure on Bologna. Despite number of thunderous strikes from Adriano, Nerazzurri failed to get the ball past Pagliuca, who was in magnificent form making one acrobatic save after another to keep the visitors within striking distance going into half-time.
As play resumed in second half, Bologna failed to make any adjustments on defense. Soon after, Cannavaro added a second goal from a corner-kick, giving home side a comfortable 2-0 lead and visiting side, so far, not showing any offensive threat. To slow down the pressure from Inter, Bologna tried to retain more possession of the ball and commit men forward to try and mount a comeback.
However, resulting from a turnover, in midfield, Stankovic played a long ball to Adriano who yet again had three defenders covering him. He recognized a diagonal run into the box from the substitute, Obafemi Martins and played a through ball to him. With a defender closing the gaps, Martins played a low cross inside the box to find a late run from Stankovic who scored Inter's third goal of the match. Despite Pagliuca's heroics, Inter was firmly in front with a comprehensive 3-0 lead with thirty-five minutes left in the match.
To inject some life into the attack, Carlo Mazzone took off center-back Alessandro Gamberini and brought on striker Claudio Bellucci. The substitute made immediate impact for Rossoblu as he found a poor clearance from Inter defense right at his feet and pulled one goal back for the visitors, making the score 3-1 twenty-minutes remaining. Despite reducing the deficit, the visitors were unable to regain control of the match as Adriano was joined by Martins in attack, causing a lot of problems with their pace and strength for a fragile Rossoblu defense.
Martins added a fourth goal for Inter after holding off two defenders and dragging the ball back into the box to smash home strike in near post, leaving no chance for Pagliuca. Bellucci added Bologna's second goal few minutes later, however Inter managed to see the game through and secured a 4-2 dominating win at home to leapfrog Lazio and Parma in standings.
Despite not getting on the scoring sheet himself, Adriano got two vital assists and terrorized Bologna defense all game long. They had absolutely no answer for him despite double, triple and even quadruple teaming him on defense at times.
After the match, he complemented Pagliuca for his fantastic performance to deny him his fifth of the season, "I didn't score, but it's not important because we played very well. I helped the team, but I know I can do a lot more. Pagliuca did very well, maybe I'll score in the next match."