Inter's Real Problems Begin After The Club Sells Mauro Icardi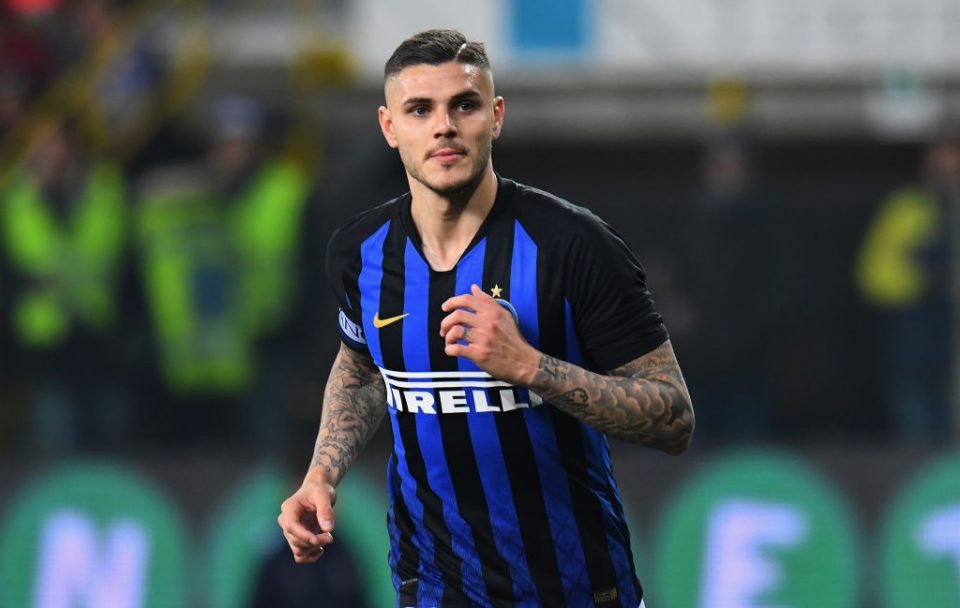 Since the news broke on Wednesday that Mauro Icardi had been stripped of his captaincy, as an Inter Milan fan it's been hard to think of anything else. The future of both the player and club have been thrown into flux despite club legend and current Vice-President Javier Zanetti stating that Icardi (along with Lautaro Martinez) "represents the future" just days earlier.
Getting to this point is hardly surprising though. The drama between the club and Icardi's agent and wife, Wanda Nara, has grown for 1.5 years as she's repeatedly taken negotiations to the media to apply pressure on the higher ups. Her doing this isn't particularly surprising or egregious, as all agents leak information to news outlets to engineer new contracts and/or transfers (see Aguero, Sergio or Bale, Gareth). The only surprising thing is that she attached herself to the statements rather than be an anonymous source.
But in recent months the tension reached a breaking point as her criticism of the club went far beyond what an agent can and should say. The straw that broke the camel's back came the same day Zanetti stated Icardi is the future, as she blasted the club for not protecting Icardi and insinuated bad faith from within the club.
That Icardi, who's done right things off the pitch for most of the renewal saga (until his recent Mark Twain misquote), reportedly told management he wouldn't reign in his agent is egregious. The combination of Wanda's recent actions and Icardi failing to put the team in front of his own interest necessitated he be stripped of the captaincy. But while it's easy to blame the Icardis for all of this, as many fans have done with often vile social media comments directed to them, the blame goes both ways. The club holds equal responsibility for things getting to this point.
The fact remains that Icardi should have had an improved contract in line with his worth handed to him by the club well before the World Cup began. That a deal wasn't done and still hasn't been done lands solely on the club.
Since signing an extension in 2016 Icardi's performances have him amongst the best in Serie A. In the 2016/17 campaign he netted 24 times, good enough to tie for 4th place with Gonzalo Higuain despite playing fewer matches than Higuain, Andrea Belotti, Dries Mertens, and the league leader Edin Dzeko. He followed that up by jointly winning the Capocannoniere with 29 goals to his name in the 2017/18 season.
But what's more is Icardi has been and remains one of the world's best strikers. Statistically, Icardi more than keeps pace with pure strikers like Harry Kane, Sergio Aguero, Robert Lewandowski, and Luis Suarez (according to numbers from WhoScored, Sqauwka, and Understat) despite playing with far inferior squads than his contemporaries.
For instance: Harry Kane is widely regarded as the best at holdup play amongst strikers. Yet despite this, Icardi has managed to produce 1.11 Key Passes per 90 and 0.15 Assists per 90 since joining Inter despite having to play with Jonathan Biabiany and the shadow of Antonio Candreva as his starting wingers. This output is better than both Kane's– who's enjoyed the presence of Dele Alli, Christian Eriksen, and Heung Min Son during the same time frame– and Lewandowski's– who's enjoyed the presence of… pick any player on Bayern Munich.
Furthermore, Icardi has kept pace with the batch with his scoring output. Icardi has generated 0.7 Goals per 90 and 0.6 expected Goals per 90. Of the 5 strikers, he does have the lowest stat, marginally trailing Kane's 0.79 and 0.66, respectively. However, he's also managed to keep pace with them despite vastly inferior supply from his teammates. Icardi is only managing 3 Shots per 90 minutes, which is a full 1.5 shots per 90 fewer than the next lowest of his contemporaries, Suarez.
For Icardi to keep up with the other top strikers in the world despite not having the benefit of the top talent found at Bayern, Manchester City, Barcelona, and Tottenham surrounding him is an impressive feat. More impressive yet considering he's just now entering the prime of his playing career, so the best is yet to come especially if the quality of his teammates were to improve.
Prior to his 24-goal season, Napoli, having just lost Higuain to Juventus, sniffed around Icardi for a transfer. Inter kept them at bay by paying Icardi what he was worth at that time, the €4.5 million annually he still currently plays on. Since then he's gone on to become, at worst, a striker sitting just outside the top 5 in the world. Inter knew they had a great player at their club and knew that interest from clubs like Real Madrid or the Premiere League giants would soon follow.
And they knew they had to offer a better contract to keep those clubs at bay once again. And this is where the club failed.
Since negotiations began, the highest reported amount Inter have offered Icardi is €7 million annually. For the average person, that's nothing to laugh at and we would all sign instantaneously. But this is world class player whose current contract has paid him less than what Moussa Sissoko, a very mediocre player playing for a notoriously cheap club, had been earning annually at Tottenham over the same 2-year span. The Icardis naturally wanted more considering his production.
The €10 million high-estimate Wanda has been trying to get as close to as possible in negotiations has been termed a "greedy" amount by many of the Inter faithful. It's unsurprising given Wanda's reputation as someone who repeatedly holds the club hostage for a better contract for Icardi, even though it's her fiduciary responsibility to get her client the most money he can during a short career given it's supposed to last him the rest of his life.
But opinion of Wanda aside, the wage demand isn't anything outlandish all things considered. There's more money in football than there's ever been and Suning, the club's new wealthy owners, promised to infuse the club with cash. While there are Financial Fair Play budget constrictions to navigate, Inter simply would've had to adjust the budgets to accommodate the increased wage. Though it doesn't seem the club is as financially constricted as they appear, as evidence of paying up to €6 million annually, a team high, to a well-past prime Diego Godin.
And from a pure number's perspective, the €10 million is in line with his production. Icardi has kept pace with his contemporaries but didn't blow any of them out of the water when comparing their statistics. It makes sense that his wage should be close to but still below what the others are being paid. Of the batch Harry Kane is paid an annual salary of €12 million, which is BY FAR the lowest salary. Anyone with a pulse knows Kane could and would earn more than double that current salary playing for a bigger club. Icardi, who bested or just about matched Kane in several major areas despite a worse supporting cast, at €10 million annually for production that commands significantly more is fair price.
But as of now it seems both sides will remain at an impasse and that, barring a miracle repair in the relationship, Icardi will move on from the club after the season. It really is a shame it's gotten to this point too as it could have all been avoided. Wanda didn't have to make all of her public criticisms, Icardi could have agreed to reign in his agent's actions, and Inter could have simply agreed to pay closer to Icardi's market worth rather than hardball. All fans can do at this point is hope that Inter management know what they're doing should Icardi be sold, because replacing a talent like his isn't as easy as it is in video games.