Weekly Health Report – Inter's Overall Squad Status Ahead Eintracht Frankfurt & AC Milan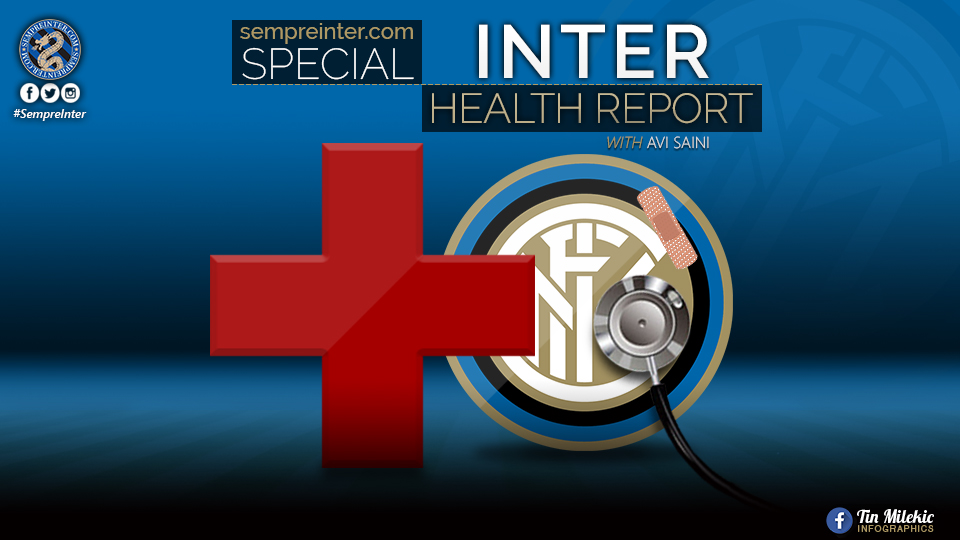 Every week of every season could be the defining moment in a season. Regardless of results it never feels that way but with hindsight every pundit, fan, and team will look back at that one match… that one singular moment… that defines a season. Whether fair or not (given how many factors influence the outcomes of a season), that's the reality. And the reality for Inter Milan is that that moment may well have already come.
After putting themselves in a position to comfortably qualify for Champions League next season, the club have allowed themselves to fall back into a race for the top 4 versus Roma and AC Milan. Inter could have remained in third place, but the egregious refereeing decision cost Inter 2 crucial points and now the team sits looking up in the table at their counterparts in red. Should Inter fail to finish in the top 4, that one singular refereeing decision will be harped on. But Inter can redefine their season with this weekend's Derby della Madonina. A win could change the narrative and lead them to be the plucky team that overcame all the adversity they faced over the season. All that's left is to see if they can rise to the occasion.
Upcoming Matches:
Eintracht Frankfurt vs Inter, Thursday March 13th, Giuseppe Meazza Stadium, kickoff 21:00 CET
AC Milan vs Inter, Sunday March 17th, Giuseppe Meazza Stadium, kickoff 20:30 CET
First Team Fitness:
Keita Balde Diao: Finally some good news for the Senegalese winger. After spending a few months sidelined with a lingering hamstring injury suffered in training, Keita Balde is finally set to return to Spalletti's matchday squad versus Frankfurt. Whether he starts or not remains to be seen, but the timing could not be more perfect given the status of the next name on this list.
Lautaro Martinez: The club's primary striker since the beginning of the Mauro Icardi fiasco will miss the Europa League match due to suspension. His exclusion should mean he is fully rested for the weekend's derby.
Kwadwo Asamoah: Another player who will miss the European match due to a yellow card suspension. He will be available for the match versus Milan.
Mattias Vecino: The central defensive midfielder will see a return to the team sheet for the Europa league match after serving his suspension.
Joao Miranda: The centerback suffered a blow to the face that resulted in a fractured nose versus SPAL. Per the club, he's successfully undergone surgery to address the issue. Unfortunately he will not be available for selection in either of the week's match as a result. He will hopefully recover over the coming weeks as the international break approaches.
Marcelo Brozovic: The club's Regista was brought off in the match against SPAL with a suspected injury but luckily seems to have managed to avoid any serious injury. He's been monitored as "day-to-day" but is currently included in the matchday squad against Frankfurt. Barring any late news, he should be available for both matches this week.
Radja Nainggolan: After suffering a calf strain in training last week, Nainggolan was not available for either of last week's matches. Unfortunately the Belgian still does not seem to be available for either of this week's matches. After a strong showing in a couple of performances returning from injury, the club and fans will hope he won't spend too much more time on the sidelines.
Roberto Gagliardini/Joao Mario/Henrique Dalbert: All three men will not be eligible to play the reverse fixture on Thursday due to the Financial Fair Play (FFP) limitations to Inter's squad size, however they should be available for selection for Sunday's derby.
Avi Saini is a 27 year old medical student from California. He's been an Inter fan since 98 after seeing the wonders of Ronaldo, who he maintains is the true greatest of all time. Avi writes a weekly medical column exclusively for SempreInter.com.