Inter will finish yet another season without a trophy after crashing out of yet another European club tournament, this time the Europa League, against Eintracht Frankfurt after a 1-0 defeat at home at the San Siro.
Given the many suspensions and injuries, Luciano Spalletti opted to go with a line-up that seemed to suggest a make or break approach. Several people on various platforms compared it to when Mourinho did something similar during that glorious 2010 season, in the return leg away against Chelsea, claiming it was a brave and attacking move. That it sent positive signals to the squad that they were gonna have to go for it, that it was gutsy.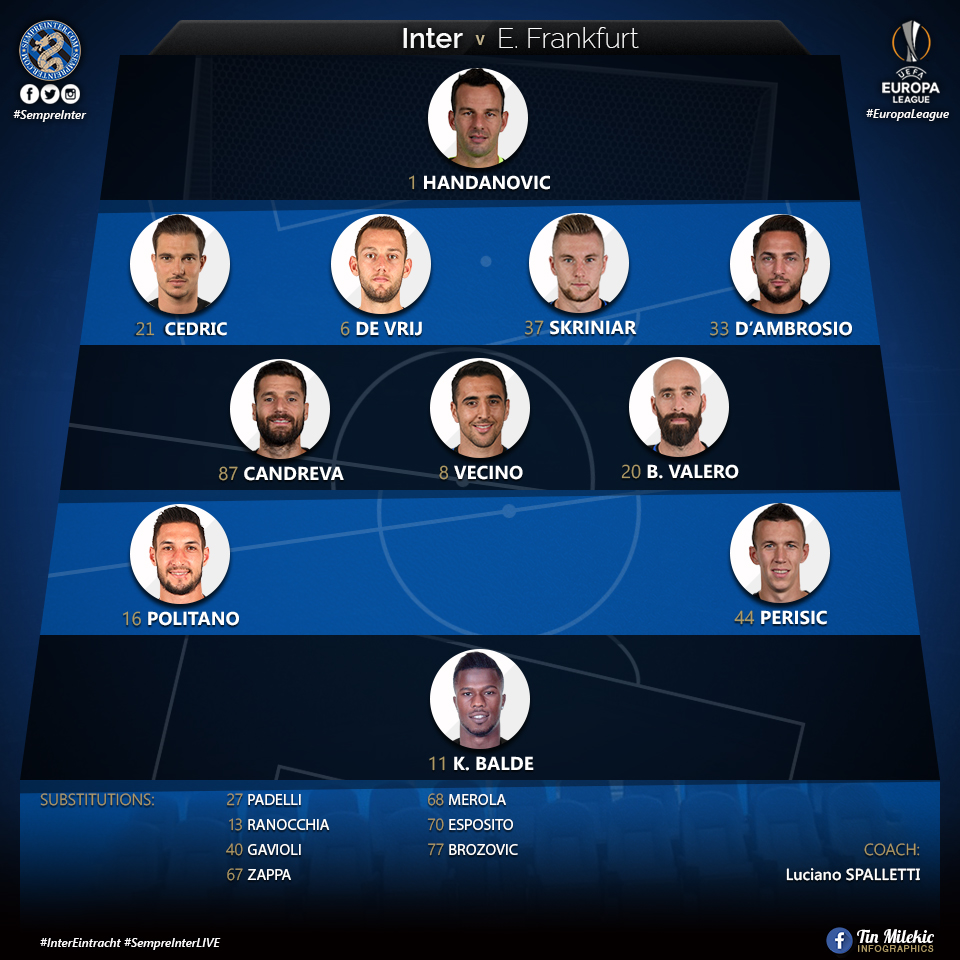 However, aside from the incomparable quality of the two sides both on and off the pitch, Mourinho did what he did during a period when Inter were a solid, world class, machine that broke teams down as well as being mentally stronger than steel, such as winning a derby 2-0 with 9 men. Sure, Mourinho gambled but he had great odds.
Inter, as a club, has since then demonstrated to have, and this Inter in particular has shown the mental strength of papier-maché. Not to mention the fact that this years crop has gone through an earthquake since mid December following all the drama concerning the Icardashians.
This match was over before it began. It's one thing to be brave, another to be desperate. A desperation that was interpreted as panic by the team after only 5 minutes, leading to de Vrij making an uncharacteristic headless mistake which resulted in the only goal of the tie and was followed by 85 minutes where there were no lines, no cohesion, no ideas, absolutely nothing in how the Nerazzurri played.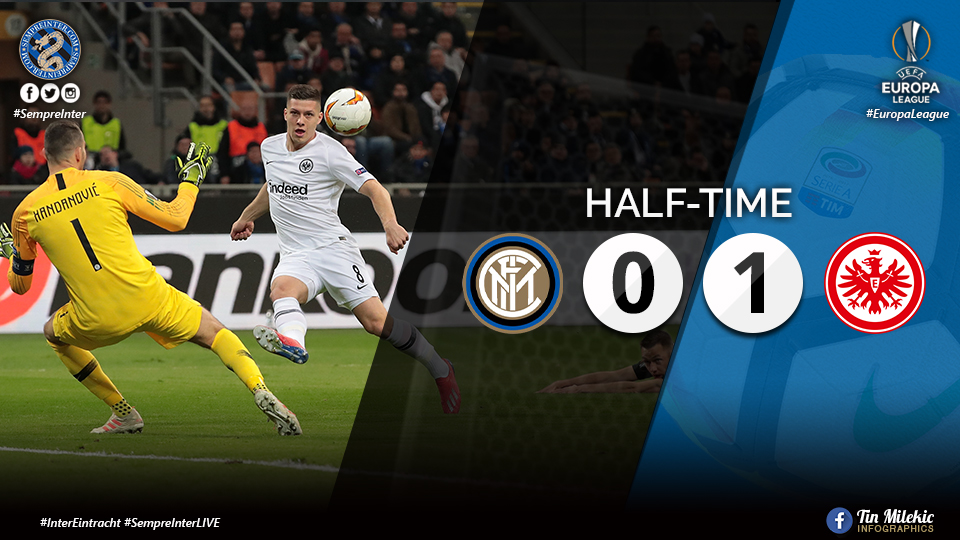 Inter played 180 minutes of football during which they had a penalty and despite this managed to score zero goals against Eintracht. Their first shot on target yesterday came in the 65th minute. At home. At Inter, when this happens, this usually means that the coach is on the chopping board, and Spalletti's entire approach reeked of a coach that's run out of ideas and is facing the axe.
So Spalletti gambled, big time, when the odds were stacked against him, as he has done over and over again since Vecino scored that famous header away at Rome's Stadio Olimpico. He has gambled from pre-season, where he insisted on the club signing Nainggolan from Roma, to the decision to strip Mauro Icardi of the captaincy, which he admittedly played a big part in, to yesterday's desperate all or nothing approach. Not a single one of his gambles have paid off and the team lays mentally in tatters with the dressing room more divided than ever, to put it lightly.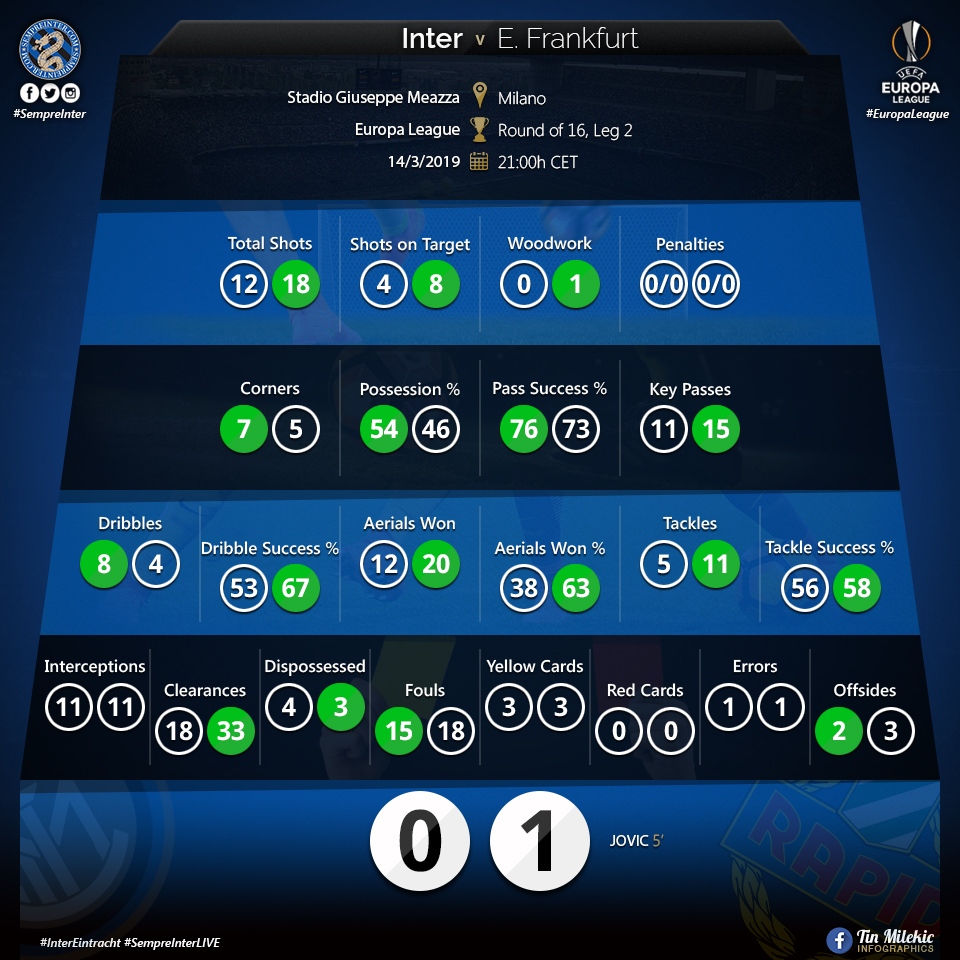 Before this season started the club's directors were very clear to the team and the coach regarding the season's goals and objectives. These were, to improve on last season's fourth place finish in the Serie A, a minimum semifinal spot in the Coppa Italia, to qualify from the Champions League group stage and if that failed, a minimum quarterfinal place in the Europa League. Spalletti's Inter has failed to achieve every single one of those objective so far this season, except for the part concerning the Serie A, which lays very much in the balance.
However, Roma are only three points behind as Inter go into the derby on Sunday only one point behind AC Milan, and if Inter lose as badly as I think they will lose, there is no doubt in my mind that Spalletti will be axed the following day. It's one thing to lose, it's one thing to play badly, but a completely different thing to play like a team that just showed up to the first day of preseason. To do so in mid-March, when it matters the most, is simply unacceptable.
Spalletti has gambled throughout this entire season and he's come up short on every single occasion. The only thing that can save his job is a performance against AC Milan on Sunday in the Derby della Madonnina. If the gamble goes south there too, then his time at Inter is up, as unlucky Luciano will be looking for a job and yet another clear out will commence in the summer followed by yet another year zero, but most likely under the guidance of a Special Portuguese coach.