Terzo Tempo – Back From The Dead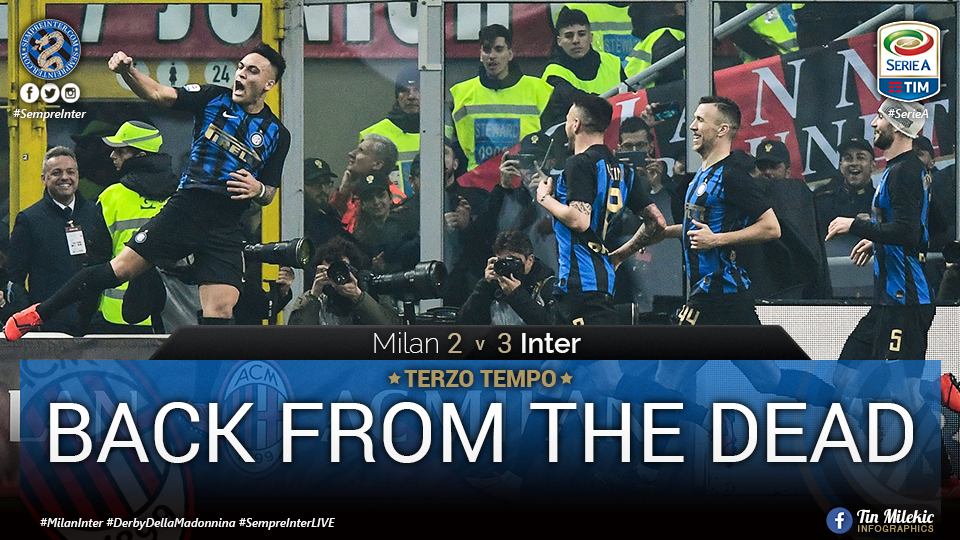 Luciano Spalletti's Inter lives on after a breathtaking derby win against AC Milan, that instantly  became a Nerazzurri classic, in fact it became so even whilst it was being played. If cats really have nine lives, then Luciano Spalletti is the first feline manager in the Serie A.  
Going into the derby there was literally nothing that suggested that Luciano Spalletti would survive the week as Inter's coach, let alone win the derby. Especially when considering the abysmal performance which led to elimination from the Europa League.
After that match, Spalletti took the blame for the team's confused, fragmented and scared approach and behavior against an Eintracht Frankfurt, that had it not been for Samir Handanovic, would have embarrassed the Nerazzurri. That performance was added to the sheer craziness of the Mauro Icardi situation, and meant that a team that was mentally drained, divided and lacked cohesion, was going into a derby against an AC Milan that were the polar opposite to Inter's madness.
Furthermore, the day before the derby, leaks from anonymous sources inside the dressing room had emerged placing the blame for the entire situation firmly on Luciano Spalletti, vindicating both club, Icardi and the players, which suggested that all parties were preparing for the Tuscan coach to be axed.
Instead, Spalletti and his players showed that nothing could be further from the truth as they executed his game plan perfectly from the first minute. Not only did they execute Spalletti's game plan, but his tactics proved to completely outclass his Milan counterpart for almost an hour. During which Inter should have scored at least 3 goals in total but only managed to score 1.
And when Gattuso finally changed his tactics, which led to Milan playing past Inter's oh so effective first high pressure, they pegged the Nerazzurri down their own half, whilst bombarding the Nerazzurri penalty area with crosses. This is where Spalletti needed to show that the first 55 minutes were not just a flash in the pan. Gattuso had made his move and it was working.
However, this did not faze or panic Spalletti or his players who instead methodically continued to follow their plan and doubled their lead via a beautiful header from Stefan de Vrij, whose mistake cost Inter the Europa League tie against Eintracht Frankfurt. But in all honesty who cares about mistakes in the Europa League when you score in the derby?
Even when Milan cut Inter's lead by half shortly after, Spalletti and his men never behaved frantic or panicked or even stressed. They simply continued defending as well as attacking according to their plan, always seeming like they were in control.
In short, Inter won the best Derby della Madonnina in terms of the quality of football played, in almost a decade, after Spalletti demonstrated, that not only does he have the players behind him, but that he is very much in control of them who in their turn still very much follow him and believe in him. I honestly did not think that was the case nor did I expect Inter to produce the best 90 minutes of football they've played all season, or in fact under Spalletti's entire tenure.
The movement, creativity, fluidity and lucidity with which Inter attacked was simply world class, as was the calmness, grit, intelligence and passion with which they defended. Whoever leaked to the press, that Spalletti didn't have the players with him, looks like a right fool right about now.
Inter may be out from the Coppa Italia, Champions League and the Europa League whilst their former captain sulks in the background whilst his wife/agent never stops fanning the flames of drama. However, Spalletti's Inter showed once again, that when they are on the verge of self destruction, when they are all but dead and buried, they rally around each other and come back from the dead.