#InterLegends – Giuseppe Meazza: Italian Football's Greatest Of All Time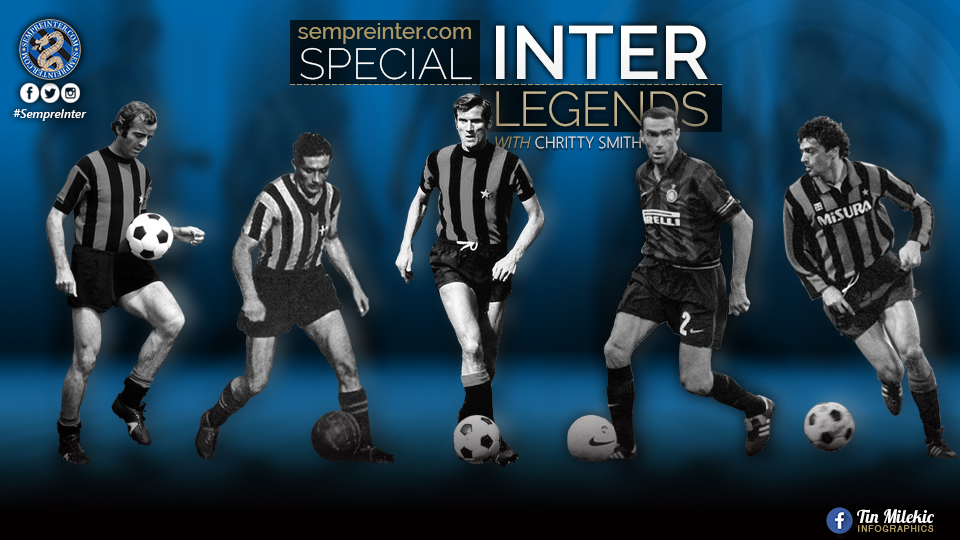 When a city names a stadium after you, it is abundantly clear that you were very good at something at some point in your life. In the case of Giuseppe Meazza, the word good does not do him justice. Meazza is still considered by many to be the greatest football player Italy has ever produced. Let that sink in for a moment please.
Much like Paolo Maldini and Walter Zenga, Giuseppe Meazza was born in the great city of Milan, Italy. And though he played at both Milan clubs during his career, his most productive years, when he was widely considered the best player in the world, were spent in the shirt of the Nerazzurri.
In total, Meazza wore the prestigious black and blue for 14 years (1927-40, 1946-47). In total he tallied 365 appearances for Inter and scored an unbelievable 243 goals, which ranks him as the club's all-time leading goal-scorer by quite some distance over Alessandro Altobelli (128) and Sandro Mazzola (116).
Giuseppe Meazza, if we are all honest with ourselves, should be credited for putting both Inter on the map as a successful football club and for helping his native Italy become an international juggernaut of the sport. Simply put, he is without question the most influential person in Italian football history.
What made Meazza so great though? How did he ascend to such heights within the sport and better yet, how has he remained at the top of the football "who's who" list for nearly a century?
The answer to that question starts with Meazza's professional debut against Milanese Unione Sportiva on September 27th, 1927. The 17 year old "rookie" scored twice in this match. So impressive was his debut that the national sports newspaper La Gazzetta dello Sport wrote about his performance. Meazza's game was "intelligent, quick, and fresh."
In his inaugural Serie A campaign (1929-30), Meazza set the league record for the most goals scored in a debut season (31), a record that still stands to this day. The prior season, he scored five goals in a game twice in victories over Pistoises and Verona. He also scored six goals in a triumph over Venezia later that season.
Inter would play AS Roma for the first time ever on April 27th, 1930. It would be quite the memorable day as Meazza would score three goals in the first three minutes of the match against the Giallorossi. He would finish with a total of four goals en route to a 6-0 Inter victory.
Meazza earned his first capocannoniere and Inter were crowned as champions of Italy at the conclusion of the 1929-30 season. This was the second national title in the club's history to that point and the first in twenty years (1909-10). Meazza had already achieved superstar status with the Nerazzurri before the age of 20.
By 1930 Meazza received his first call-up to the Italian national team. It would be a dishonor to the man if his time spent in the shirt of the Azzurri was not mentioned here. He spent the entire decade of the 1930s playing for his homeland and was dominant on football's international stage as well.
Italy won the World Cup in 1934 and repeated as champions in 1938, becoming the first nation to accomplish this feat. At the time of this writing, only Italy and Brazil have won back-to-back World Cup titles since the inception of the competition in 1930. From the Italian perspective, this was in large part due to the efforts of one Giuseppe Meazza.
There was a slight transformation in Meazza between the two World Cups in 1934 and 1938. In the former he was the primary scorer whereas in the latter he became the set-up man, mostly for Silvio Piola.
Piola scored five goals at the 1938 World Cup and had this to say about his teammates following Italy's victory in the final against Hungary. "At the FIFA World Cup, I mainly lived off of Meazza and Ferrari."  Meazza played his final game in the Italian shirt in 1939 and is currently the second-leading goalscorer in national team history (33) behind Luigi Riva.
Giuseppe Meazza was an anomaly of sorts. Despite his short and stocky build he was a natural forward. He split his career between two different roles. To begin, he was an all-out striker. In his later years he transitioned into a creative inside forward, focusing more on ball distribution.
Meazza's ball control was unmatched, as was his agility, and balance. His low center of gravity made it nearly impossible to push him off of the ball and his brilliant field vision enabled him to predict his opponents' actions before they happened.
Though he may have been the best, Meazza was by no means the only great footballer in Italy at the time. Take his Italy teammate Silvio Piola for instance. Piola was a fantastic player in his own right.
What separated Meazza from nearly all of his domestic peers, however, was his flamboyant personality both on and off the pitch. This is believed to be the main reason why he became a global superstar and other players during that time did not. He was also the first player to obtain personal sponsors.
Meazza enjoyed his champagne, his women, and the tango. So gifted was Meazza, he would often not get out of bed until after his teammates were finished with the training session. He was certainly not known for his off-the-pitch work rate, no one is denying that. On the pitch though, he was simply that damned good.
If someone today thinks Cristiano Ronaldo puts off a high degree of arrogance, they would not be wrong. His actions are tame, however, in comparison to those of Giuseppe Meazza. Meazza would most notably take control of the ball around midfield. He would dribble around his opponents, while making them look foolish in the process. Then, like a Spanish bullfighter, would invite the opposing keeper to come out and challenge him before placing the ball accurately into the back of the net. These were known as his "ad invito" goals and they could be downright humiliating for opponents.
Meazza was not concerned with tactics. He considered them mostly to be rubbish and a waste of his time. His teammate Bruno Acari IV who played with Meazza at AC Milan said the following: "Meazza never wanted to hear about tactics. He was a simple person who became a king when he entered the goal box, with a technical ability that was comparable to Pélé.
Gianni Brera, a prominent Italian sports journalist considered Giuseppe Meazza to be the greatest footballer in the history of the game. Following Meazza's death in 1979, Brera provided more insight into the genius of Meazza: "The world was full of great footballers, maybe even some tougher and more consistent than him, but to us it seemed that one could not go beyond his sudden inventions, his ingenious runs, his peremptory yet never condescending dribbling, his solo break-away runs towards the usual stray victim, the opposing goalkeeper."
Meazza was as a football player how some might describe a natural genius in the science lab or classroom. These individuals are so gifted that they can literally wake up in the morning and with almost no effort given, be the best in the world at their craft. That is how I personally describe Giuseppe Meazza and the brilliance he displayed on the pitch over the course of his long illustrious career.
Inter won three Scudetti during Meazza's 14 years with the club. He is the only player in Inter history to win the capocannoniere three times, and he did so in style. From a rival supporter's perspective it is easy to comprehend the utter disdain one may have had for this player based on his antics, but moreover, because of how much misery and heartache he inflicted on his opponents. For the interisti of the world, it was the polar opposite. He was your player, he played for your club, and he was the best the sport had to offer. You were proud to call him "nerazzurri."
There will never be another Giuseppe Meazza. That phrase is thrown around a lot in the world today. In Meazza's case though, it is true. There will never be another player who can get away with skipping training sessions, is permitted to be the only player on the team to smoke, and who gets out of bed to the sounds of his teammates wrapping up a training session. Sure, Radja Nainggolan tried, but, he failed. It simply does not work like that in the modern era of football.
Though Meazza operated by his own rules and agenda, that will never, and should never take away from what he was on the football pitch. He is still widely considered to be the greatest football player to ever come out of Italy, even 72 years after he played his final match. This, from a nation which is known for producing elite talent throughout its footballing history, dating back well over a century.
Perhaps the most fitting description of Giuseppe Meazza, and the perfect conclusion to his enshrinement piece into the SempreInter #InterLegends collection is best said by former Inter vice-president Peppino Prisco: "Meazza was great, unbeatable, even if he would occasionally run into a frightful crisis, caused by his intense sexual activity and passion for the game. When he took over on the field, he left the mouth ajar."
Other legends in these series:
Javier Zanetti: The Captain Among Captains
Helenio Herrera: : The Architect Of La Grande Inter
Giovanni Trapattoni: The Man Who Restored Inter's Prestige
Jose Mourinho: The Magician Behind Inter's Magical Treble
Ronaldo: The Greatest 'What If' In Inter History
Zlatan Ibrahimovic: Inter's Own Mr. Scudetto
Walter Samuel: The Brick Wall In Inter's Defense
Diego Milito: The Symbol Of Inter's Treble Winning Side
Christian Vieri: Inter's Unsung Hero
Sandro Mazzola: The Man Who Embodies The Word "Nerazzurri"
Armando Picchi : The Great Captain Of Grande Inter
Jürgen Klinsmann: The Leader Of Inter's German Strikeforce
Dejan Stankovic: The Dragon Guarding Inter's Midfield
Walter Zenga: The Nerazzurri Spiderman
Giacinto Facchetti – A Giant Among Men
Lothar Matthäus – The Definition Of  A Complete Player