#InterStats Preview – Inter vs Lazio: Can The Nerazzurri Build On The Winning Momentum?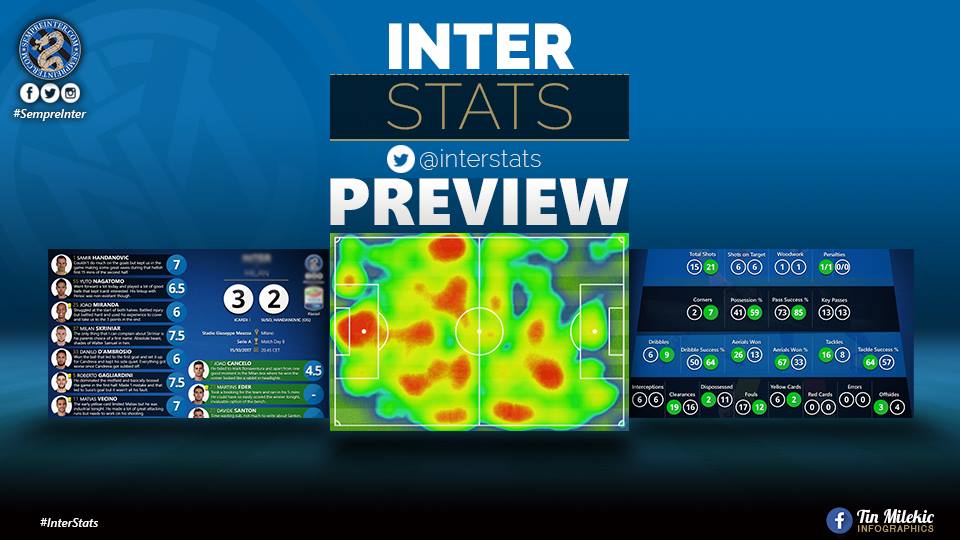 The Nerazzurri returned to winning ways before the international break and they will be hoping to build on the momentum when they welcome another direct rival for Champions League football next season, Lazio, to the Stadio Giuseppe Meazza tonight.
Attack:
Inter's resurgence in attack is evident in their last 2 games with 5 goals scored, in comparison to 3 goals in their opening 5 games of 2019. Lautaro Martinez has scored 3 goals and made 1 assist this year while the club's top-scorer Mauro Icardi, has sorted out his issues with the club and has returned to the team after a month. Inter average 1.5 goals per game.
Ciro Immobile has scored 13 goals this season and has scored in his last two games. Lazio have an average of 1.5 goals per game from 41 goals.
Defence:
The Nerazzurri have kept just two clean sheets in their last 8 games. They have conceded 24 goals, the 3rd best defensive side in the Serie A behind Napoli and Juventus. Marcelo Brozovic has an average of the most tackles and interceptions per game with 3.1 and 1.4 respectively. Miranda is expected to slot in for injured De Vrij and has made 4 clearances per game, only Milan Skriniar has a better record with 4.3.
Lazio have conceded 29 goals this term and have conceded 6 goals in their last two encounters against the Nerazzurri including the infamous Vecino goal that cliniched the Champions League spot last season.
Interestingly, Inter-Lazio games have ended with 7 red cards in their last 6 meetings, 6 red cards for Lazio with just 1 for Inter.
Moving the ball:
Inter dropped a bit after their performance against Milan, and are now 3rd with 55.6% average of ball possession per match. Brozovic has an average of 76.6 passes per game and 6.7 long balls per game.
Lazio have an average of 50.5% ball possession and 82.1 pass accuracy per match.
Whoscored rating leaders:
For Inter it is Brozovic (7.1), Skriniar (6.95) and Perisic (6.94). Whilst for Lazio it is Milinkovic-Savic (7.21), Leiva (7.17) and Immobile (7.09).
Do you have a stat you want us to highlight? Discuss in the comments below.
Hit us up on InterStats & SempreInter on Twitter using the #InterStats and #SempreInterLIVE before, during and after the game for unrivaled quality coverage of the fixture.