Preview – Udinese vs Inter: Channeling Santo Rafinha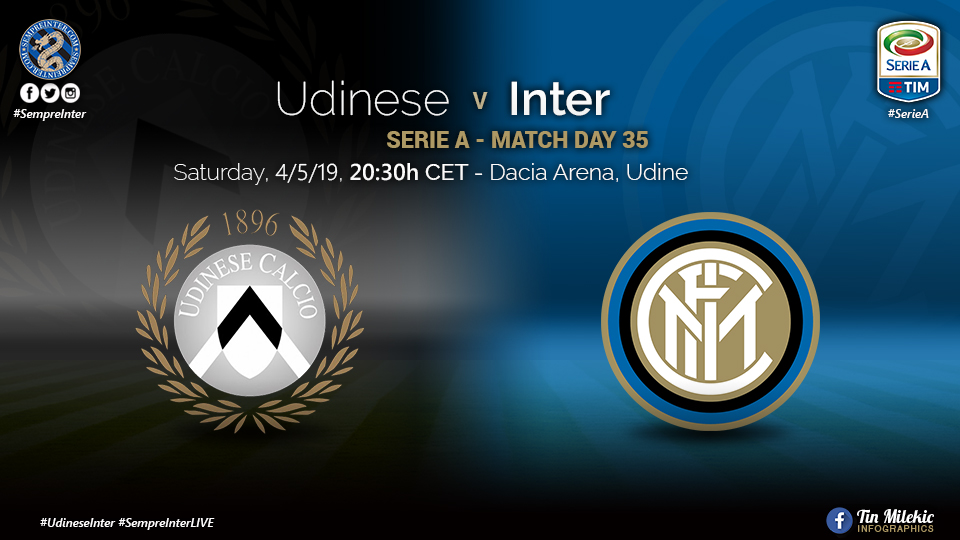 An important match in what may prove to be a decisive week in the race for a top three finish awaits the Nerazzurri as they travel to Udine. Match on tomorrow at 20:30 CET

While all four remaining matches might yet still prove to be important for the six teams fighting for the remaining two Champions League spots, the head to head run-ins between the various top eight sides make this week potentially more important for Inter than any other. Depending on the others' results, Inter might find themselves one point away from guaranteeing a top four spot, or incredibly become unseated from third place by the jet fuel powered Atalanta.
Inter cannot travel to Udine with anything but laser focus on a single objective; return to Milano with three points. Last season's corresponding fixture was played in eerily similar circumstances, albeit in match-day 36 rather than the season's match-day 35 encounter. Almost one year ago to the day, Inter had just come off the home loss to Juventus but uncharacteristically were able to pull themselves together and give one of the season's best performances in their dismantling of Udinese.
Central to that performance was Rafinha, whose role has been largely missed by the Nerazzurri almost all season long, however Radja Nainggolan has slowly been rediscovering his best form and on his day, he can more than replace the role played by Rafinha.
Central to any end 0f season narrative starring Inter will be the theme of mentality and grit. Last season Inter showed that when it came to crunch time, the team possessed the mettle to put in the performances and get the results that secured Champions League qualification. This season, the team seems much more mentally resilient and hopefully this can translate into a no-nonsense victory on Saturday. Against Udinese, Luciano Spaletti will almost certainly set his side up in the same mould as the previous week, possibly dropping Mauro Icardi for the more mobile Lautaro Martinez.
It is difficult to imagine Udinese playing for the draw; in their relegation fight, one point is little improvement to no points at all and hopefully coach Igor Tudor will have his side come at the guests hoping to snatch an unlikely win. This definitely plays more in Inter's favor who have consistently struggled against sides who sit back and compactly defend. If Udinese do attack and leave spaces, Inter must pounce quickly and put the match to bed early.
Team News
Spalettone is blessed to have a full squad to choose from free of any injuries and suspension. As noted above, it seems likely that the team will start with the same line-up and tactics as in the match against Juventus, with the only question being, who starts in the striker position, Icardi or Lautaro?
Probable Inter line-up (4-2-3-1): Handanovic (C); D'Ambrosio, DiVrij, Skrinniar, Asamoah; Brozovic, Vecino; Perisic,, Nainggolan, Politano; Lautaro
Stats
Last Season: Udinese 0 – 4 Inter.
Last 10 Head to Head: Incredibly, Inter have beaten Udinese in Udine in their last five consecutive league trips there. The last time Udinese have beaten Inter at home was all the way back in January of 2013. Over the last ten matches, Inter have beaten Udinese seven times, while the Zebretti have managed to get the better of their visitors just twice.
Keep an Eye on
Radja Nainggolan: After his scorcher of a goal and arguably a man of the match performance against Juventus last week, the resurgent Ninja must maintain his good form at this most critical part of the season. A Radja that is on fire can easily be the difference maker for Inter. Not only can the Belgian provide great distribution and attacking threats in the final third, his pressing can be suffocating and puts great pressure on opponents trying to play the ball out the back.
Officials
Referee: Gianluca Rocchi.
Assistants: Filippo Meli and Stefano Del Giovane.
Fourth Official: Federico La Penna.
VAR Assistants: Daniele Doveri.
Prediction & Concluding Remarks 
Prediction & scorers: Udinese 0-2 Inter with Lautaro and Nainggolan sealing it for Inter.
Concluding remarks: There is no easy match when facing a side struggling to avoid relegation towards the end of the season. However, the Inter supporters and players can take comfort in knowing that a performance like the one against the Champions last week can pretty much guarantee the win.