Weekly Health Report – Inter's Overall Squad Status Ahead Of Chievo Clash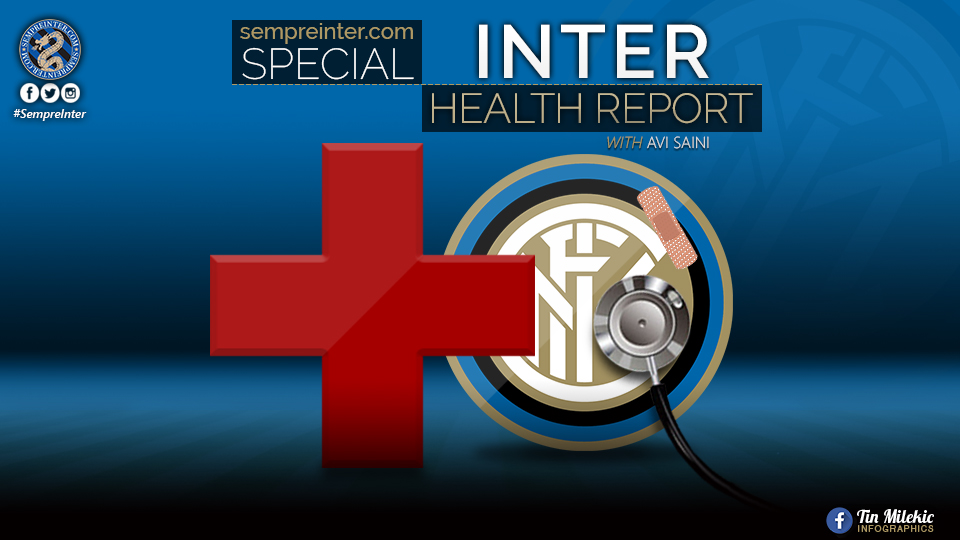 After only picking up 2 wins in their last 6 matches, including an apathetic showing against Udinese last weekend, Luciano Spalletti will hope Inter can right the ship and clinch Champions League qualification for next season.
But with 3 matches left and only a 4 point gap between them and a trip to the Europa League, there isn't any wiggle room left. Thankfully the team still controls their own fate and can clinch with 2 wins regardless of what happens elsewhere in Serie A. Now it's up to the players to show what they're made of and if they're worthy of wearing the famous blue and black.
Upcoming Match:
Inter Milan vs Chievo Verona, Monday May 13th, Stadio Giuseppe Meazza, kickoff 21:00 CET
First Team Fitness:
Stefan de Vrij: The big injury hitting the team at the worst possible time. In the match against Udinese, the Dutch centreback strained an abductor muscle in his right thigh. The abductor muscles, which are located in the outer part of the leg, are a group of muscles that work to pull a leg outwards away from the body.
While the club didn't specify which specific muscle(s) was injured, the outlook is not good in the short term. A muscle strain isn't particularly serious, however it will almost undoubtedly keep de Vrij out against Chievoverona and likely against Napoli as well. The club's statement said he'll be re-evaluated in the coming days so all Inter fans can do is wait and hope the injury isn't severe and he'll return to the starting XI quickly.
Marcelo Brozovic: Another big abscence for this week's match after accumulating too many yellow cards. Brozovic has been the club's most important and often best midfielder this season so his presence will be missed. The hope is against a team with nothing to fight for with relegation already assured, it won't be noticed too much.
Matias Vecino: After picking up a thigh strain a few weeks ago and missing the match against Udinese, there is a chance Vecino will be available for selection for Monday's match.
His status will be determined by his upcoming evaluation by the team's medical staff. With Brozovic out, the hope is the man who's come up with a few big goals in key matches will be available for selection.
Avi Saini is a 27 year old medical student from California. He's been an Inter fan since 98 after seeing the wonders of Ronaldo, who he maintains is the true greatest of all time. Avi writes a weekly medical column exclusively for SempreInter.com.