#InterStats Preview – Inter Vs Empoli: The Moment Of Truth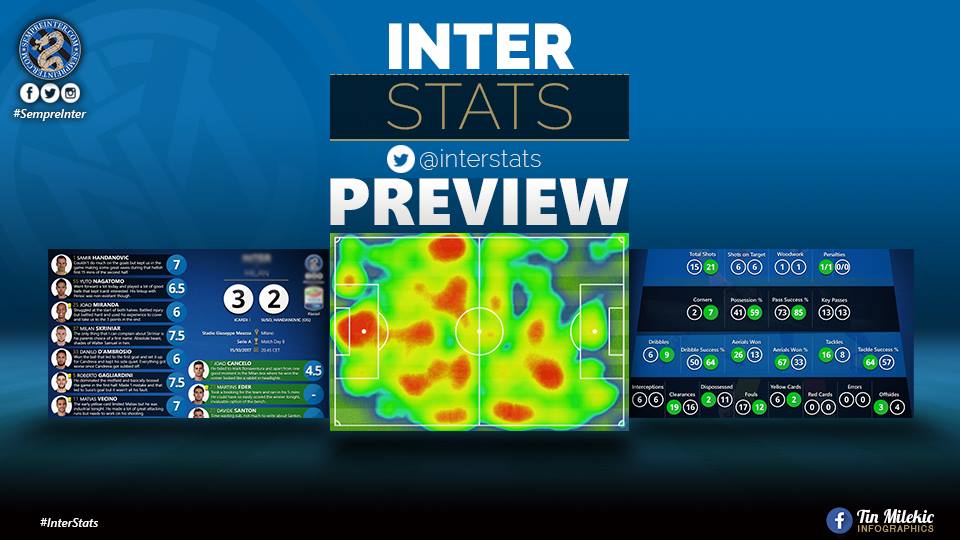 Nine years ago Inter were parading the streets of Milano as treble winners, being the first and so far only Italian side to achieved such feat. Today, they are in the fight in the final day of the season to qualify for the group stages of the Champions League, for only the second time in 7 years.
To get to Europe's elite competition they have to defeat Empoli, a side that needs a win to avoid relegation.
Attack:
The Nerazzurri have the lowest scoring record at home among the top 6 teams in the Serie A. Inter have scored less than 2.5 goals scored in their last 11 of 12 matches. Mauro Icardi is currently the top scorer with 11 goals plus he hasn't scored a goal from open play since October last year, against Lazio. Politano and D'Ambrosio are tied for the most assists (5).
Empoli have scored 50 goals this season, five goals less than Inter (55). The Azzurri have scored in each of their last 5 games. Francesco Caputo is their top scorer with 16 goals.
Defence:
Despite conceding 4 goals against Napoli, Inter still retain their position as the second best defensive team with 32 goals conceded. Inter haven't conceded over 1.5 goals in their last 16 home matches. They have conceded just 9 goals at the Meazza this season making them the best team in the Serie A in this regard.
Empoli have the third worst defence after Chievo and Frosinone and they have managed to keep a clean sheet only twice this season.
Moving the ball:
Inter averages the most possession per game with 57.1% and are second in terms of pass accuracy with 86.2% in the Serie A. Marcelo Brozovic averages the most passes per game in Italy with 78.2 and also has the most accurate long balls per game with 7. Borja Valero is the safest passer in the team with 93.7%.
Empoli have an average ball possession of 48.2% and a pass accuracy of 81.5%. Ismael Bennacer is their chief distributor with an average 51.5 passes per game and 86.4% accuracy.
Fun fact:
Empoli have won just one away game this season and it came against Sampdoria 2 weeks ago. Inter have won their last 6 games against Empoli. The last time these two sides met on the final matchday of the Serie A, Inter won 4-3 in 2015, with Icardi scoring twice to become the league's top goalscorer jointly with Luca Toni.
Whoscored rating leaders:
At Inter it is Brozovic (7.06), Perisic (7.05) and Kwadwo Asamoah (6.94).
At Empoli it is Bennacer (6.97), Krunic (6.91) and Di Lorenzo (6.74).
Hit us up on InterStats & SempreInter on Twitter using the #InterStats and #SempreInterLIVE before, during and after the game for unrivaled quality coverage of the fixture.