Tactical Analysis – Inter 1 – 1 Slavia Prague: "Two Points Dropped"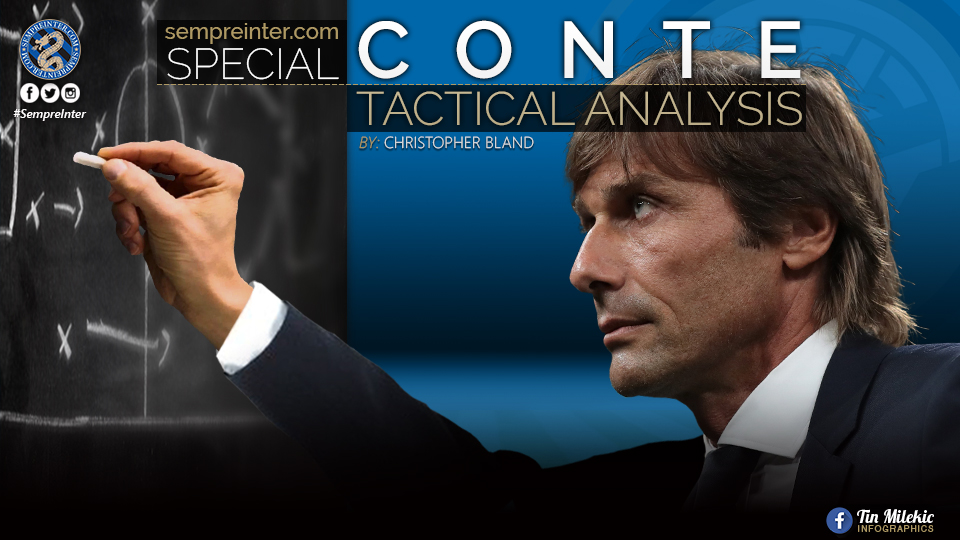 Nicolo Barella's stoppage time volley saved an under-par Inter side a point at home to Slavia Prague in their opening tie of the Champions League Group Stage. Impossible to say a must win game at this stage, it will still feel like two points dropped for Antonio Conte's side, who now come up against Borussia Dortmund and Barcelona in their next two games.
Inter lined up a 3-5-2, with Conte rotating the side from Saturday's 1-0 win over Udinese. Lautaro Martinez replaced Matteo Politano up front, whilst Roberto Gagliardini started ahead of Barella. At the back, D'Ambrosio came in for Godin, who proved to be a miss at the back.
Slavia Prague opted for a narrow 4-3-1-2 formation, and came into the game unbeaten in twenty.
First Half:
Inter struggled in the first half as Slavia Prague impressed, in particular keeping a good defensive shape and pressing Inter well when in possession. Inter's struggles on the ball were highlighted by the fact they only completed 168 passes in the first half, seeing only 49% of possession, compared to Slavia Prague who managed 180 passes. Furthermore, only 23 of Inter's passes in the first half were in the final third, and only one was in the box.
One of the reasons for this lack of attacking threat was that Slavia Prague opted to play narrow, and this was to stop the balls to wide areas earlier, limiting the number of crossing positions Inter's wing backs could get into. Whereas in previous games Asamoah and Sensi had proved a strong link, they only completed 7 passes to each other in the first half, as Prague worked to cut off the supply from Inter's central midfielders to wide players.
Asamoah, who has been an integral offensive output in the opening three games of the season, was also forced back by the possession-based football and good positioning of Prague's defenders, and this is highlighted by his positioning map throughout the game below.
The first half influence maps shown below also highlight how Prague also forced Candreva and Gagliardini deep, not allowing an outlet on the right flank as well as Asamoah on the left. Martinez also looked to drop deep to try and help link the play, he struggled to do so, well martialled by Soucek and Stanciu in the middle, as the narrow Prague midfield stopped these out balls.
Brozovic particularly struggled throughout for Inter, and whilst he was able to get on the ball, he was unable to provide the links to the rest of the midfield, and as a result Inter struggled to retain possession and push higher.
Martinez's early chance for Inter highlighted how they needed to catch Prague out of position and when out of shape, and this was done by winning the ball back in transition on the half way line as Prague looked to break out. As a result, the narrow midfield was caught up the pitch, leaving the impressive Tomas Soucek out of the game (as shown below).
This allowed Martinez to isolate his defender 1v1, something he wasn't able to do enough, before shooting wide. Martinez's struggles to find space to run at the defenders was shown by his lack of attempted take-ons throughout the match, and was indicative of the lack of tempo in Inter's attacking play throughout.
As a result, Inter's best chance of the half unsurprisingly came from a set piece. Stefano Sensi was again was able to deliver a fantastic cross in, but De Vrij could only head wide when positioned well. A chance he really should've scored, this is shown by the 0.36 xG from the one header alone.
Second Half:
Inter's worries continued in the second half as they continued to struggle break down Prague, who continued to play compact and look comfortable in possession. Candreva was forced off injured after 49 minutes, which saw the introduction of Lazaro, and this would later impact upon Inter's defensive shape in the lead up to Prague's goal.
However, previous to that, Martinez once again had a good opportunity to give Inter the lead. Showing the importance of the Sensi/Asamoah link down the left, they were able to combine to create a 2 v 2 situation down the left, which allowed Sensi time to deliver a cross. Able to overload the box as shown below, Sensi's ball created confusion in the area, and the rebound fell to Martinez, who was unable to convert.
What this chance showed was the importance Inter have on creating opportunities out wide and looking to commit men into the box, as opposed to quick attacking play to break teams down.
Olayinka's opener came on the 63rd minute for Slavia Prague, and was a well worked goal down the right flank, with the build-up shown below.
However, it is worth noting that the goal came from Lazaro being caught out of position as he adapts to his new surroundings at left wing back. Lazaro tried to press high when he should've held position (circled below), forcing Skriniar wide to cover. A long ball over the top missed out the midfield, with a number of players caught too high up the pitch (shown in the square).
Left outnumbered, Inter's backline had been tending to dropped off as De Vrij and D'Ambrosio had been caught out by pace on a few occasions, leaving gaps shown below.
Although they were able to recover to get defenders back, Olayinka was able to beat his man and get to the touchline to cross.
His dangerous pull back was saved but Olayinka carried on his run and was able to tap home the rebound. The goal highlighted the dangers of being overloaded centrally, as well as the worries Inter have at the back once the midfield is bypassed, something sides have tried to do to them in the early season games.
As a result, Inter reacted with a double change on 71 minutes, with Brozovic and Martinez coming off and Politano and Barella coming on. Politano's energy helped inject tempo as on Saturday, as he looked to drop deeper and link the play, as well as carry the ball forward and trouble the Prague defence.
More suited to this role than Martinez, his impact in short period is evidenced by his touch map below, showing how he managed to get on the ball all across the final third, drifting to both flanks to try offer support out wide and create overloads for crosses into the box.
Inter continued to threaten mostly through long range attempts, and eventually found an equaliser thanks to Barella volley. Sensi was extremely lucky not to score with his first attempt from the Free Kick, which rebounded out to Barella. Fantastic technique was required, as he volleyed home from inside the area to save a point for Inter Milan.
Moving Forward To Clash With AC Milan
A number of players struggled individually for Inter, and in particular Romelu Lukaku wasn't able to assert himself in the same vain he had done in the opening Serie A games. He struggled to hold the ball up, meaning Inter couldn't get out and retain possession as well as they'd have like.
Winning only three of ten aerial duals all match (shown below), he also didn't see as much of the ball in the final third as liked, often being forced to come deeper to get on the ball. Constantly chopping and changing his striking partners will not help, and consistency up front will bring with it a striking relationship. There is no need to panic as yet, and the game against Milan will be better suited to the Belgian forward on Saturday.
Marcelo Brozovic's struggles are also shown below by his touch map, as he couldn't impact the play high enough up the pitch. This played a large part in cutting off Inter's creativity, and although Sensi once again impressed in midfield, finding the perfect trio for Conte does still remain a slight issue.
Although a disappointing result for Inter, they must move on quickly ahead of the Milan derby on Saturday. A draw in the other group game means all teams sit on one point, and next up in the Champions League is a daunting trip to the Nou Camp, one where Conte's tactical nous will be put firmly to the test.