Preview – Sassuolo Vs Inter: Finding Winning Ways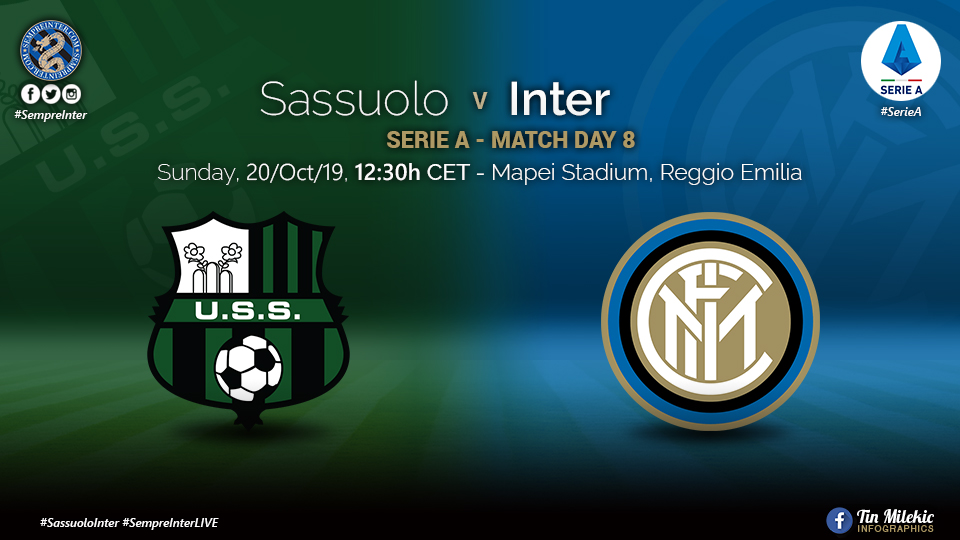 Having finally tasted defeat in two consecutive matches, Inter look to return to winning ways in a traditionally difficult match against Sassuolo. Match tomorrow 12.30 CET.
There are many narratives to draw upon at this juncture in the season and at this match in particular. The most commonly referred to is that the traditionally mentally fragile Inter has suffered a pair of losses in a row (their first in the season) and now look to find a win in a notoriously difficult fixture. One must also make reference to the fact that Inter and the league's breakout star has been ex-Neroverdi Stefano Sensi, who continue to be out due to his thigh injury. Inter have not done well without Sensi.
It will be interesting to see if Antonio Conte has worked on a midfield plan B during the international break. The lack of depth in Marcelo Brozovic and Sensi's position is the most glaring weakness in Inter's squad and one would imagine that Conte will have been scheming on trying to bridge the gap in quality.
Sassuolo have had a bit of a Jekyll and Hyde season so far. Roberto De Zerbi's all out attack tactics have meant that Sassuolo have either won big or lost big. Traditionally Sassuolo have done very well against the Nerazzurri but it is rumoured that a big motivator had been owner Giorgio Squinzi's anti-Inter disposition. Squinzi's passing earlier this month may be the motivator the squad needs to put up a fight against the visitors or could mark the end of an era with Inter finally getting the desired result.
Both managers have clear ideas and tactics and so surprises will be few in the match. What will count will probably be desire to win and effort.
Team News
The international break has not been kind to Inter; Conte lost both Alexis Sanchez and Danilo D'Ambrosio to injuries and the pair will not feature in the squad for the match. Possibly even more challenging will be the fact that Stefano Sensi is still unfit and probably won't feature in the squad selection.
Probable line-up (3-5-2): Handanovic (C); Godin, DiVrij, Skriniar; Candreva, Gagliardini, Brozovic, Barella, Asamoah; Lautaro, Lukaku.
Stats
Last Season: Sassuolo 1 – 0 Inter.
Last 10 Head to Head: To call this a trap game would be a huge disservice to understatement and the phrase itself. Over the last ten matches Sassuolo have managed to beat Inter an eye-watering seven times with just two wins for Inter. Possibly more alarmingly is the fact that over the last five matches, Inter have lost four times and draw once.
Keep an Eye on
Roberto Gagliardini: The ex-Atalanta midfield sensation has seen his development plateau over the last few seasons. With Sensi still injured, Gags will be entrusted to fill in for the season's breakout star in a role that has been tricky for all who tried to step in previously.
Officials
Referee: Piero Giacomelli.
Assistants: Longo and Bottegoni.
Fourth Official: Ghersini.
VAR Assistants: Mazzoleni and Fiorito.
Prediction & Concluding Remarks
Prediction & scorers: Sassuolo 2-3 Inter with Berardi scoring against the Nerazzurri being as sure as death and taxes. Expect Lukaku and Lautaro to win it for Inter.
Concluding remarks: It seems like every match can be labelled as Conte's real test as Inter manager, but he really wants to eliminate the "Pazza" adjective from the Inter dictionary, bouncing back from a pair of losses against a traditionally tricky opponent will be a great place to demonstrate this.