Tactical Analysis – Sassuolo 3 – 4 Inter: A Tactical & Mental Collapse At The End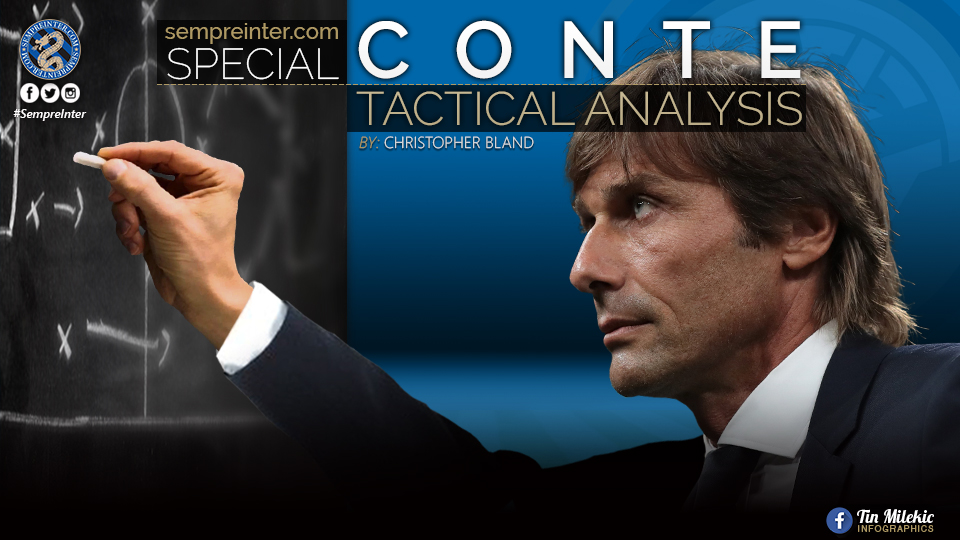 Inter survived a late Sassuolo comeback as they made it 7 wins 8 in Serie A, leaving them second in the league. Goals from Lautaro Martinez (2) and Romelu Lukaku (2) helped them to the 4-3 win in an entertaining game, as they were made to panic late on by a Sassuolo side languishing down he bottom.
Line Ups:
Inter lined up 3-5-2 in a rotated side with a view to Wednesday's game against Dortmund. Youngster Alessandro Bastoni started at centre back, whilst Roberto Gagliardini replaced the injured Stefano Sensi.
Sassuolo lined up 4-3-1-2, including in form striker Domenico Berardi, who could count himself unlucky not to have been called up to the Italy side in the recent International break.
First Half:
Inter got off to the dream start after a minute with Lautaro Martinez firing home after a being found by Brozovic on the edge of the box. The move initially came from an Inter corner as Sassuolo failed to clear properly. Losing their defensive shape, it allowed Martinez to peel away to the edge of the box and find himself a yard of space, before firing home expertly to give his side the lead.
Despite going behind, Sassuolo initially looked to press Inter high, and Inter struggled to adapt to the Sassuolo press and shape for the opening 15 minutes. However, in an attempt to adapt, Lukaku started dropping deeper and Handonovic looked to find him from deep as the centre backs normal passing avenues through the midfield were being cut off well by the Sassuolo midfielders, in particular Hamed Traore's pressing on Brozovic.
By going long, it allowed Inter's midfielders to press higher and get beyond Lukaku, however opportunities to break were often wasted as Lukaku's first touch let him down.
Inter's main defensive vulnerability this season has been from being caught out of shape and in transition, leaving them open to the counter attack. Organised when out of possession, they are exposed when caught out of shape, particularly to pace up front, and the Sassuolo equaliser showed this once again.
A loose pass in the midfield was pounced upon, and with the wing backs left high up the pitch, Sassuolo were able to flood men forward and create overloads on the Inter defence.
Although Inter were able to get men behind the ball by the time it had been worked over to Berardi, Biraghi allowed him onto his weaker right foot with ease, and given the time and space, the in form striker fired in the equaliser. Although it is understandable why Biraghi showed him down that side, he could've done more to block the subsequent shot, all be it what was a strong finish from the Italian.
Throughout the first half, Sassuolo were marking wide men well but leaving gaps centrally, so Inter looked to adapt and find a way to exploit these areas. As shown by the influence maps below, Biraghi and Candreva took up attacking positions on the wings, but the positioning of the Sassuolo midfield, in particular that of Obiang on the left, helped stop the supply line to them.
Barella and Gagliardini struggled to provide this link in the first half, however Inter found a way around it, with the link up between De Vrij, Brozovic and Lukaku key.
Brozovic was initially marked out of game, but he adapted well. Coupled with Lukaku dropping deeper, Brozovic looked to do the same, and began linking well with De Vrij. De Vrij also took initiative and was imperative in Inter taking control of the match.
He began to carry the ball out of defence and added an extra man in midfield, which Sassuolo struggled to adapt to. He created two chances, including an assist for Lukaku's goal, and completed a first half high 27/31 passes.
Inter's second goal was the prime example of this working for Conte's side, as De Vrij picked up the ball unchallenged in the midfield, as shown below.
Lukaku managed to pin the centre back, something he was able to do throughout the game, and use his strength to easily receive the ball unchallenged before rolling past the defender.
He subsequently took his goal well, and gave Inter a deserved lead.
The third goal came in a similar fashion, with Lukaku and Martinez causing problems pinning the centre halves, as Gagliardini's long ball over the top eventually fell to Martinez. Moving past the defender with a good first touch, Martinez was brought down, and allowed Lukaku to fire home from the spot.
Second Half:
Inter started the second half brightly, as they looked to press high and continue where they left off in the first half. Sassuolo tried to increase the intensity and press higher as well, and it led to a very open second half. Initially Inter threatened on the counter attack, as Sassuolo brought on Boga for Obiang and took time to adapt, leaving themselves very open in midfield.
Chances on 55 and 57 minutes for Inter showed their ability on the break and vulnerability of Sassuolo backline, but it took until the 69th minute for Inter to make them pay on the counter attack as Sassuolo committed men forward.
Breaking quickly once again, Inter were able to create an overload using the wing backs, as shown by Biraghi's positioning at the back post. Sassuolo had been pushing their full backs high to create an outlet out wide in attack, and this was where Biraghi and Candreva were able to exploit on the quick break.
Picked out with ease, it sent the Sassuolo defence into a panic, finally bringing down Barella for a second penalty of the game, which Martinez this time slotted home.
However, Inter then opted to sit back, as the wing backs stopped pressing on in the counter as they looked to shut up for the remaining 20 minutes. This was counterproductive, and wasn't helped by the performance of Jeremie Boga, who impressed off the bench for Sassuolo. Completing 3/5 take-ons and scoring an excellent individual goal, the ex-Chelsea man impressed as Sassuolo staged a late fightback.
For Sassuolo's second, he picked up the ball from deep before opting to run at the Inter defence, something that hadn't been happening previous to his introduction. Set up well to deal a passing game, Inter struggled to adapt, particularly to the increased tempo of Sassuolo's attacks.
Boga's trickery allowed him the space to find a pass into the box, and allowed Filip Duricic to fire home and Sassuolo back into the game.
Boga looked to drop deep and carry the ball forward, and this, combined with the increased urgency and tempo from Sassuolo, led to their third goal. Picking the ball up as shown below, he beat four men too easily before firing past Handanovic.
These two goals are worrying for Inter moving forward, particularly given they will be up against the tricky winger Jadon Sancho on Wednesday for Dortmund, and will need to find a way to adapt to this.
Coupled with the wing backs being forced back, Lukaku struggled to get into game as Inter couldn't get out, and cut an isolated figure up top for the last twenty. Politano also struggled initially off the bench, as he didn't have the opportunities to carry the ball up the pitch and relieve the pressure like is normally the case.
Lazaro, introduced on the 72nd minute for Candreva, particularly struggled, and was rarely able to get out his own half, as shown below.
However, after the third Sassuolo goal, they managed to regain control, in part thanks to the performance of Barella, who looked to fulfil the role that Sensi has done in the closing periods, carrying the ball forward and slowing play down in the opposition's half.
Inter saw out the game and earnt themselves another victory, however it was much closer than it should've been, and has left Conte with much to ponder ahead of a busy period.
Conte will be particularly pleased with his side's adaptation to Sassuolo's wide defending, and in particular the first half performance of De Vrij and Lukaku, who took control of the game for Inter.