#NerazzurriClassics – When Inter Super Duo Ronaldo & Vieri Proved To Much For Brescia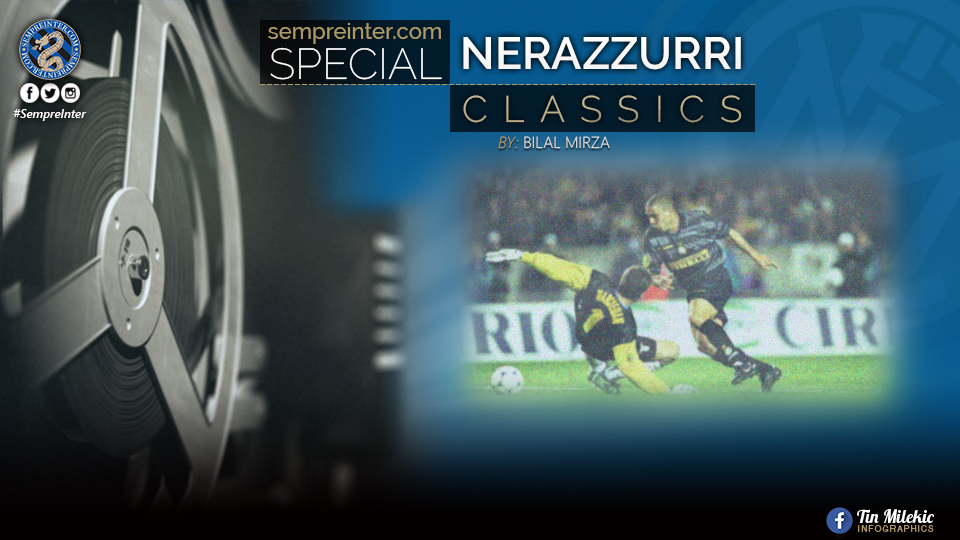 A Hector Cuper led Inter side got off to a flying start to the 2001/2002 season, winning eight out of first thirteen matches and losing only one.
Going into round fourteen match at Stadio Mario Rigamonti versus Brescia featuring Pep Guardiola, Luca Toni and legendary Italian talisman Roberto Baggio, the Nerazzurri were looking to continue their winning streak and maintain a comfortable seven points lead over reigning Scudetto Champions Juventus.
On the other hand, Brescia were looking to gain some consistency in their campaign. They had only managed four wins through thirteen rounds thus far and drew five matches which established them as a midtable side during 2001-02 campaign.
With the ambition of climbing into the top half of the table, Carlo Mazzone's side had a difficult task of stopping the Nerazzurri juggernaut without Baggio and Guardiola. Pep was out due to suspension following doping scandal and Baggio was sidelined by injury picked up in round nine home match against Venezia. Of the two key players, it was Baggio who Brescia missed most, as he was off to a flying start to the campaign, scoring eight goals through first nine games and provided majority of Brescia's goals thus far.
Starting for Inter in goal was Toldo with defensive line of Javier Zanetti, Ivan Cordoba, Gonzalo Sorondo and Vratislav Gresko. Midfield trio of Okan Buruk, Luigi Di Biagio, Cristiano Zanetti with Alvaro Recoba playing as number ten behind the lethal striking force of Ronaldo and Christian Vieri.
To counter the potent Nerazzurri attack, Carlo Mazzone had his side lined up in a three center-back formation, intending to out-number Cuper's midfield to create turn overs and scoring opportunities. Starting in goal was Luca Castellazzi.
In defense, Fabio Petruzzi, Alessandro Calori, Daniele Bonera. Midfield five of Massimiliano Esposito, Antonio Filippini, Federico Giunti, Emanuele Filippini and Andrea Sussi. Rounding off the 3-5-2 formation was the striking partnership of Luca Toni and Igli Tare.
Being the more confident of the two sides, Inter started the game with clear intent to attack with the fullbacks joining the attack to provide width to an otherwise narrow formation. Okan Buruk tested Castellazzi early from distance with his powerful right foot and Gresko's overlapping runs and crosses were causing problems for Brescia earlier on.
Unphased by the early onslaught, Brescia stayed calm in defense and relied on counter-attack opportunities on the left-side as Gresko was often caught out of position due to his forward runs. While the home side seemed dangerous attacking from the left, Toni and Tare didn't trouble Toldo at all as neither managed to get a shot on target.
Despite outnumbering the visitors in midfield, the quickness and chemistry of Ronaldo and Vieri proved too much for the home side. A quick passing sequence between Vieri and Ronaldo saw the Brazilian go through on goal, receiving a perfectly timed through ball from his Italian counterpart to tuck away the ball underneath an on-rushing Castellazzi.
The lead, however, wouldn't last long. A minute after conceding, Brescia won a free-kick in attacking half, right outside the left edge of the box. Igli Tare rose high above all and headed home a glancing header past Toldo, scoring with Brescia's first shot on target.
After the game tied at 1-1, the play opened up for both sides as both managers were quick to adjust tactics to exploit opposition's weaknesses. Ronaldo's blistering pace and elusiveness was causing trouble for the home side and they played a high line to aggressively tackle him outside the penalty box.
On the other end, Brescia wingbacks were looking to push ball forward to the big Luca Toni up front who was instructed to hold the ball up to allow others around him to make delayed runs into the box.
Despite the constant threat of Ronaldo, it was Vieri's fantastic positioning and timing that gave visitors the lead at sixty-three minute mark when Di Biagio picked up a deflected clearance inside the penalty box and sent a looping cross to far left post for Vieri to head home an uncontested shot.
The visitors didn't stop there. Seeing the high-line Brescia defense had been playing all game long, Vieri exploited this to his advantage and beat the offside trap as he headed home a lobbed pass over the goal-keeper to score Inter's third goal of the night, taking the score line to 3-1 with nineteen minutes remaining.
Brescia added more attackers as substitutes looking for the tying goals, however they were unable to close the gap as Inter continued their fantastic start to the season by picking up crucial three points away from San Siro to maintain the lead at the top of the league table after fourteen weeks.
This game showed the full potential of a powerful striking partnership of Ronaldo and Vieri. Both strikers with unique set of characteristics, world-class finishers on their own were too much for Brescia defenses as Carlo Mazzone's men were left clueless and unable to stop them.