Preview – Torino vs Inter: The Second Hardest Away Match In Turin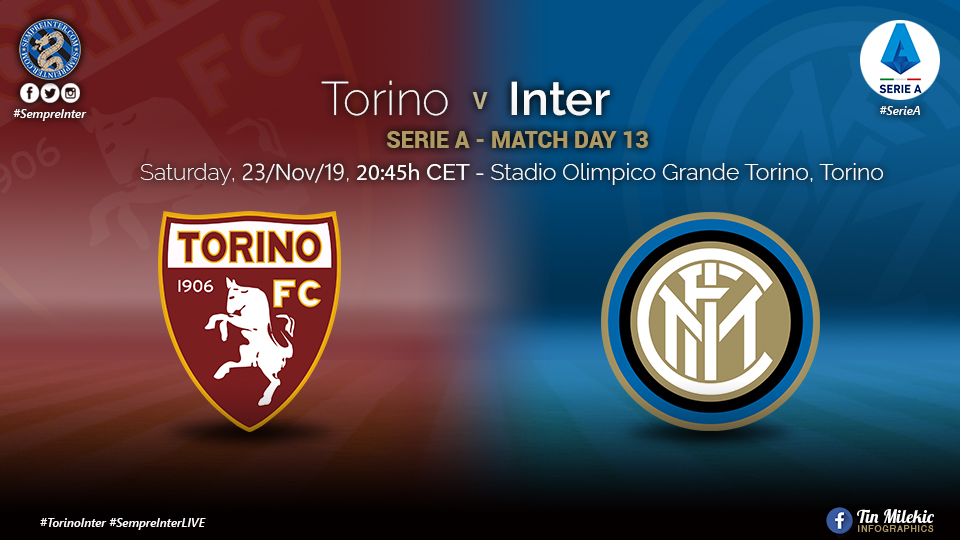 First matches back from the International Break are tricky affairs, being in Turin against Torino makes this one doubly so. Match tomorrow Saturday at 20:45 CET.
Facing a Walter Mazzarri side is never an easy task for an opponent, this is especially so for Inter, where it seems that the grouchy tactician is extra motivated to one-up his ex-employers. Despite the Garanata having had a bit of a disappointing roller coaster of a season, they remain a quintessentially Mazzarri side; gritty, ugly and well drilled defensively. Their seventeen goals conceded is a better record than that of Fiorentina and puts them in the same range as Napoli, Lazio and Atalanta.
Torino's failings so far this season have been at the other end of the pitch. Despite having a strong attacking pair in Andrea Belotti and Simone Verdi, Il Toro just have not been able to convert chances in front of goal this season. This does not mean that Inter's defenses need not worry about their opponents' attacking threats, many a team have been lulled into a false sense of security only to get sucker punched at the end of ninety minutes. Wins against Atalanta, Milan and a scoreless draw against Napoli attest to the fact that Torino seem to enjoy punching up and playing against the bigger sides.
For Antonio Conte's side, the International break seems to have been a much needed reset. The squad and staff looked to have been red-lining their output in the last few matches, this coupled with a multitude of important injuries meant that a break to regroup was very welcome. Conte will welcome back Danilo D'Ambrosio, Roberto Gagliardini and Kwadwo Asamoah, but unfortunately Stefano Sensi is still out on the sidelines.
Nicolo Barella and Marcelo Brozovic will be critically important in finding the right passes for the forwards who will be marked out of play from the first minute. Equally important will be the ability for the side to stretch out play across the width of the pitch, making Antonio Candreva and Cristian Biraghi's contributions vital in the offensive build-up. Expect Valentin Lazaro to be a viable solution for Conte if faced with an impenetrable defensive wall by the hosts.
Team News
Fingers crossed, it appears that Inter's internationals have all completed their international duty without picking up any injuries. Adding to the good news is the fact that both Roberto Gagliardini and Danilo D'Ambrosio will be available for selection and to start the match. The biggest disappointment from Appiano Gentile is the news that Stefano Sensi has not completed his recovery yet and will again miss the match.
Probable line-up (3-5-2): Handanovic (C); D'Ambrosio, DiVrij, Skriniar; Candreva, Vecino, Brozovic, Barella, Biraghi; Lautaro, Lukaku.
Stats
Last Season: Torino 1-0 Inter.
Last 10 Head to Head: Torino have dominated the last ten head to head encounters between the two sides, with four wins to Inter's two victories, the Granata have the power of statistics behind them.
Keep an Eye on
Lautaro Martinez: In a match where the main marking focus will be Romelu Lukaku, expect the wily Argentinean to be able to pop into spaces unmarked and being much better placed to create chances. Lautaro is quickly developing into a complete forward, but his most outstanding quality so far has been his ability to both participate in the build-up play and also complete an attacking move. His mobility and intelligence will be critical here.
Officials
Referee: Fabio Maresca.
Assistants: Meli and Bindoni.
Fourth Official: Fabbri.
VAR Assistants: Paganessi and Mazzoleni.
Prediction & Concluding Remarks
Prediction & scorers: Torino 1-3 Inter Lautaro, Brozo and Vecino to win it for Inter.
Concluding remarks: Do not let the predicted scoreline trick you into thinking this will be pretty. As with all Mazzarri matches, expect Torino to be a picture perfect embodiment of anti-football. Inter's best chance to take all three points will be to score early and score first.