What We Learned From Inter This Week: "Lautaro Martinez Is The Man"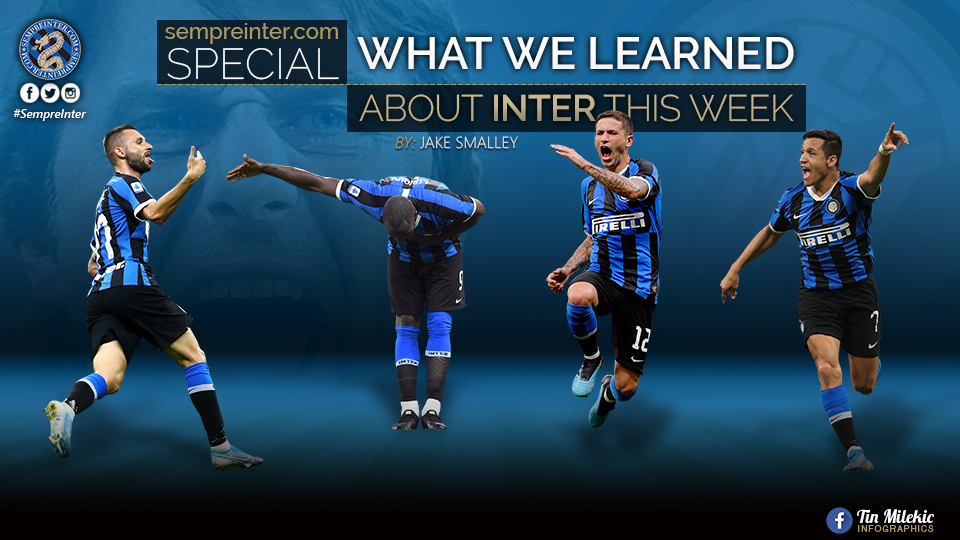 A massively important week for Inter has ended in mass success. European hopes still alive and now top of the Serie A table.
Mission accomplished for Antonio and the boys who are once again proving that they have backbone thus far this campaign.
Heading into the Christmas period top and within touching distance of the knockout round of the Champions League, what possibly could go wrong…
Lautaro Is The Man, Literally THE Man
I touched on this a few weeks ago in this column and he's proving me right week after week (thanks Lautaro). When Inter brought the Argentine bull from Racing last summer, they knew they were paying for potential and knew he would take time to settle. He also perhaps wasn't going to take the mantle on as being Inter's primary goal getter as that was the job of counterpart Mauro Icardi.
Fast forward just over twelve months and Icardi is out the door and we have Martinez lighting up Serie A and dominating in Europe alongside Romelu Lukaku.
The performance of the two in Prague in midweek was special. In a game Inter needed to win and would most likely have bottled in recent memory, both men combined to see off Slavia and leave qualification in their hands.
I was as bigger Icardi fan as you could have imagined (sorry lads) but the Wanda/Mauro soap opera is now over, we are now in the Romelu and Lautaro era and long may it continue.
What Next For Radja Nainggolan?
This topic may be a complete nonstarter but I can't help but shed a slight tear every weekend when he either bangs in a screamer or bullies his way through defences in a Cagliari shirt and remember he's still a Nerazzuri man.
Similar to Icardi and Perisic, Nainggolan was fired as soon as Conte took over from Spaletti and I totally get why. Nainggolan's unprofessional smoking at 3am in nightclubs habit and time keeping issues meant he wasn't necessarily what Antonio Conte wanted to have to deal with.
However, to see him bossing it at Cagliari, in what is a fantastically assembled side by Rolando Maran, one cannot help but think he could be handy in turning defence into attack whilst Sensi and Barella are led on the treatment table.
I often feel like I am perhaps a little too much of a romanticist in situations like this but it seems a shame to not be able to use a man who cost Inter €30 million and Nicolo Zaniolo. At least if we can't use him we need a better deal than a dry loan for his services, especially when he is showing his Roma form.
Marcelo Brozovic – The Spine Of Our Team
Since I started back writing and writing with SempreInter, I have found myself looking at reasons to back Inter week on week and I've praised certain players who I have thought haven't got the plaudits they deserve. This week brings around the turn of Marcelo Brozovic.
I was at San Siro in April 2017 when Stefano Pioli's Inter were defeated 1-0 by Napoli and Brozovic was absolutely dire. He wasn't the only one that night, Nagatomo and Eder amongst others were vile against a Napoli side who took the points without breaking sweat, but as I walked out of the Curva that night I genuinely didn't think I'd see Brozovic when I next flew over to take in a game.
However, he has proved me very wrong and upon my next trip he was pulling all the strings in Inter's midfield against Milan. He adds tempo, he can move forward or back with our without the ball and he covers a scary amount of ground without even looking like he's moving.
Some players get all of the praise for the goals they score or the lung bursting runs they do to win lost causes but Brozovic plays with his head and we finally have, when they are fit, players who compliment him and allow him to hold the midfield together. Keep it up Brozo.
Inter vs AC Milan – The Banter Era
Benitez, Stramaccioni, Gasperini, Mazzarri, Ranieri, De Boer and Pioli. It's over.
I mentioned in last week's column that Inter are now able to beat the Sassuolo's, the Brescia's and the Udinese's of this world this term. They are attracting world class talent in the likes of Stefan De Vrij and Romelu Lukaku. They have a manager who has won everything domestically in this country.
The banter era is over. We are starting to see Inter making a move to the top table again and it is exciting to see.
Move across the city and we have a team hovering around mid-table and being coached by Stefano Pioli, 2017 Inter anyone?
Given the resources both clubs have used over the past eight or nine years, Inter are learning from their mistakes. Under Suning the club are making moves commercially and on the field. It is a really exciting time to support this team. Once again, they are contenders.
The Big Games Keep Coming Thick & Fast 
After the years of mediocrity that I have just alluded to, it is so nice being able to look at the fixture list and see Barcelona on it and see Roma up next knowing Inter are able to go into that game as league leaders.
I've praised Conte and his side a lot and quite rightfully so because so far they have negotiated 95% of what has been thrown at them this term.
A win against Barcelona and a win against Roma would be giant. Both games at home under the San Siro lights in front of 80,000 is what the Nerazzuri faithful have been longing for for nearly a decade.
Their European destiny is in their hands, a win over Barca and they are in the knockout rounds for the first time since they were dumped out by a Brandao inspired Marseille in 2012.
A win over Roma, which will certainly be no walk in the park, and Inter will find just Fiorentina in their way on their path to being top of the table heading into the new year.
Exciting times to see a team doing the hard stuff and leading a march on all fronts. Let's hope by this time in two weeks we can look back and honestly say that Inter are still turning up when it matters.