Preview – Inter vs AS Roma: Crunch Time At The San Siro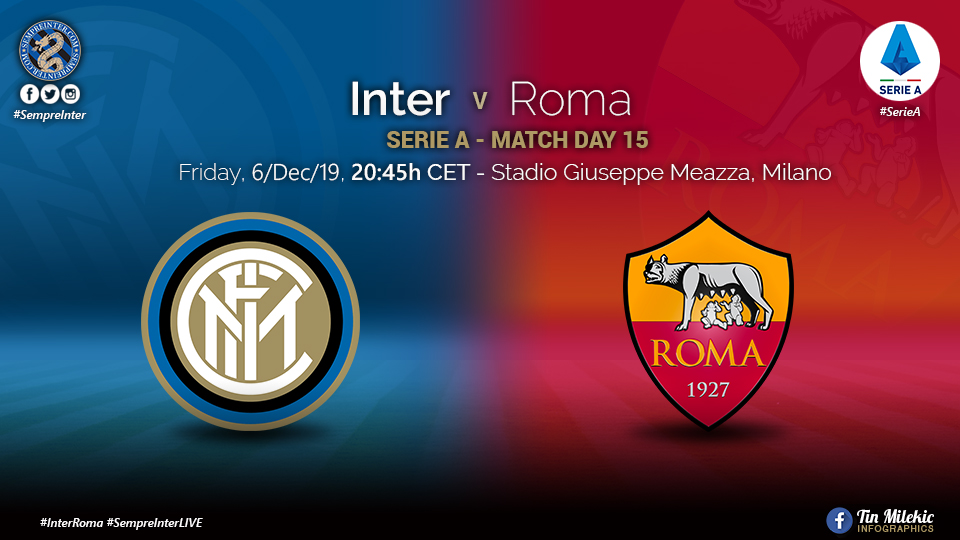 Having taken over the top spot at the league table, Inter now face a very tough test in hosting the flying Romans at the Meazza. Match tomorrow, Friday at 20:45 CET

Inter's taking over the lead in the Serie A table coincides with a tough run of games and is synchronous with the Nerazzurri's annual self implosion and collapse. With the hosts' midfield decimated by injury, their work will be cut out for them trying to resist the Roman resurgence. Antonio Conte will have to contend with utilizing the physically limited Borja Valero or the tactically out of position Antonio Candreva to cover for the injured Roberto Gagliardini. Whoever will be deployed there will be tasked with shutting down Lorenzo Pellegrini's passing while running at Roma's double pivot of Amadou Diawara and Jordan Veretout.
Inter have generally played well against sides that use a 4-2-3-1 formation (or one of its derivatives), but have yet to face a side that plays this type of balanced formation without having the services of Nicolo Barella to rely on in the midfield. Expect the defensive module of Stefan DiVrij, Milan Skrinniar and Danilo D'Ambrosio to be able to handle all of Edin Dzeko, Nicolo Zaniolo and Henrik Mkhatriyan for the most part, however, it will be imperative that Roma's full-backs be pinned back and not allowed to force Inter out of shape, whether too wide or too narrow.
Marcelo Brozovic's role in this match will be critical. Not only will his defensive duties be required at their best, he must be able to move the ball up the pitch accurately and quickly when in possession. As such, whoever partners him in the midfield, Valero or otherwise must always present Brozo with a quick passing option and create space for the midfield metronome.
Roma manager Paolo Fonseca will probably look at Inter's away match against Dortmund as both a cautionary tale and a blueprint. While Inter were able to play through the Germans in the first half, the second half's doubling up on Inter's left flank left the Nerazzurri very vulnerable, especially when attacked at pace, a quality that always seems to bother Milan Skrinniar in a one-on-one situation.
In all cases, this match has all the signs of being a fast paced, high scoring all action affair where Inter will play with everything to lose. Expect a good one.
Team News
If the news out of the Inter recovery room before last week's match was dire, things just got a whole lot worse. Stefano Sensi has been confirmed to be missing the remainder of the calendar year due to his injury, Nicolo Barella's knee will also keep him out until after the winter break. Compounding Conte's midfield woes is Roberto Gagliardini's knock he picked up against SPAL last week along with Kwadwo Asamoah's continuing absence.
Probable line-up (3-5-2): Handanovic (C); Bastoni, DiVrij, Skriniar; Candreva, Vecino, Brozovic, Valero, Biraghi; Lautaro, Lukaku.
Stats
Last Season: Inter 1 – 1 Roma
Last 10 Head to Head: The record between the two sides couldn't be more finely balanced. Each side has four wins to their name, the last three matches between  them have been draws and Roma edge Inter by a solitary goal in the overall differential over the last ten matches.
Keep an Eye on
Lautaro Martinez: There are few strikers in Europe riding a high as much as El Toro is at the moment. With six goals in the last five matches in all competitions for Inter, the wily Argentine has been in red hot form. The most interesting aspect of the interplay between Lautaro and Lukaku is that both men can assist and score, requiring opposing defenses to pay equal attention to both strikers. If Roma's defense decide to focus on the in-form Lautaro, Lukaku will slip past and vice versa.
Officials
Referee: Gianpaolo Calvarese.
Assistants: Stefano Alassio and Sergio Ranghetti.
Fourth Official: Fabio Maresca.
VAR: Paolo Mazzoleni and Giacomo Paganessi.
Prediction & Concluding Remarks
Prediction & scorers: Inter 3-2 Lukaku, Lautaro and Brozovic scoring for Inter.
Concluding remarks: There's no denying the fact that this will be a tough test for Inter, however, Conte and his men will fully understand the importance of this match. Conte will ensure that his team will be as prepared for this match as they can ever be, as was the case against Dortmund, Barcelona and Slavia Prague, and will have learnt the lessons of not squandering a first half lead.