What We Learned From Inter This Week: "Should Antonio Conte Play Lucien Agoume?"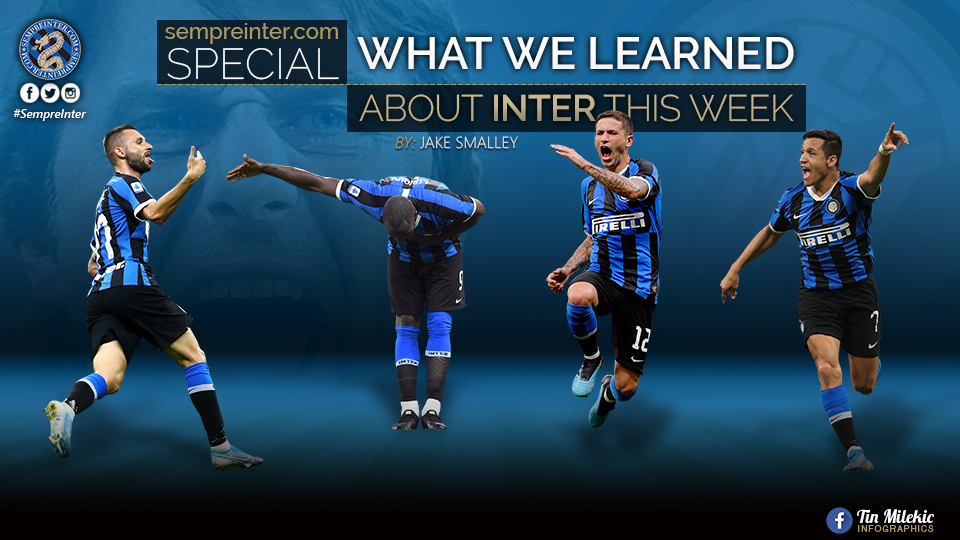 Inter made their way into December on top of the table and faced a tough opponent in the face of in-from AS Roma on Friday evening at the Meazza. This is what we learned from Antonio Conte and his side this week.
Defensively Sound But Sorely Lacking Creative Spark
By no means is a draw with Roma a bad result but with that 10/15% extra, the Nerazzuri would have grabbed the three points.
Injuries are hitting hard in the midfield and it is really starting to show. Stefano Sensi and Nicolo Barella have been excellent this year and were starting to go from strength to strength before their injuries. Sadly, Matias Vecino and Borja Valero aren't on that level.
Given that Conte builds his side to contain three central midfielders who drive the team forward given the lack of wingers in his 3-5-2, Inter are seriously lacking a midfielder to drive the ball towards the box and feed Lautaro and Lukaku.
I mentioned last week in an ideal world Radja Nainggolan would be that man but Inter find themselves needing January to come around fast so they can recruit. It would be criminal for Inter to fall short due to lack of depth.
Winger & Forward Options Needed To Unlock Defences
This is a tough one and I alluded to it in a previous column but I really feel the team could do with a player who could come on for the last twenty minutes in a tight game and create a few openings.
On Friday night the two front men barely had a sniff, largely down to Chris Smalling who is now displaying prime Maldini performances since he was released from the shackles of Old Trafford.
However, a change of shape and an attempt at something different might have swung a tight game such as the one on Friday night. Even in the longer term it would be vital to be able to throw someone on when away at an Udinese or a Verona to nick the points as the season starts to take its toll.
Yes Conte doesn't play with wingers and Alexis Sanchez could hopefully be the man to do this job, however a Balde Keita esque player could be really useful in the squad right now. Also it seems as Mateo Politano, whilst a key man last year, isn't seen as a viable option in this role by Conte. Any suggestions?
Lucien Agoume?
Given the midfield crisis, is it worth trying to integrate Lucien Agoume?
We have seen young Esposito given a chance this term who is still only 17 and it has been fairly fruitful for the young man.
Yes you do have to be massively cautious integrating young players as they need nursing in terms of their confidence and coping with the physical demands but given a lack of options, it's worth having the youngster in the squad.
Although he has been signed from Sochaux, it would be nice to see Inter blood some young talent into the first team. Not a single player in Inter's starting team played any Primavera football which is criminal given the quality of the academy setup. Sure the academy is a revenue builder given that most talents get sold off to bring in money that gets spent on the first team budget but there's always place in the first team squad for a young player.
Diego Godin Still Has Plenty To Offer
Following Miranda's departure in the summer, Diego Godin has taken on the mantle as Inter's old head at the back.
Although past his pomp and aging by the game, Godin proved on Friday night that his experience, ability to read the game and his tenacious tackling are an asset.
His experience helps the younger duo of De Vrij and Skriniar aswell as serves as an adequate starter in the back three until we see Alessandro Bastoni come of age and take a starting role.
I feel like we haven't really seen the best of Godin until Friday and I agree with many that perhaps he is more suited to a back four but he certainly still has something to offer Inter's starting XI. Conte so far has used him just right as he has left him out and then brought him in to make sure his legs get the rest they need.
On a free and a player with a career and a half behind him, smart move from Inter and that will become even more evident as the season progresses.
Title Challenge Is On But It Doesn't Have To Come At The Expense Of The Champions League.
Inter head into this coming week with Barcelona in their sights knowing that victory over the Catalan giants at San Siro will take them into the knockout stages of the Champions League for the first time in nearly a decade.
The absence of Lionel Messi should make the task a little easier however Inter will need to be at their best to ensure progress to the next round.
Progress in the Champions League will truly prove progression on the part of Antonio Conte's Inter but also in terms of the progression as a club in the past couple of years. To have a side competing on domestic and looking at home in the Champions League is a far cry from the sides of 13/14 and 15/16 which shows what excellent work is being done by Marrota, Ausillo, Zhang and now Conte like Spaletti did before him.
Progress in Europe would be seen as a massive step forward but there is no reason why it should distract them from a serious title challenge this year. Despite their excellent performance against Inter at San Siro, Juve have shown vulnerabilities this term and their main man Cristiano Ronaldo hasn't quite hit the straps as of yet.
Lazio find themselves lurking not miles behind in third also but based on the evidence we have seen this term so far, Inter can win the Scudetto this year and their good start is now turning into a real assault on top spot.
Hats off to the men behind getting Inter back here and lets hope the team can push on and achieve the successes on all fronts that they have shown signs of achieving so far this term.