What We Learned From Inter This Week: "Will Inter Fans Ever Give Samir Handanovic The Credit He Deserves?"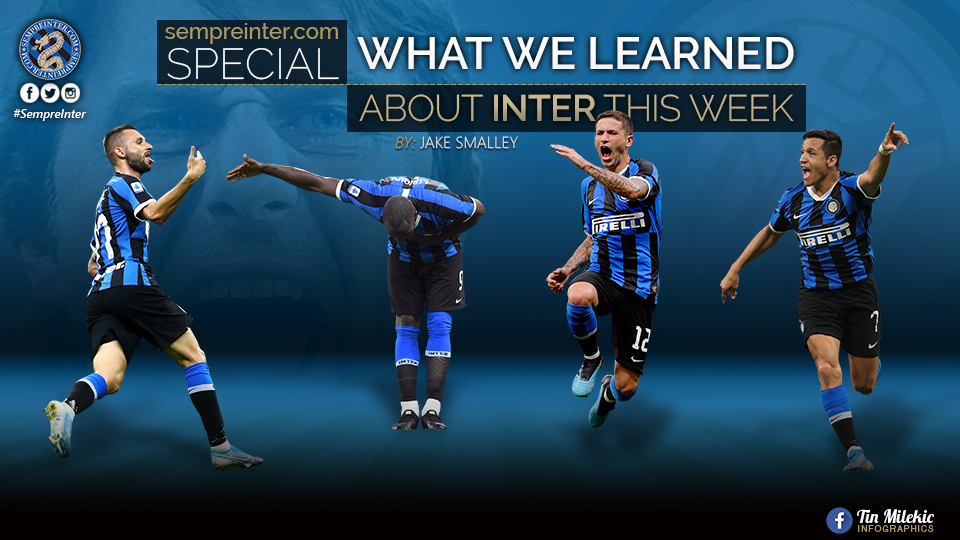 This past week has been one of frustration for Interisti as we have seen dropped points and an exit from the Champions League. Let's unpick how Inter have given us a rare headache this past week.
Champions League Disappointment Leads To A Dilemma
Inter's disappointing exit from the Champions League in mid-week at the hands of what was effectively Barca B has left fans scratching their heads.
The team is better than it was twelve months ago under Luciano Spaletti but has found itself falling at the first hurdle in the Champions League once again. Much like last year, Inter had qualification in their hands going into the final game knowing that a win would take them through.
However, Ansu Fati and Carles Perez ensured that Inter departed at the group stage for successive years meaning that they fall into the Europa League. In most cases, no side who drops out the Champions League wants to be in the Europa League.
Winning the Europa League is a back door to qualification for the following season's Champions League but Inter shouldn't have to worry about that as they're on course to finish in the top four in Serie A with ease. The club does however have a steep history in the competition dating back to their successes when the competition was known as the UEFA Cup.
Focus on the league and play fringe players in that competition or win everything they can? Let me know what you think Conte should do.
Who Put Borja Valero In A Cryogenics Chamber?
As I sat watching Inter's trip to Florence on Sunday evening I couldn't help but look on in astonishment as I saw the bald wizard up to his old tricks. It was as if coming in contact with the pitch at the Artemio Franchi transformed Valero into the 2013 version of himself that oozed such class in a Viola shirt.
Valero has been tasked with coming into the side from the cold at the age of 34. He has gone from receiving zero minutes of game time this term to starting three pf the last four games, one of which was against Barcelona.
Sure Valero isn't the player he was as his legs have begun to tire but he has certainly proved over the last fortnight or so that he can be called up on if needed. He took his goal excellently well and dictated play for Inter during the first half on Sunday and it was very nice to see him get such a good reception from both sets off fans as he was substituted.
Attacking Edge Found Wanting
I am very conscientious of hammering the side to hard given the fact they've played a lot of football and are without a number of key players, however, over the two games this past week Inter have looked very powderpuff going forward.
Tuesday saw a side struggle to create against Barca and when they did get a rare opportunity, it was wasted. Sunday's trip to Florence was all the more frustrating as Inter seemed happy to sleep walk to a plucky 1-0 victory.
At 1-0 anything can happen as any fan will tell you. Dusan Vlahovic's goal game from literally nothing and to drop two points with a goal so late was very frustrating. What is perhaps more frustrating is that Inter made the game harder for themselves by not going and getting that second goal which would have been the insurance policy.
Lautaro and Lukaku looked tired and although they combined well when Lautaro saw his goal chalked off for offside, they were given precious little to work off. Valero tired and Vecino was non-existent which meant Inter struggled to create.
A replacement for Barella in that box to box enforcer style role is a must in January.
Are We Ever Going To Give Samir Handanovic The Credit He Deserves?
Since his move from Udinese as a replacement for Julio Cesar in 2012, Samir has seen a lot.
From playing behind back fours of Nemanja Vidic, Andrea Ranocchia and Juan Jesus to now Milan Skirniar, Stefan De Vrij and Diego Godin, Handanovic has been near faultless in the example he has set every time he has donned the Nerazzuri jersey.
He has not been without his critics though due to the odd lapse and a few near post errors but let's be fair, he has never truly let his team down.
After his cracking save one handed save from Milan Badelj in the first period, it got me thinking how Handanovic is without a doubt one of the world's best stoppers but also that he has been such a constant for Inter in what has been a real lean period of transition.
The way he has handled himself in the wake of being given the armband earlier this year speaks volumes about the man. In a time of such gossip and controversy, the Slovenian has gone about his work with the minimum of fuss and led the side by example, unlike his predecessor in the role.
Throughout the tough years since Mourinho and the treble, Samir has been there pretty much every step of the way and remains a vital part of a side that now resembles one on the cusp of success.
Alessandro Bastoni – Inter's Future
It has been excellent to see Sebastien Esposito and now Lucien Agoume getting an opportunity to make their impression on the first team this term but the real breakout star this campaign has been Alessandro Bastoni.
Following loan spells at Atalanta and Parma respectively in the past two years, Bastoni returned to San Siro this past summer ready to make his mark on the first team and he has done just that.
Despite seeing world class competition for places in the form of De Vrij, Skriniar and Godin, Bastoni has managed to get his fair share of minutes, impressing on the right of the back three.
His combative nature and keenness to get on the ball demonstrates his potential to become a mainstay in the Inter side for years to come. A senior call up for the national team cannot be too far away.