Weekly Health Report – Inter's Overall Squad Status Ahead Of Juventus & Napoli Clashes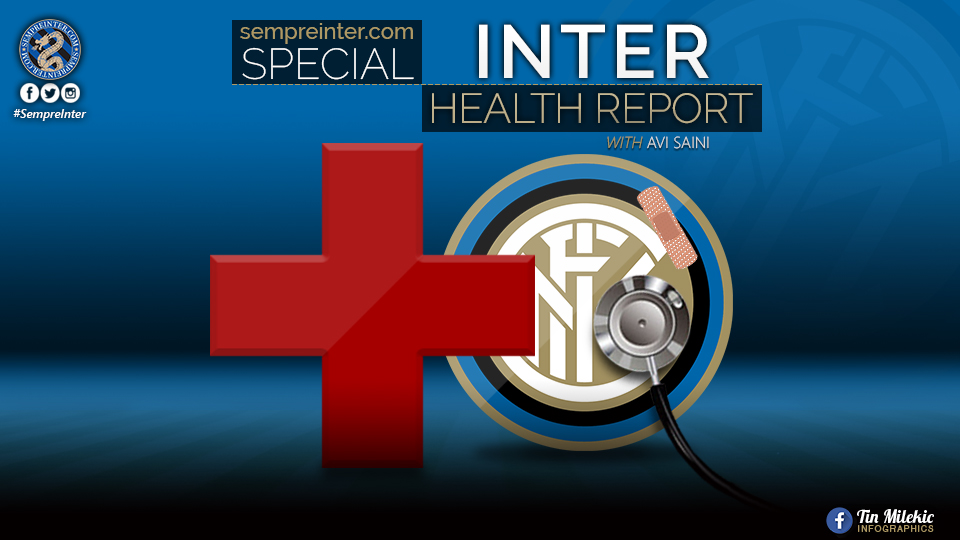 One of the beautiful things about football is that it tends to allow many of us to ignore everything else going on in the real world, come together, and watch the beautiful game. When inside the stadium the rest of the world seems to melt away and nothing else matters. But there are times that reality is inescapable and this past week was one of them.
With the growing global concern over COVID-19 (aka- Coronavirus) and the emergence of cases in northern Italy, football has directly affected. Inter's match against Sampdoria was eventually postponed with no set date for when the match will be played.
With the club still competing for trophies on 3 fronts, a packed schedule at the end of the campaigns when tired legs start to factor will become a huge talking point. The match against Sampdoria could be one of the biggest factors in the club's quest for the Scudetto.
But beyond just that one match, it's already been announced this weekend's mega-clash against Juventus in Turin will be played behind closed doors. The match, a potential title decider, was already big and the atmosphere was likely going to be electric.
But this weekend there will only be silence. This could potentially be a massive break for Inter not having to go into Juventus's home and deal with raucous fans. This Inter side have the quality, now let's see if they can take advantage of what is a break in their favor.
Upcoming Matches:
Juventus vs Inter, Sunday March 1st, Allianz Stadium, kickoff 20:45 CET
Napoli vs Inter, Thursday March 5th, San Paolo Stadium, kickoff 20:45 CET
First Team Fitness:
Roberto Gagliardini: Nothing has changed for the Italian midfielder as the bone edema continues. Still with no updates from the club and still not having returned to practice with the first team, it's unlikely he'll be back anytime soon let alone this week.
Stefano Sensi: The electric midfielder was once again listed as an injured player this week and missed the match against Ludogoretz. While this may make many grown, it's likely that this was simply precautionary rest as he continues to resume training on a personalized schedule. He'll likely be included for Sunday's match against Juventus.
Samir Handanovic: Inter's captain has been missing in action for almost a month and rumors have been flying left and right about his potential return. Yesterday, Beppe Marotta confirmed that today Handanovic will resume training with the ball for the first time. This is a big step forward.
However given that he only has a few days to get back into things and that Inter will likely want to have him 100% fit for the rest of the season and potentially exhaustive schedule at the end of the season, he probably won't play against Juventus. He could return for the Coppa Italia match against Napoli though.
Sebastian Esposito: The talented young striker missed the past 3 matches due to a thigh muscle problem and was in serious doubt for yesterday's Ludogoretz match.
However he did come into the match in the 62nd minute and went on to help the club see the victory out. Provided there isn't a surprise exacerbation of the injury that occurred in his cameo on Thursday, he'll be available for selection on Sunday