Weekly Health Report – Inter's Overall Squad Status Ahead Of Juventus & Getafe Clashes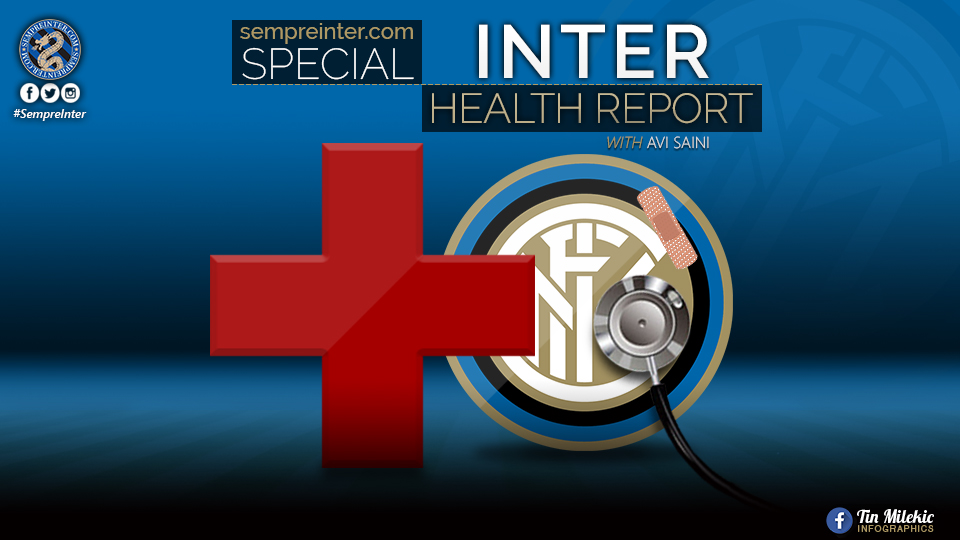 Well this has been an interesting few weeks. With the world in a panic over COVID-19 (aka- Coronavirus) and with how hard northern Italy has been hit, the Serie A schedule has been affected hard.
Matches were initially set to be played behind closed doors, then cancelled and made up at the end of the year, then accusations of cheating from fan bases came up, and once again matches are back on behind closed doors. It has been a confusing mess to say the least.
But this week the matches are back on and looks like we're going to pick up partially where we left off with a key clash against Juventus in Turin. Inter currently sit third in the table with a couple of matches in hand but will have the opportunity to show their class against the title favorites in an empty stadium.
It'll be interesting to see how both clubs respond with essentially a few weeks break to rest and recover. And, should Inter win, this could be the start of the final push to claim the club's first Scudetto in years.
Upcoming Matches:
Juventus vs Inter, Sunday March 8st, Allianz Stadium, kickoff 20:45 CET
Inter vs Getafe, Thursday March 12th, Stadio Giuseppe Meazza, kickoff 21:00 CET
First Team Fitness:
Roberto Gagliardini: Reports emerging at the end of last week suggested the bone edema resolved. Turns out those were very accurate as the Italian midfielder returned to training in full earlier this week. He'll be available for selection but it remains unlikely he'll be thrown right in in a crucial match with title implications after such an extended period of absence.
Stefano Sensi: He remains on the injured list. A report yesterday suggested the club will test him again in the coming days to see where he's at in the course of his extended recovery. In all likelihood the club is probably managing him conservatively after how many injuries he suffered earlier this season.
He should be available for selection on Sunday but how much he plays remains to be seen. Some reports suggest he'll be back in full training next week which makes a full return against Getafe very possible.
Samir Handanovic: The captain has been a big absence for the club for the past month and a half. Reports last week suggested he would start training with the ball just a few days before the originally scheduled match against Juventus.
With an extra week of practice, multiple publications are now saying he'll likely make his return in between the posts this Sunday. Him returning will place a reassuring presence in goal and will hopefully give Inter a bit more room to push on an attack more than they have in recent weeks.