#InterStats Preview – Juventus v Inter: Finally Time For The Derby D'Italia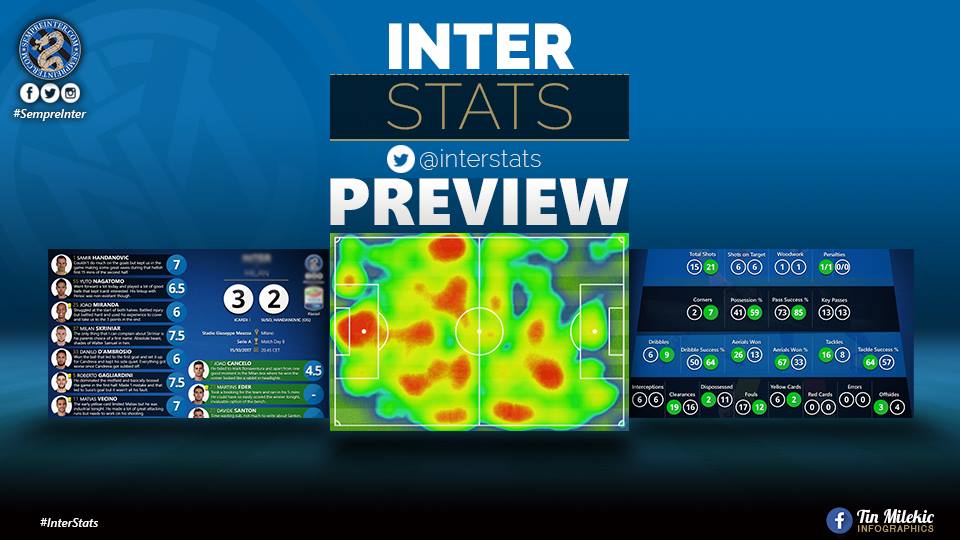 Tonight, Inter head to Turin to take on league leaders Juventus in the second Derby D'Italia of the Serie A season at the Allianz Stadium, with kick-off scheduled for 20.45 CET.
Inter currently sit in 3rd position, 8 points behind league leaders Lazio with 2 games in hand, and 6 points behind second placed Juventus, who dropped down into second place last week when their match with Inter was postponed until tonight.
Juventus have amassed 60 points this season, are 2 points behind leaders Lazio, with a game in hand to be played.  Juventus have already beaten Inter this season, and should they win tonight, it would really cement their position as favourites for the Scudetto.
Out of the 15 previous meetings between the two sides, Juventus have won 8 times, Inter have won twice, the remaining 5 ending in a stalemate, so form seriously favours the hosts tonight.
Attack
Inter remain in 3rd place for the most goals scored this season on 49 goals, and Lukaku remains the clubs top scorer on 17 league goals. The Nerazzuri average 15 shots per match and around 40% of these hit the target, but interestingly, around 40% of these shots have also been taken outside the box.
A relatively low number, and shows Conte's drive for his players to really work the ball into the opponents box before taking a shot on goal. Inter still remain top of the table for the most offside's, averaging 2.5 per game, and Antonio Candreva remains the sides top provider with 5 assists this season.
Juventus are just one position behind Inter in goals scored this season with a total of 48, and Cristiano Ronaldo is the clubs top scorer with 21 goals. The Bianconeri average just under 16 shots per match, with an accuracy of 37%, which is quite low considering only 33% of these are from outside the box.
Sarri is still commenting on how his players are still to fully grasp his preferred system, working the ball up the field fast, and this may be a reason for this. Juventus have the highest success rate for 1v1 dribbling at 59%. Rodrigo Bentancur is the clubs top provider with 6 assists this season.
Defence
Inter are no longer the best defensive team in the Serie A as of now, as Lazio knocked them off top spot last week by scoring 2 against them. In total, Inter have conceded 22 goals, 5 of which came in three matches that back up goalkeeper Daniele Padelli played in cover of regular starter and club captain Samir Handanovic.
Marcelo Brozovic remains the best for Inter at defensive duels, and Stefan de Vrij remains the best interceptor, helped by him being in the middle of the 3 man defence.
Juventus have the 3rd best defence this season(joint with Hellas verona) on 24 goals conceded. Juve don't have any players in the top 30 for defensive duels or interceptions so therefore no individual stats could be found for this, so instead we will look at the numbers based on the team as a whole.
For defensive duels, Juventus sit 3rd lowest in the league, higher only than Napoli and Roma. In terms of interceptions, are in 11th place, surprising they are higher and still no individual in the top 30, indicates that this is more evenly spread through a number of players rather than one stand out performer.
Key Players
Inter have been having a bit of a rough spell at the moment, and one of the reasons why Inter have struggled a little is because the opposition has been marking Brozovic so tightly he has been effectively removed from the game.
Marcelo Brozovic is one of Inter's most important players, and he is the main link when the side builds up play from the back.  Should Inter find a way to get Brozovic into the game more, then they stand a better chance in obtaining all three points, and keep the pressure on rivals Juventus and Lazio.
Juve's main man is none other than Cristiano Ronaldo. The Portuguese striker has been in fine form this season, netting 21 goals and 2 assists. The former Real Madrid & Man Utd forward has had no issues adapting to Sarri's new style of football and doesn't look like slowing down any time soon.
Ronaldo has been played mainly as a lone centre forward or on the left wing, and Inter will need to keep very close to him and limit his impact on the match if they hope to get anything from the match tonight.
Summary
A rivalry as old as Serie A itself, this promises to be a spectacle of the highest degree. It may be played behind closed doors, but there will be no shortage of fans watching on their TV's, streaming devices etc. Form definitely favours the home side tonight, but games like these rarely go on form, and anything can happen.
Conte will be looking for vengeance after their defeat to Juventus earlier in the season, and to get one over on his old employers, meanwhile Sarri will no doubt relish to opportunity to please his employers and fans by beating their clubs oldest and fiercest rivals, and gain a stronger grasp on the league title.
Welcome, ladies and gentlemen, to the Derby D'Italia.
Hit us up on InterStats & SempreInter on Twitter using #InterStats before, during and after the game for coverage of the fixture.